EMA Books (1)
For the next few days, we want to replay the EMA stage recommendations in terms of books, particularly for those who were not able to make it. These are not all the books our Book Panel liked – that would be too long a list – but instead those we wanted to particularly identify as being worthy of some reading time. In each case, there is a very brief review, but the main purpose of the posts is to highlight the titles.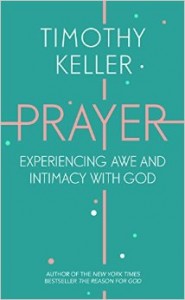 Tim Keller's book on prayer (not quite his latest, that's on preaching), is perhaps his best book. There is an honesty about the struggle that prayer sometimes is, together with a deep appreciation of Scripture (something some critics have said is absent from other titles). It makes this a strong help. In one sense, there is nothing brand new. Keller is bringing wisdom from other writers together and applying it to himself (and to his readers). You could read a dozen or so books on prayer and get the same. But the sifting and ordering that Keller has done I found remarkably useful. There is a very strong theme of getting the balance right in prayer. Prayer is an intimate communion with the living God(something recent titles have done well to stress) but this aspect of prayer must not be overstated at the expense of the nature of prayer in terms of the children of the Father casting themselves on God for their daily bread. A good read (by which I mean a genuinely helpful read), and would make a great gift to others.
A pastor's wife's tale
One book I return to often is Garrison Keillor's Leaving Home, his whimsical tales of life in a mythical Minnesotan town called Lake Wobegon. One story I've just re-read focuses on Judy Ingqvist, wife of Lutheran pastor, Dave. I'm not Lutheran, but this particular excerpt did make me think of the talks I'll soon be delivering at the PT Summer Wives Conference. And it might give a married pastor pause to think about how things actually are for his wife right now.
The Ingqvists bought their tickets to Florida two months ago, Pastor Dave and Judy; at least that's what she said. They've missed the Annual Ministers' Retreat three years in a row because the civilian leadership at church can't see why their minister and his wife should cavort in the tropics in January. She can see about three reasons, but she can't tell the Board because it's more than they want to know about a minister: it's hard work to stand up and say what people don't really believe but want to think they do; and it's tough when a man of faith suffers from depression in a town where nice people are expected to be upbeat. For a few days on Captiva Island, at the Chateau Suzanne, around the blue kidney-bean-shaped pool, cool aquamarine in a forest of deep green and fabulous birds of brilliant plumage, some pale plump Lutherans will sit in the sun like lumps of bread dough and say forbidden things. Oh, the luxury of truth when you come from a town of storytellers! The luxury of sitting in sunlight, clasping a gin-and-tonic, wearing two articles of clothing that allow the world to reasonably assume you are a woman, lighting up one of your ten annual cigarettes, and saying openly to other ministers' wives, "It has been hard this year."
Of course there's no pool like that at Hothorpe Hall, and I'm ignoring his comment about sun-bathing American Lutherans! But I'm guessing a number of women at the Conference will gain some relief from simply telling another woman, "It has been hard this year."
Don't try to be relevant!
I recently preached at a friend's church on a text he assigned me: Jude 17-25, at the end of a short series in the church on Jude.
The big thing that struck is how remarkably similar our situation in the UK right now is to the situation Jude was addressing, right down to specific details:
• Some ungodly people have got into the church and are teaching believers that they can go lax on morality, especially sexual immorality (vs.4 & 7).
• Some believers seem to be shaken by this, and are beginning to wonder whether the apostles were really the ones led by the Spirit, or whether this new teaching is actually Spirit-inspired (v.17).
That would not have seemed as obviously relevant to the times in the UK fifty years ago as it does today.
Jude's pastoral response is just as specific. Although the verses in question aren't the easiest to interpret, most likely he tells believers how to relate to three kinds of people in this situation:
• v.22: believers who are beginning to wonder if the apostles had it right after all ("My daughter is so happy with her same-sex married partner; can it be so wrong after all?)
• v.23a: church-members who have gone a step further and are taking serious steps into immorality ("I've decided that God won't mind if I have an affair; I'm really lonely, and my marriage is dying anyway")
• v.23b: the very teachers of the immorality themselves, and their followers.
This reminds us of a crucial truth about the relevance of Scripture, that all of us need to stay convinced of:
Relevance in preaching is like happiness. The people who most keenly seek after it for its own sake never really find it.
The preacher who is desperate to be relevant is usually embarrassingly outmoded before he even stands up to speak.
But the preacher who gives himself to the task set before him – to listen to this text in its own right, to ask first of all what God was doing in it back there and then – will discover extraordinary relevance to the details of our lives. Be brave enough to dig down deep enough into Scripture, and then suddenly a really powerful spark will jump across the gap between then and now.
The next EMA
It might seem a bit soon to start talking about the next EMA, given that this year's is only two thirds through. But most of us find that if we don't plan dates ahead, it just gets too difficult to do things the nearer the time. Our diaries necessarily get crowded.
The EMA for 2016 is entitled Leaders Who Last. Our aim is to help people see that, at every level of experience, we have to invest to ensure we stay the course. This is no certainty for any of us. In fact, all of us probably know someone who has fallen away from ministry. They may have grown tired and given up. They may have fallen morally. They may have simply believed there are better things for them to be doing. As I scan my list of friends in ministry, even at my tender age, the stats are rather sobering.
Those of us who have been in ministry some time tend to be a bit blue about this. But there is another danger – those who are gung ho. There is a kind of Christian ministry which is accompanied by an invincibility. "We will withstand anything" the mantra goes.
So, for next year, we want to plan the EMA to help everyone (those starting out, those in the middle years, those near the finishing line) to be Leaders Who Last. We've yet to finalise the speakers, but those already confirmed include Don Carson (with particular reference to the experience of his father, of course), Simon Manchester, Dan Steel, Tim Ward and Robin Weekes. There will be seminar streams aimed at different stages of ministry, and expositions from those in different stages – someone just starting out and so on.
Above all, we're praying and planning for an encouraging time which will be honest about the hardships and dangers, but optimistic about the gospel work of God to sustain and bless. The dates are 21-23 June 2016. Why not put it in your diary now?
Who's at the EMA?
Here's a small snapshot of who is at the EMA. We're not particularly obsessed with data, but we find it's useful in terms of planning and thinking through exactly what the EMA looks like each year. I bring you these numbers with one sole purpose – the vast majority of delegates (all except about 100) are from the UK. That means that the death of the church and the end of the cause of Christ are vastly overstated by the doom-mongers. Of course, there are challenges and we are preaching into an increasingly secular world. But, in the grace of God, we're not dead or finished yet.
– There are about 1,300 people at the EMA, some 70% of who are pastors or assistant pastors. They, in turn, represent about 750 or so churches (some people don't enter their church association on the booking, so we can't be entirely sure). That's a remarkable number of churches where the gospel is being faithfully preached Sunday by Sunday.
– Of these delegates, the Free Church/Anglican split (because people always ask) is just over 50-50 in favour of the Anglicans. In other words, there are gospel works going on in both established and non-conformist churches for which I, as a confirmed non-conformist, give great thanks to God.
– We don't ask people their ages! But a quick glance around the EMA shows that there are a huge number of younger guys in ministry. We are not an ageing ministry, much as the press would like to convince us we are.
– In total, some 3,000 delegates have attended the EMA in the last five years, broadly reflecting the same statistics above.
No, not dead. Not by a long way. Ministry in the UK is increasingly hard and conducted in a hostile environment. But there's fruit, and there are workers. God is raising up workers for the harvest field. Now, let's pray for a harvest.
Supporting expository ministry in Cuba
The EMA starts today and, as usual since our move to the Barbican, we've got an overseas missions project. The gathering of something like 1,300 gospel ministers from across the UK is a tangible reminder of the goodness of God and we believe it is right and fitting to acknowledge this goodness by supporting an overseas work and asking delegates to join us in doing so.
This year, we're focusing on Cuba and hoping to raise enough money to print 1,000 copies each of Ensenor Efesios (Teaching Ephesians by Simon Austen), Jueces para ti (Judges for you by Tim Keller) and Predicor Marcos (Preaching Mark from the PPP stable). This will be printed in Cuba itself (books cannot be imported) and then distributed by some of our friends to pastors and preachers.
It's difficult to overstate just how useful resources like these are to a young but growing and vibrant evangelical church. Please join us in praying this will be a successful project, and if you would like to contribute, we'd be very happy to receive any donation here at PT Towers.
Please pray for the EMA (5)
Finally, may we ask you to pray for the seminars running each day. These are a key element of the EMA and are the place where lessons are reinforced and developed. Pray for those speaking and those listening and contributing.
In the main hall we have three days on three different topics related to humanity: Mike Ovey is speaking on gender, John Wyatt is speaking on beginning and end of life issues and Tim Keller is speaking on connecting. Tim Ward is chairing these important sessions.
Jonathan Griffiths is leading a preaching refresher and Peter Adam is leading a preaching masterclass.
I (Adrian) am leading a seminar on crossing boundaries – breaking down boundaries of class, race and age – with help and input from Efrem Buckle and Ken Brownell.
There is a women in ministry track with Carrie Sandom and Kathleen Nielson, which will carry over into a two day consultation conference on the Thursday and Friday after the EMA, as women in ministry from around the world meet to plan and pray.
Andrew Reid is leading a seminar on teaching Genesis, a key book in understanding humanity.
Bruce Ware is leading a seminar on the preacher and his family – a key topic for many of us.
Thank you, on behalf of all those attending, for your prayers.
Please pray for the EMA (4)
Today, we're asking you to pray for the resources that will go out from the EMA. Our Bookstore is – I believe, our strongest yet. We have 1,300 plus titles, all hand picked. Amongst these are several hundred new titles – this has been a good twelve months for books! Pray that people would spend wisely – and not only for them, but to take the opportunity to think through which resources might help the church – we deliberately pick books which not only serve pastors and preachers, but which pastors should be commending to others.
We are also supporting an overseas missions project in Cuba. We believe it is really important to share with others from the riches that God gives and this year we'll be raising money to print three books in Spanish in Cuba itself to serve pastors there in the work of expository preaching. Delegates will hear about this on the first day and we hope that this may be our best yet of serving brothers in difficult circumstances overseas. We would love to be able to print 1,000 copies of Jueces para ti (Judges for you), Predicor Marco (Preaching Mark) and Ensenor Efesios (Teaching Ephesians). Please do pray we might hit this target and so serve well.
Thank you for praying.
Please pray for the EMA (3)
Today, we want to ask you to pray for the admin team. My small team has worked very hard to make the EMA a reality and I want to ask you to pray that we would be sustained as we serve you over the next three days. Please pray particularly for Rachel Olajide, our conference manager, and her team of helpers. The Barbican staff are also a great help and it has been interesting to see how some of the door staff, intrigued by our singing and listening, have sat in on sessions. Pray that there might be unexpected fruit there.
We have a team of others who are helping – projection, recording, music, reading, and so on. Please pray that we would remember all that needs to be done and that the EMA would serve effectively and our team of workers would have good and noble hearts.
Thank you for praying.
Please pray for the EMA (2)
Today we're asking if you would pray for those attending. We've yet to crunch the numbers, but we have something like 1,300 people attending from some 750 or so churches. We have youth workers, elders, lay preachers, students and church staff – all very welcome. However, the vast majority (something like 75%) are ministers or assistant ministers of churches. They will be coming from a great variety of backgrounds, circumstances, struggles and joys.
Some will be feeling on top of things, others overwhelmed by the calling they have. Some will need encouragement; others perhaps conviction. Please pray that the Lord will use the conference so that everyone receives what they need from him. Please pray in particular for those divine appointments – a conversation here, a word there – which can be so strategic in building up.
And do give thanks for the evangelical unity the EMA displays. We don't press this, but if recent years are anything to go by, we have about 50% Anglicans and 50% from non-conformist churches. Preaching is one of the topics that evangelicals of many stripes can gather around. We're not trying to engineer unity; but we recognise that gathering together in this way is a display to the 'powers and authorities' of the great work Christ is doing.
And remember to pray for those who are not coming. Sadly, there have been stories in the last twelve months of regulars who have given up on ministry, fallen into sin, or even turned their back on the Lord completely. We're desperately sad to hear those stories and please pray for mercy – and keeping grace for all of us.
Thank you for praying.