EMA 2017
Day rate £55
3 days £120
Student day rate £27.5
Student 3 days £70
Tuesday 27th June 2017 –
Thursday 29th June 2017
The church has been given a mission.
It is the preaching of the word of God to build believers, reach the world and declare God's revealed mystery to the spiritual powers. It is this vision that we need to recover, alongside the part that Christ has called us to play in it as his heralds.
The church has been given a mission. Is it yours?
Speakers will include Kevin DeYoung, Andy Gemmill, Garry Williams, Denesh Divyanathan, Graham Beynon, Vaughan Roberts and others.
Further details of EMA 2017 can be found here
Book Now

A new online resource
by David Jackman
Equipped to Preach the Word is a training course designed to develop faithful and effective preachers of the Bible. Click here for more.
Kevin DeYoung's new little book 'The Art of Turning from sin to Christ, A joyfully clear conscious,' is a little book that fills a big gap in contemporary Christian literature.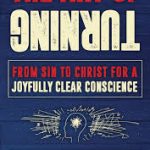 As Kevin clearly states, '
If you read our ancestors in the faith (especially the Puritans), you'll find that they were obsessed with the conscience. In a good way. They paid careful attention to how the conscience works, the role it plays in bringing people to Christ, and how it is indispensable in leading us into holiness.'
It is a subject that I had never really thought about until reading Kevin's book, and now having read the  book I think that that has been a detrimental oversight. The four types of conscious highlighted, evil, seared, defiled & weak, are all very pertinent and well illustrated. The concluding remarks of application are also very sharp and challenging.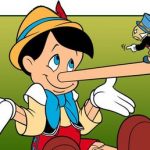 The summary Kevin makes as to the work of the conscience is helpful -
'When working properly, the conscience is that sixth sense which impresses upon us a feeling of guilt for deeds misdone. But second, on the other hand, the conscience is also a defense attorney... the conscience should also defend us against false allegations.'
I think this is a great popular level book that should be given to every member of the congregation that our consciences are no longer ignored, under utilised or overburdened.
'This is an interesting and unique book on a seldom discussed topic. Short, pithy and profound, well worth a read.' - Nigel Styles (Director of Cornhill)
For a small (almost pocket size) biography, Andy Johnston has done a remarkable job of packing in a wealth of historical nuggets and theological reflections on the life of Martin Luther. The prospect of reading a book on church history can seem both exciting and daunting (for some it is exclusively the latter). But, do not fear, as Johnston has produced a personal, compelling and easy read, that will likely stir an interest to find more by and about Luther.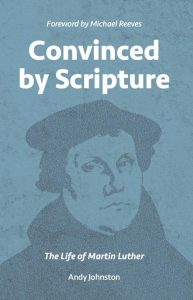 Each chapter is neatly organised by a portrait of Luther, for example, as "the heretic", "the reformer", "the family man" and "the flawed character". I managed to read the book in one sitting, which was credit to Johnston's clear and succinct presentation and style as much as it was to the book being short. A notable strength of the book is that it is far from an emotionally detached historical survey of Luther's life and his ideas. What this means for the reader is that it feels very much like going on a personal journey with Luther, with Johnston capturing in vivid detail Luther's moments of existential crisis and his ruminations on God and biblical theology. In his foreword to the book, Professor Michael Reeves describes finding Luther as his "soul-mate" and someone to be cherished and enjoyed by Christians today. A deeply personal narrative continues throughout the book, for example, in a compelling account of Luther's early life as a monk, Johnston brings to life Luther's mental torture, his "
hell on earth
" experience of living on a daily basis "
with the reality that God was angry with his sin
" (p.16). Later in Luther's life, Johnston continues to bring Luther to life on the page in describing the progression of Luther's ruminations on the mercy of God. This reaches a "climax" for Luther as he mulled over Romans and let it captivate his mind and heart to understand the gospel in a new light and so enable "
millions of people to come into a living encounter with the grace of God
" (p.23).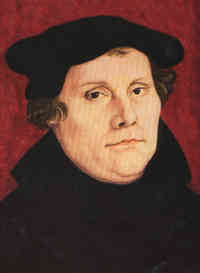 Again, considering the length of the book, Johnston does well to include a number of original quotations to ensure the reader gets a good feel of Luther in his own words. One of the quotes is worth including here: "
Unless I am convinced by the testimony of Holy Scriptures or by reason - for I can believe neither popes nor councils alone, as it is clear that they have erred repeatedly and contradicted themselves- I consider myself convicted by the testimony of the Holy Scripture, which is my basis; my conscience is captive by the Word of God. Thus I cannot and will not recant, because acting against one's conscience is neither safe nor sound. God help me. Amen
" (p.53) Captivating indeed! As well as helpful quotes such as the one above which shed light on Luther's inner turmoil and theological reflections, Johnston also details Luther's political battles and provides a good flavour of the Ninety-Five Theses, with various extracts in his chapter entitled "the Reformer". Johnston is also adept at offering a balanced view of Luther and adds touches of wit and humour at various points throughout the book. He is careful to note the critics of Luther, and does not refrain from highlighting (and condemning) the repugnant elements in Luther, including his anti-Semitism. Johnston does not paint Luther as a flawless figure and tackles the controversial issues head on. There are humorous historical anecdotes along the way, with Duke Frederick's quirky collection of relics, including the thumb of St Anne, and Luther's devotion to an accurate OT translation taking him to the local butcher to see a sheep getting the chop! Those looking for a more nuanced and scholarly theological treatment of Luther will be disappointed. The absence of references and pointers to further reading may feel like a glaring omission for some, and coverage of aspects of Luther's theology is simplified. For example, Johnston states that Luther "
completely separated the process of sanctification from the act of justification
" (p.21). But further study reveals Luther did not in fact make the distinction between justification and sanctification associated with later Protestantism, and his position on justification was much closer to Augustine than is generally realised (see A. McGrath's
Iustitia Dei
for a thorough treatment of Luther's theology of justification). The separation of justification and sanctification can be traced to Luther's colleague, Philip Melanchton, and then more fully developed in John Calvin. But in Johnston's defence, a scholarly treatment of Luther's theology is beyond the scope of a book that will no doubt serve to enthuse readers to continue probing into Luther's life and theology. As well as bringing the Luther for "them/then" to life, Johnston also has much to say about the Luther for "us/now". He is mindful of the present-day threats to Christianity that closely parallel those for Luther in the sixteenth century, including the threat to the authority of Scripture by liberal or "post-evangelical" thinking. Johnston finishes the book with a clarion call for Evangelicals today: "
In a sense very little has changed. Twenty-first century Europe is just as dark, just as ignorant and just as sinful. Consequently  there is just as much a need today  for the sort of fearless proclamation of the Gospel as Luther made  five hundred years ago
". (p.103) This is a great read and a really good book to use as a first step into reformation church history as the life of one of the most colourful reformers is painted on the pages of this accessible and intriguing volume.
Summer Wives 2017
Twin £230
Monday 3rd July 2017 –
Thursday 6th July 2017
We recognise and want to support the vital work that ministry wives do in encouraging and enabling their husbands to continue in ministry. We also want them to thrive in their own right.
Our speakers for this year will be Leonie Poole, who will be teaching on 1 Timothy, and Philip Sudell who will be teaching on 1 Kings.
This conference is for wives of evangelical ministers who have been in full-time paid ministry for less than seven years or who are in training for ministry. (The Spring Wives conference caters for wives of those who have been in ministry for more than seven years).
A limited number of crèche spaces are available for children under a year. Please book early to avoid disappointment.
The conference will begin at 5pm on Monday and conclude with lunch at 12.30pm on Thursday. You can find more information about our residential conferences including a sample timetable here.
Sorry, this conference is not open for online booking. To see if there are spaces, please call the office (0207 407 0561) or email confs@proctrust.org.uk.
PT Cornhill Summer School 2017
Price £130
Monday 3rd July 2017 –
Friday 7th July 2017
For people who are, or hope to be in any kind of Bible teaching ministry in the local church. All sorts of people come to the Summer School - students, workers, people who have retired; those who want a taster of Cornhill; people taking a week out of their normal lives to be equipped, encouraged and refreshed in their service of the Lord. It's an opportunity to work through some of the important principles of handling the Bible faithfully with the aim of teaching Christ with integrity. The week is taught by Cornhill lecturers at our offices in central London, near London Bridge. Please note that this is a non-residential conference.
The week will consist of a variety of lessons on similar things to what you would learn at Cornhill. (For more information on Cornhill please click here.) In the afternoon there will be workshop groups where you'll have the opportunity to give a short talk and receive some feedback. The day usually finishes with one of the staff members giving a short exposition.
More specific details of the week, including the timetable, preparation for the workshop groups, and specific content will be given to delegates 2 weeks before the Summer School begins.
We're sorry, but we will not have any more detailed information - e.g. information on the specific bible book(s) taught, until close to the summer school starting.
Brief Timetable:
Monday – Friday
09.15 Arrival and registration
10.00 Lesson
10:45 Break
10:50 Lesson
11.30 Break
12.00 Lesson
13:00 Lunch
14.00 Workshops
15:00 Tea Break
15:30 Exposition
16:30 Close
Please note on Friday the day will end a little earlier, at 3.15pm
Sorry, this conference is not open for online booking. To see if there are spaces, please call the office (0207 407 0561) or email confs@proctrust.org.uk.
Started in 1991, PT Cornhill exists primarily to train preachers, as well as equipping men and women to teach the Bible in other contexts, such as youth/children's work and women's ministry. Click here for more details
We're gradually adding material from our archive. EMA 1993 featured Dick Lucas, Phillip Jensen, Don Carson, David Petersen and John Lennox for a mix of inspiring teaching, challenging exhortation and encouraging reports of gospel work. (Click the title, left, for the talks)