Describing prayers? Just stop it.
I heard someone praying on the radio the other day in a corporate worship service. Only he wasn't really praying. He was describing praying. And this passed for the petitions of the people. The prayer went something like this.
"We pray God would bring peace in the world. We pray God would heal Aunt Lucy. We pray God would provide funds for the new organ." That kind of thing. Even when such prayers contain better sentiments that are more focused on Scripture (as I think prayer should), this is still not really a public prayer. To describe to a congregation what one might pray for, rather than praying to the living God himself, is more than a missed opportunity. It is madness. We have access to the Father by the Son, with the Spirit himself helping us. Why would we not want to address him? I can't understand it.
And this isn't just the liberals on the radio. I've heard evangelicals do it too.
Please don't. It's not actually praying, hadn't you noticed?
New director of the PT Cornhill Training Course
The Trustees of The Proclamation Trust are delighted to announce the appointment of Nigel Styles as the new Director of the PT Cornhill Training Course. Nigel is currently senior minister of Emmanuel Church in Bramcote, Nottingham, a church established 9 years ago. He is also Director of Training for the Midlands Gospel Partnership. Nigel is married to Lizzie and they have six children.
Nigel will officially take up his post from Summer 2016, but in the meantime he will gradually increase his involvement with the Proclamation Trust. Until next summer, the Associate Director of PT Cornhill, Tim Ward, will be Acting Director.
The Cornhill Training Course is part of the ministry of The Proclamation Trust and has been training men and women for word ministry in the local church, and in particular preaching, for almost 25 years. It has established a strong reputation as a robust and thorough preparation for church ministry and we are delighted that the appointment of Nigel will continue this focus and approach.
Nigel will work closely with the other PT directors: Adrian Reynolds (Director of Ministry), Carrie Sandom (Director of Women's Ministry) and Neil Watkinson (International Director). Please join us in praying for the continued ministry of the PT Cornhill Training Course and the wider ministry of The Proclamation Trust. Please also pray for Nigel and Lizzie and their family, as well as the church family at Emmanuel, as Nigel transitions to this new stage of life and ministry.
Preaching with spiritual power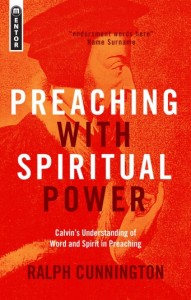 Ralph Cunnington has written a very important book examining the relationship between word and Spirit in Calvin, assessing – as he goes – John Woodhouse and Stuart Olyott who might be both described, perhaps, as representing two extremes. I loved this book when I first read it and remember it got me thinking very deeply and, again, feeling my prayerlessness when it came to preaching. I've just received a copy as it is now published, and a quick scan reminded me why I liked it so much. It is a book of historical theology and – therefore – there are footnotes. But overall, an exciting read for every preacher and well worth some of your time over the summer.
"Preachers do not need to enter the pulpit anxious about whether God will accompany his word. He will, and preachers must be confident of that."
Of course, there are a wealth of caveats, what-ifs and whys and wherefores behind that statement, but it remains a confidence for every preacher and – as Ralph points out – a spur to prayer, not a reason for lacking in it. Well worth eight of your English pounds.
Dick Lucas sermon jam
Given we've been talking about Dick, it's surely worth reposting this sermon jam from the guys at St Peter's Dundee. "Nobody too far orf." I love it.
Dick Lucas on the need of the moment
At his last trustees' meeting, Dick gave us one of his typical assessments of where we are as a church in the UK. Drawing on JB Philips, Dick told us that there is a great danger in the church in the UK being like an old house which has been disconnected from the mains. It will soon fall down, and what we need to be about is reconnecting those who minister to the ring main. Here's his ABCD:
A – authority. The word of God is the power of God to create life and if we allow any kind of tradition (and there are many) to take over, then the word of God is soon robbed of its power.
B – boldness. Satan hates free speech and the bold proclamation of the gospel of Christ. Anything which hinders this – inside and outside the church – comes from the pit.
C – conviction. Pastors and preachers need to tremble at the word of God which comes from the mouth of God. Our conviction needs to extend to all the Scriptures – look how our singing is one dimensional for example, compared to the psalter.
D – delight. Dick quoted Lloyd-Jones who, when travelling around, noted that many churches are so depressing! We need to be preachers who delight in Christ himself and his in his word. That must be evident in our preaching.
Dick Lucas steps down as PT trustee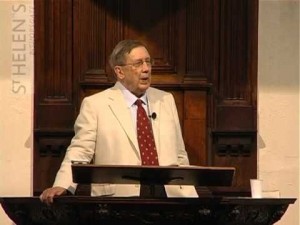 Dick has been involved with PT since its inception – as many of you know. There are ways in which PT is Dick and vice versa, but we've been wary of making that connection too strongly (as happens in other ministries) for Dick's own sake and for ours too. PT is bigger than Dick, he would be the first to say. But his preaching instructions formed the basis for much of what we have always done and continue to do. I heard anecdotally about a church historian the other day saying something like (sorry, no verbatim quote): Dick has done more in his quiet, unassuming way for the cause of preaching Christ in the UK church than any other UK leader.
When pressed, this historian said that Dick has never had another issue he's been pushing. He's never pursued another agenda; he's remained focused on prayerful and faithful preaching as the fuel which builds the church under God. We're not all Dick. And, he would say, a good thing too. We each have our own experiences and cultures to bring with us. And yet, the lessons hold true wherever you come from and whatever your background. However you assess it, many of us have many reasons to thank God for this humble servant.
Dick is 90 this year. Amazingly, he is still preaching, still sharp. But the time has come for him to step down as a PT trustee and I, for one, am enormously grateful for his wisdom and counsel. Once a week he stops by to sit on my sofa and chew the cud and, in characteristically humble mode, he listens patiently whilst I pontificate.
Join me in thanking God for this remarkable and continuing ministry.
Far above rubies – a short review by Mrs R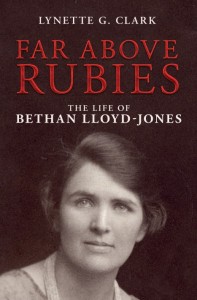 We are constantly being asked the question "can we have it all?" In Christian circles women are struggling with this too and ministers' wives will certainly be wondering where they fit into the world's view.
This book, Far above rubies, tells the story of a woman who could be described as having it all – looks, status, talent, career, connections but she gives up 'wordly' success to devote herself to support her husband, Dr Martyn Lloyd Jones, and their 2 daughters. We are told how her parents and grandparents were such an important influence to her in the way they kept family and ministry life maintained, and both these and the accounts of her own family life give plenty of food for thought for ministers' wives. She was willing to give her husband up to the Lord but they always made time for each other. Despite the fact she didn't become a Christian until after being married and serving with her husband in his first church she became the doctor's best and severest critic but always gave that feedback in a way that built him up.
There are moving accounts written by her 2 daughters which will bring tears to the eyes. The family were very close and the long lasting effects of motherly love are very evident as they are passed on through the generations. The strong message that comes through is that it is possible to love your husband, children and serve the wider church but that comes at a cost. Bethan willingly and cheerfully gave up herself, her own career and needs to devote herself to serving others. Instead of that being a strait jacket she comes across as wonderfully liberated and free to live life to the full. In case you're thinking- oh no not another superwoman I could never be like- we are also told of her anxiety and very real fears for herself and her family at different stages in their lives. This is a normal woman but one who placed her life in the hands of an amazing God and without her, Martyn Lloyd Jones would not have been able to do the things he did.
William Mandell – a candle in the [biblical theological] darkness
I have been hunting around for some time for a gift which I could give to a dear preacher friend and stumbled across a book of sermons from the very first years of the 19th Century. They were by a man called William Mandell – of whom I knew nothing. I'm a bit wary of such collections – they could be liberal drivel. But when I googled his name, it turned out he was an alumnus of Queens' College in Cambridge and – according to them – a "notable evangelical."  That was it. Not much more.
Andrew Atherstone – king of all things historical – kindly helped out. It seems that Mandell was born in Bolton in 1780 and spent the whole of his adult life in Cambridge, matriculating at Queens' in 1799, with his MA in 1806 and BD in 1815. He was a fellow there between 1803 and 1843. He was also Senior Proctor in 1811-12 and (and this interested me most) was instrumental in getting Simeon appointed as a University Preacher. He died in 1843. In fact, Simeon dedicated one of his books to him. Well, I bought the book and read the sermons before giving it away. It thrilled me.
For Mandell was a biblical theological light shining in the darkness, long before people were really talking about this stuff in the mainstream. He could get a job here if he wanted! Here's a snippet – all familiar stuff to us, of course, but radical for 1804. And thrilling nonetheless.
Its [the Scriptures] grand design is to testify of Christ; to direct our thoughts to Him as the glorious centre of the whole spiritual system, as the only Author of eternal life. 'Search the Scriptures', says our Lord for 'they are they which testify of me.' After his resurrection also, when he appeared to the two disciples as they went to Emmaus, 'he expounded unto them in all the Scriptures the things concerning himself' and again, as is related in the same chapter, when he met the whole company of the disciples, he said unto them, 'these are the words which I spake unto you, while I was yet with you, that all things must be fulfilled which were written in the law of Moses, and in the Prophets, and in the Psalms, concerning me.' In a word, as is declared by St Peter, 'to Him all the prophets give witness.' Hence it is evident, that unless from the Scriptures we attain a practical acquaintance with Jesus Christ, as the Saviour of sinners, unless, in this respect, we find Him of whom Moses in the law and the prophets did write, however, correct or extensive may be our information as to matters of a merely critical, historical, chronological or geographical nature, we do in fact, overlook the great end of their promulgation, we lamentably fail to derive from them that most important instruction which principally they were intended to convey.
We truly stand on the shoulders of unnamed and unnoticed giants who don't even warrant a Wikipedia page.
Another preacher's prayer
As part of my devotions I read a prayer a day from Valley of Vision. Sometimes these have great personal connection – other times I feel this is really something I need to hear as a preacher of God's word – and so it was with a brief paragraph from the prayer I read today:
I come to thee in thy beloved name of Jesus; re-impress thy image upon my soul; Raise me above the smiles and frowns of the world, regarding it as a light thing to be judged by men; may thy approbation be my only aim, thy Word my one rule. Make me to abhor that which grieves the Holy Spirit, to suspect consolations of a worldly nature, to shun a careless way of life, to reprove evil, to instruct with meekness those who oppose me, to be gentle and patient towards all men, to be not only a professor but an example of the gospel, displaying in every relation, office and condition its excellency, loveliness and advantages. How little I have illustrated my principles and improved my privileges! How seldom I have served my generation! How often have I injured and not recommended my Redeemer! How few are those blessed through me! In many things I have offended, in all come short of thy glory. Pardon my iniquity, for it is great.
Amen and Amen.
Asking questions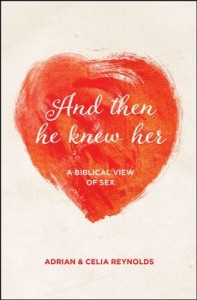 Mrs R and I were interviewed on Moody Radio the other night about our new book, And then he knew her: a biblical view of sex (you can listen to the interview here if you really want!). Janet was very kind about the book ("a gem of a book"), but maybe she is nice about everything! The strangest moment was the phone-in. As Mrs R said later, it's when you listen to the questions that you really understand whether people have got it. Right. And in fact, it's when you listen to the questions that you really understand where people are hurting, struggling and sinning.
This translates, of course, into pastoral ministry. The preacher that is so divorced from his congregation that he doesn't know what they understand, struggle with or downright deny is a poor preacher indeed. And yet that is precisely the model of ministry that many of us pursue. I think, in other words, that there is real value in allowing our congregations to ask questions.
There are different ways to do that. Some people I know have Q&A times after a sermon. That can work reasonably well, although in our subdued British culture you are unlikely to get some of the more revealing questions we were asked on the radio show. But the preacher should also be laying himself open before his congregation to allow them to ask questions at others times too. Mr Preacher, do you give your people this opportunity? It would almost certainly enrich your preaching and bless your listeners.