We are hiring!
The Proclamation Trust serves the local church by promoting expository Bible preaching and teaching in the UK and further afield through the Cornhill Training Course and our programme of events and conferences. Looking to the future, and following an extensive staff restructure, we are looking for people who share our convictions to join us as we grow the ministry in the next decade and beyond.
---
IT Manager

We are looking for an IT manager with proven IT technical and project management skills to maintain the current ICT systems and infrastructure and select and implement the most appropriate ICT systems and processes for future initiatives and developments.
---
Finance Manager

We are looking for a qualified management accountant to lead on all financial matters related to the Trust. You will bring accounting expertise to maintain high standards of record keeping and to provide good quality information for operational and strategic decision making.
---
Buildings and Facilities Manager

We are looking to appoint an enthusiastic and well-organised person to manage building security, Health & Safety compliance, general maintenance, contractors, cleaning & lettings.
---
Assistant to the Director of Women's Ministry

To assist the Director of Women's Ministry in teaching and training women for appropriate Bible teaching ministries in the local church. This involves teaching women enrolled on the Cornhill Training Course as well as those attending a variety of day and residential conferences.
---
Supporter Engagement Officer
We are seeking someone to achieve ambitious annual fundraising goals to ensure long term financial stability. As a result, the core purpose of the role is to grow and engage a supporter base in order to secure initial, repeat, and increased funding year on year.
---
All are part-time roles from January 2024, except Women's Ministry from September 2024
Candidates for these posts will be evangelical Christians who fully support the objectives of the Proclamation Trust. Applicants must have the right to work in the UK.
All posts based at our Headquarters in Elephant & Castle, London

To apply for any of the positions above, please use the application form below. Deadline for applications is Monday, 27th November 2023.
Cornhill: A life-changing experience
I wonder what you imagine when someone tells you they had a life-changing experience? I bet it's not this. And yet – what I'm doing now really is transformational.
I am sitting in a small, brightly lit lecture room near Elephant & Castle, watching a man in a tweed jacket scribble on a whiteboard. He is drawing expansively swirly diagrams and several of us are attempting to copy them down – onto paper or into laptops. Peering at my neighbour's notes it is clear that we have rather a long way to go before we are as good at diagrams as the man in tweed.
With me round the table, are among others, a Nepalese guitar player, an ex-journalist, a bearded German with a PhD in immunology, a music MA from one of Britain's most respected universities, a Bermudan girl, someone whose parents own a fish and chip shop, a former pastry chef, a fifty year old stay-at-home -mum and a tanned Portuguese couple. There's even someone from Essex (me). It's about the most diverse environment I've ever been in – judged by ethnicity, gender, age and social class.
What do we all have in common? What has brought us to this unglamorous corner of South London on a freezing cold Thursday, braving snow, ice and train strikes? What compels us here every week? Today, it's nearly the end of term and although we are universally exhausted and battling colds there is a lot of laughter and plenty of jokes.
In an icebreaker session last week we established that two of us have historic family ties to organised crime – but that's not what unites us. Nor is this a support group for caffeine addicts, although as we cluster round the overworked coffee machine in our breaks, you could be forgiven for drawing that conclusion. We are here on the Cornhill Training Course because we love God and his Word. We have each, in various ways, been brought by his grace to believe that it is the big hope our world needs. And so we passionately long to understand it better so that we can teach it more clearly to others.
The Proclamation Trust runs the course through a progressive series of year-long programmes which aim to equip men and women with the understanding and skills necessary to teach the Bible. The emphasis is on rigorous study distilled into accessible, clear output. At every stage the main input is through study of a Bible book – and delivery of a talk of increasing length and complexity to a small group of peers where students and staff offer critiques and encouragement in a safe environment.
Taught by experienced pastors and lay people who are experts in their field, the focus is on developing students who don't just parrot competently but are confident to grapple with God's word for themselves. One of the striking aspects of the teaching I've received over the last three years has been the way in which difficult textual questions or live issues are not ducked, and engagement with them is encouraged. There are no 'coffee questions' – brushed aside, parked and ignored. Lecturers are up front about the way their own conclusions have evolved and why. They have modelled humility before God's word and hard work in it.
The Foundation section of the course runs over two years, with one day a week of lectures and about half a day of prep. The advanced section comprises two days of seminars and lectures and correspondingly more study taking it into the full time student category. Being at the rather more mature end of the cohort I am ridiculously tickled to find myself suddenly eligible for a student rail card! In year 3, for example, students like me cover 16 books of the Bible as well as various thematic electives such as evangelistic talks and children's work, through a combination of seminars, lectures and home study and deliver practice talks on a roughly monthly basis. The course covers practical issues too, like ethics, and 'serving without sinking'.
On one level this is a course for full-time, paid Christian workers, and certainly many of the students are working for churches and planning on continuing to do so long term. Their studies are feeding into their day jobs – and vice versa. However a significant minority are volunteers who are self-funding. Anyone who is involved in teaching God's word and wants to sharpen their skills will gain from the experience – whether you're a lay person wanting to hone skills, already embarked on the first steps of full time Christian ministry or someone considering making the jump from secular work. It's suitable for students of all levels of experience, and is open to anyone who loves the Bible and has a desire to share the good news with others. It's totally flexible. You can dip in for a year or stay for several.
On the foundation course with me were an NHS junior doctor seeking to prepare himself for a lifetime of volunteering at church, a sheep farmer who preached part-time, a retired gentleman and a teenager on a gap year. Participants hailed from Romford through Fulham (and since this was on line) to Scotland. It brings a genuinely joyful diversity to classroom life. The Cornhill Training Course is a place where people form lasting friendships with fellow students and teachers, and become part of a community. And it's a place where God's word is taken seriously as the means to produce godliness in his people. One of the best things for me has been spending two days a week with a bunch of people who are serious about reflecting Jesus' character in their own. It's noticeable and humbling; a little foretaste of heaven transplanted to Southwark.
We're probably all aware of the dangers and damage done by preaching God's word badly – or not at all. An unchurched friend interrogated me about a service she'd pitched up to in the run up to Christmas, at a church which doesn't take Bible teaching seriously:
'They read this bit where it said those who don't work shouldn't eat!' she said. 'That doesn't sit well with me – it seems cruel.'
'How did they explain the passage?' I asked.
They hadn't. At all.
I opened up 2 Thessalonians right there in my local park and we were able to see how it communicates good news about God's character rather than reflecting a cruel, harsh God! But it illustrated for me all too clearly the desperate need for Bible teachers, for people who believe that God's word is brilliant news for humanity and who can share it effectively.
Cornhill is one part of the solution, offering flexible, part-time teaching so that people are trained to rightly handle or 'cut God's word straight' [sic] (2 Tim. 2:15), in line with the intentions of the original Biblical authors and its ultimate Author. So that desperate seekers who don't know their right hand from their left are not left wallowing in ignorance or damaging lies. So that those of us who struggle with life in this dark world (and really, who doesn't?) can be built up and assured in their faith and stand firm.Jesus asked us to pray for labourers for the harvest. Paul urged us to eagerly desire the greater gifts of word ministry. If you'd like to sharpen your skills at cutting God's word straight then check out Cornhill.London.
Alternatively, dip your toe in the water through one of the 'Book in a Day' courses or join the one-week Cornhill Summer school. Or pop in for a visit! Very few 'life-changing' experiences end up living up to the hype – but this one just might.
Tim Keller
Tim Keller, who died a few days ago, is now experiencing the truth he articulated – that 'all death can do to Christians is make their lives infinitely better'!
He was a good friend of the Proclamation Trust, speaking here in the UK, at the annual Evangelical Ministry Assembly, on five different occasions between 2005 and 2015 – our most frequent and popular visiting speaker of the 21st century. Our back catalogue shows that thousands around the world have listened – and re-listened – to those talks.
Indulge me for a moment with two very personal memories of his influence. In one of his early visits, he exploded open the category of 'idolatry', and many of us then became more thoughtful in our preaching about contemporary idols, moving from the simplistic ('what are our idols today?') to explore the subtle motivations and desires that lie behind (as Ephesians 5:5 and Colossians 3:5 suggest).
Secondly, Tim impacted my preaching. He thoroughly championed expository preaching, of course: if it provides the main diet of preaching for a Christian community, then God is setting the agenda (Preaching [London: Hodder and Stoughton, 2015] p.27-46). We want, he said, a 'pulpit-centred, not pulpit-restricted' word ministry. But his expository preaching had a strikingly different style: he sounded like a preacher for a new generation. He was always engaging, his talks were packed with exegetical insights and stimulating ideas, but it was all delivered in a way that sounded so chatty and, well, normal. I don't think I ever had a one-to-one conversation with him. But the way in which he preached genuinely made me feel he was in dialogue with me. And that's why his influence on me felt so personal.
Amongst the many tweets of his pithy aphorisms in the last few days, here's a good one for preachers everywhere: 'a good sermon is not like a club that beats upon the will but like a sword that cuts to the heart'. We will miss his skilled pulpit surgery as we mourn with Kathy and his family.
'Tis the season to book a conference'
SPECIAL OFFER: £40 off when you book both a residential conference and a three-day EMA ticket on or before Tuesday 29th November.
Our residential conferences are held in comfortable surroundings in which to relax and recharge batteries, spritually and physically. We have an exciting programme of four conferences over the coming months
Upcoming Residential Conferences in 2023
For more details about the EMA and all of our conferences (including bookings), please visit https://www.proctrust.org.uk/conferences/
To take advantage of the £40 discount offer, book a three-day EMA ticket and pay the deposit for any residential conference on or before Tuesday 29th November. £40 will then be deducted from the final balance due for your residential conference.
We hope to see you next year!
HM Queen Elizabeth II
For the last seventy years, at 3pm on Christmas Day, millions of us have stopped our festivities for 'The Queen'. Year after year, we listened as she spoke out bravely to millions about her faith in the Lord Jesus Christ: 'history teaches us that we sometimes need saving from ourselves – from our recklessness or our greed. God sent into the world a unique person – neither a philosopher nor a general (important though they are) – but a Saviour, with the power to forgive' (in 2011).
We are so thankful to God for the Sovereign he appointed, and who dedicated her whole life – long as it was – to serve us because she knew she had been served. Today, she kneels in humble adoration before Him, her Prince and King. She meets her Saviour face to face, and gladly casts down her crown before Him.
We pray for King Charles III, that, under his rule, we may enjoy ongoing stability and peace in our nation, that the truth of Bible may be proclaimed and that the gospel – the anchor in his mother's life – may advance.
A sad farewell (but not till next summer)
After four hectic and energetic years as Director of Conferences and Resources, Jon Gemmell will be moving on from PT next summer. Jon, Aileen and baby Isaac will return to Scotland (where they were living before joining PT) and to his new role as Co-director of Training at Cornhill Scotland.
We're delighted for the Gemmells as a family, and for Cornhill Scotland, but will be very sad to see Jon go from a happy team. I and all the trustees are thankful to him, and to God, for the vision and drive he has brought to PT over recent years, and for the initiatives he's introduced.
Cornhill Scotland is very much our sister work – independent from PT and from Cornhill London, but sharing many of our aims and objectives.  We are delighted to see this relationship continue and be strengthened as our good friend Jon transfers north of the border.
ReadMark
A great new Bible Study Resource…
ReadMark is a Bible Study Resource that has been developed over a number of years at Chalmers Church in Edinburgh. It is a thorough and detailed exploration of Mark's Gospel that keeps the text front and centre with supporting short videos and an accompanying booklet.
PT are really excited to make this material available to everyone for free and you can access the material at proctrust.org.uk/readmark.
The material is great for people who want to study Mark's Gospel for themselves, it is a great resource for one-to-one's and is also very good to be worked through in groups. It is a good next step for people who want to have a second look at Mark's Gospel having completed a course like Christianity Explored.
We are really pleased with it and would love you to have a look, give it a trial and feedback to us how it can be improved.
We are very grateful to Robin Sydserff and the church family at Chalmers Church for giving us permission to make this widely available and for free. It is a great accompaniment to Teaching Mark which is the newest edition to our PT Teaching series…
Cornhill 2020-21 will be an online course
We have taken the decision that PT Cornhill will take place entirely online, for the coming academic year (2020-21).
We know that this is a period of great uncertainty about the future, not least in knowing when the current lockdown regulations and guidance may be relaxed. Some people have contacted us to ask us what Cornhill might look like next year, and even wondering whether they should apply at all. To give some clarity now for applicants and for their churches, we have made the decision that the whole course will be provided online for the whole of the academic year 2020-21.
By committing now to this course of action (rather than continuing with an temporary plan that extends the uncertainty), we can give confidence to those who will be studying with us, and also offer a 'this year only' opportunity to those who geographically couldn't otherwise join us.
As well as providing this clarity for the whole year, factors behind our decision include:

• our building, Willcox House, is not well set for social distancing. We couldn't safely accommodate half a year group, let alone a whole year group, within our facilities. We did trial hybrid teaching, with some students online and some in the building, but we found it the least satisfactory option.
• we anticipate that travel into central London will be disrupted for many months. There's no easy way to vary our start and end times to be well away from rush hour, and the government continue to request that we should work from home if at all possible.
We've been running Cornhill online this year since before full lockdown began and the feedback from current students has generally been good. We've been able to deliver all our content this year as we would have done without the pandemic – none of the various elements that make up Cornhill has been lost – and we've been learning lots about how to make it work better.
Of course, at its heart ministry is relational, so we have no intention of making the unusual situation of this next year any kind of precedent for succeeding years. And we are actively exploring options to enable people to physically come together at some point during this year. We don't yet know what this might look like, and can't guarantee it will happen. But it might be, for example, that a year group meets once or twice in a large church building at the start of the year, probably for a shorter time in the middle of the day so they can travel outside rush hour, just to start to build relationships. That wouldn't be possible under current guidance, but might be at some point.
As a result of this decision, Cornhill Foundation Year 1 will be live on a Monday while, on a Tuesday (for those unable to be free on a Monday), a recording of the Monday lectures will be available. Teaching practice groups will take place live by Zoom on both Monday and Tuesday afternoons. These teaching practice sessions will be the only part of F1 which takes place live on a Tuesday.
F2 (Wednesdays) and Core (Thursdays and Fridays) will all be live.
Whilst this wasn't what we had initially planned, we are really excited about this unique opportunity to equip men and women from all around the world to unashamedly preach and teach God's word. Please pray for us as we adapt to these challenging circumstances.
Podcast – Are Sermons Necessary?
Here is a podcast recorded at Moore College Sydney. In it, Chase Kuhn (Director of CCL) and Nigel Styles (Director of PT Cornhill London) discuss the question, 'Are sermons necessary?'
It is well worth a listen.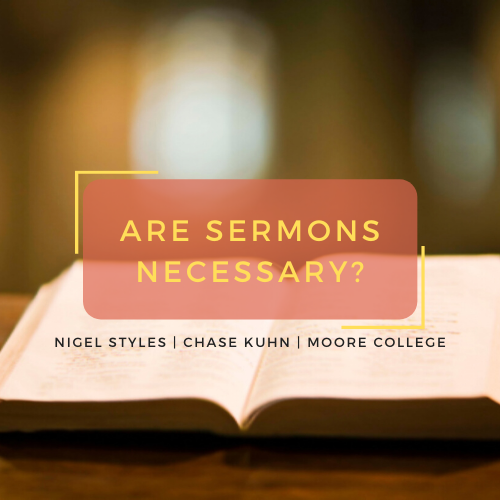 Cornhill Missions 2020: Frimley Green
A team of four of us spent a week with the church family at St Andrew's Frimley Green. Despite being a fairly small church, there is lots going on each week at St Andrew's like toddler groups, Bible studies and coffee mornings which we joined in with. Alongside that we ran some special events including a men's curry night, a women's breakfast, quiz night and a children's party.
Particularly highlights included being able to speak in 3 different school assemblies (and act out Bible stories with a short explanation!), with many of the children also opting to come to a voluntary lunch-club to hear more about Jesus; the best-attended women's breakfast the church has had; and a chance to chat with many members of the church family and share stories and encouragements with them.

It was really encouraging for all of us to spend time with a different church family and to be able to encourage them to speak to and invite their friends and neighbours to come to church. It was amazing how many opportunities we had to speak with people and spur them on in their faith, and share unity in the Gospel despite different ages and stages of life!
Please be praying on for all the people we met and chatted with, everyone who came to an event and the children in each assembly, that they might find true hope in the Lord Jesus. Please pray that the church family would continue to grow in knowledge and love for Jesus and be bold to share the hope they have with the people all around them.