The Belgian Bible Convention (31st August & 1st September)
Sometimes we are discouraged by the state of the gospel in the UK. Churches closing, a hostile public square and a cultural drift away from Biblical norms to name but a few of the signs. However, having spent some of this Summer in Belgium, just two hours on a train from London, my conclusion is that things in the UK could be a lot worse.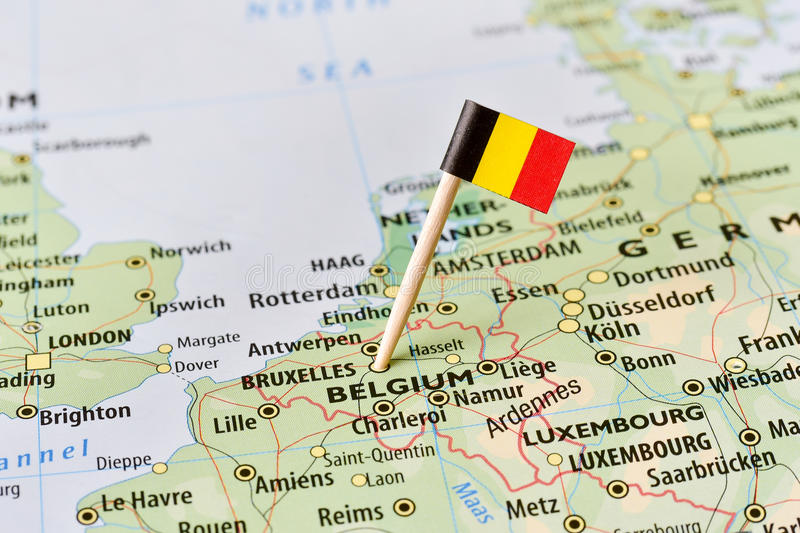 Belgians, according to polling data would be around 60% 'Christian', most of these would be Catholics, although catholicism on the whole in Belgium is in decline (72% down to 53% over last 35 years), and protestantism is on the increase (2.5% up to 6.2% in the same period). However these numbers drop off dramatically when focussed on those under 40 years of age. This is the broad picture of self-identification across the country though the proportion of evangelicals within that would be minuscule.
Against this decline however there are some very encouraging signs of life and growth. The International Baptist Church of Brussels and International Bible Church of Jubrise are great gospel outposts doing terrific work of proclaiming the Bible to their majoritively expat congregations. The Institute Biblique Belge is also doing a phenomenal job of training and equipping francophone evangelicals for ministry. There are also some great French speaking churches particularly the Protestant Evangelical Church of Woluwe and their church plant into Etterbeek. So though the backdrop is bleak there are some encouraging bright spots, I am sure that there are many faithful brothers and sisters doing other great work elsewhere in Belgium.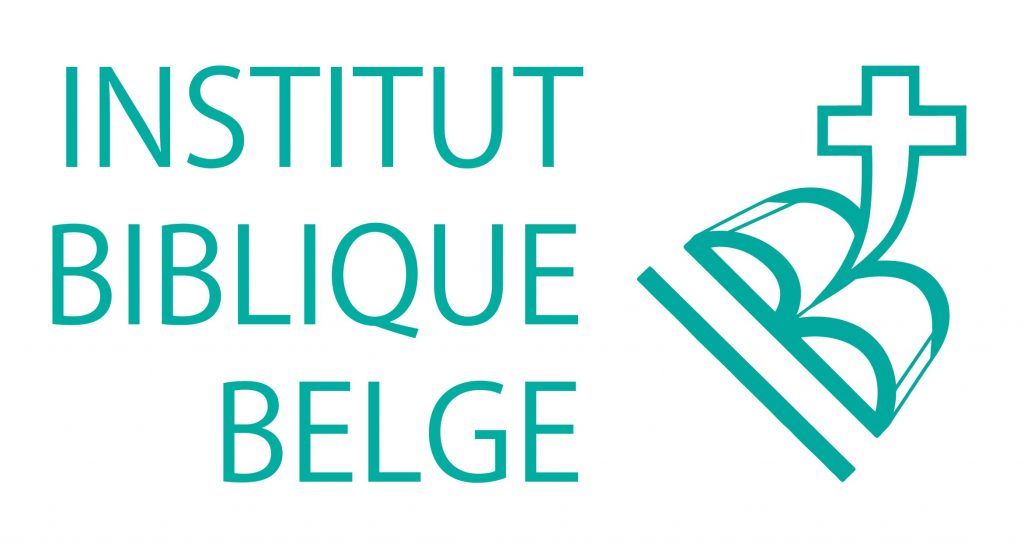 Our PT Belgian Bible Convention run in association with IBC Brussels was encouraging. Around 60 people attended some or all of the conference from 11 different churches, the age range was diverse and as is symptomatic of Brussels the number of nationalities present was in the teens. Everyone greatly enjoyed the sessions with Andrew Sach digging into 1 Kings and seeing new things in very familiar passages. We looked at the life of William Tyndale a hero of the faith who both lived as a fugitive in Belgium (Antwerp) and was imprisoned there for 2 years (Vilvoorde). We had seminars on Women's Ministry, Small Groups and Writing a Bible Talk and finished our time looking at the nature of gospel work from Acts 20:17-38. People were encouraged and had fresh enthusiasm for their Bibles.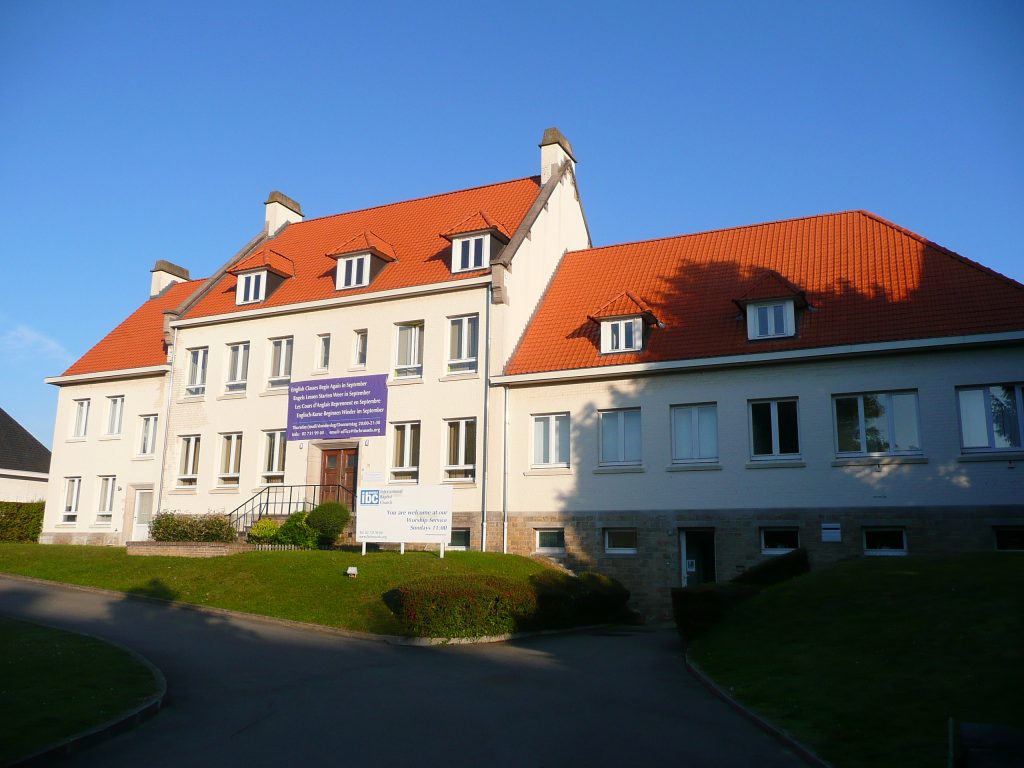 We are thinking about repeating the Convention, but moving it slightly later into October as the beginning of September is a time of great transition in Brussels.
Thank you so much to all of you who prayed for this fledgling event and please continue to pray for the country of Belgium that the gospel would bear fruit and grow across this strategic nation.
Cornhill 2018/19 – We're off and running…
This week is the first week of the new year at the PT Cornhill Training Course in London.

It has been great to see all the new 'F1' Monday and Tuesday students arrive and begin to settle in. There are around 120 entering the course for the first time.  Then this morning (Wednesday) there are over 70 beginning their 'F2' year on a Wednesday. It was straight into teaching with Andrew Sach giving a refresher of all that they learnt about Bible Handling last year.
In total we are excited that we are training over 200 students across the 3 year groups and very thankful to local churches for trusting us with their people.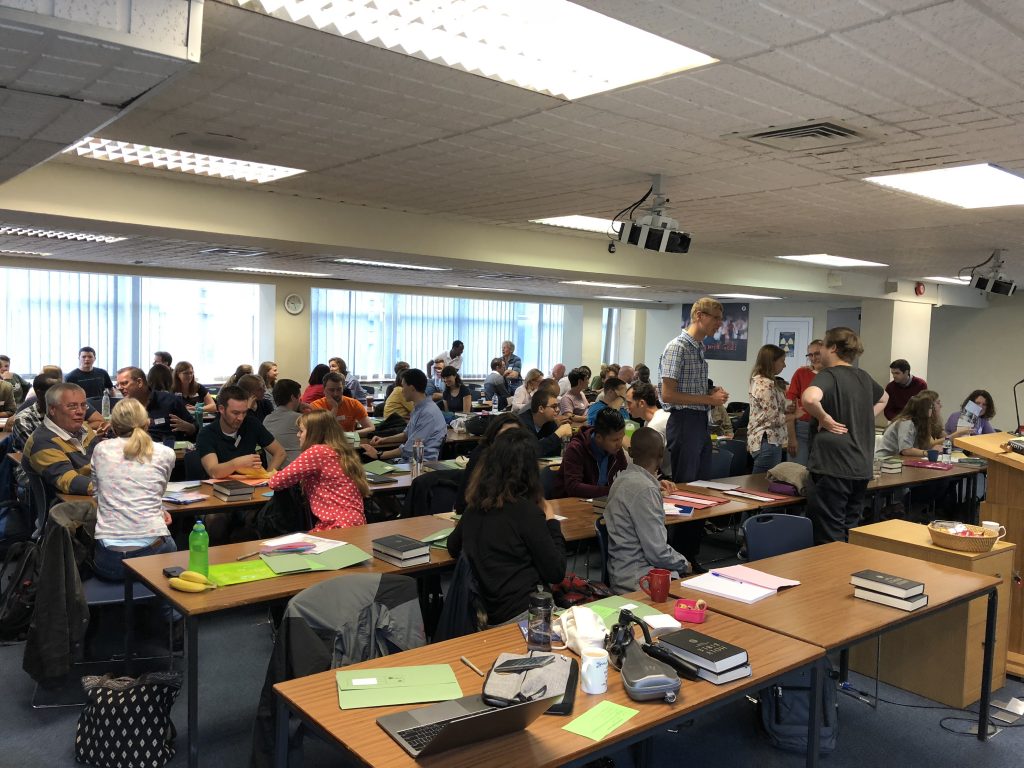 Tomorrow our 'Core' students arrive back. There are 22 of these guys spending two days a week honing and sharpening their comprehension and communication of the Bible.
Also two of our graduating students from last year have joined the Pastors Training Course in Scotland (run by Cornhill Scotland). They have just finished one of their residential weeks in Ayrshire.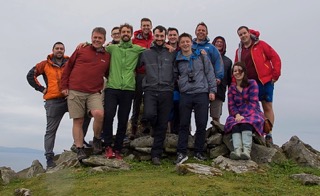 Please pray for us at Cornhill:
Pray that there would be rich fellowship between the students and tutors that would spur them on in studying and serving the local church.
Pray for Nigel, Stephen, Andrew, Carrie and Gwilym as they do the bulk of the teaching and the external teachers who are generous with their time in helping out.
Pray that in all our endeavours we would strive to help people preach and teach the Bible clearly, powerfully and faithfully across a wide range of contexts and for many years to come.
Pray particularly for our many international students who are now only settling into Cornhill but also life in the UK. We have students from Africa, Asia and Eastern Europe joining us this year.
Thank you all so much for your continued interest and partnership in the gospel.
A Better Way to Live [Graham Hooper] – a review by David Jackman
The practice of personal Bible study seems sadly to be on the decline in many of our churches. So, as pastors, we need to be aware of good quality resources to stimulate the individual members of our
congregations to pick up their Bibles for themselves, in order to
develop their understanding and personal application of God's unchanging Word.
One such excellent resource, out of Australia, is "A Better Way To Live" by British author, Graham Hooper.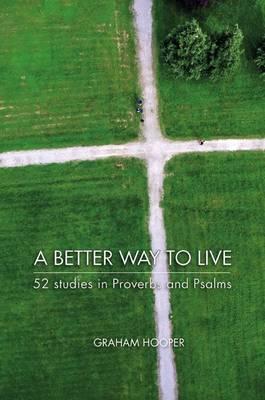 Graham is a Consultant and former Senior Executive for a global infrastructure company. His work has taken him to more than 20 countries. Now retired and living in Melbourne, he speaks and writes regularly on matters relating to Christian faith in daily life.  His first book, "Undivided: closing the faith life gap" was published by IVP in 2013.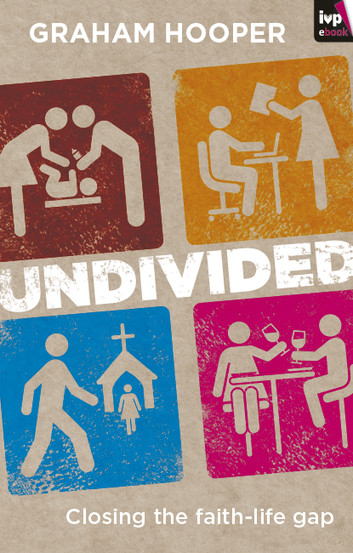 Graham brings a life time of experience in the business world to bear on the central challenge of developing a life of wisdom and integrity amid all the pressures of contemporary life.
The book comprises of 52 studies in Proverbs and Psalms which combine careful, thoughtful exposition of the Biblical text with reflections and applications to everyday life. Each of these studies is fresh, engaging, challenging and strengthening.
In his Preface, Graham writes, "There is nothing quite so attractive and so powerful as a godly life ….  a way of integrity, love and faithfulness; a way of worship, thankfulness and hope – a better way to live". That is exactly what these compelling studies portray. They can be used at whatever speed most suits the reader, and probably for many they could form a full 52 weeks of personal learning and development. He continues that the way of practical godliness is "better than the bleak emptiness of secular materialism; better than a vague spirituality which has no substance; better than mere formal religion ….  it is about God calling us to live for him in a world that rejects his authority."
This is a book of authentic spiritual strength and conviction. It has been forged through a life-time of experience and it is this connection to the realities of everyday life which makes it such a valuable tool.
I have worked through the studies myself [DJ], with great enjoyment and profit. I would warmly recommend it to anyone as a valuable tool in helping us live 'better' for God before a watching world.  It deserves a central place on every church bookstall.  The book is published in Australia by Acorn Press, but is available on Amazon, Kindle and Book Depository.
Echoes of Exodus – Alistair Roberts & Andrew Wilson
Echoes of Exodus – Andrew Wilson and Alastair Roberts
The message of Echoes of Exodus really reverberates.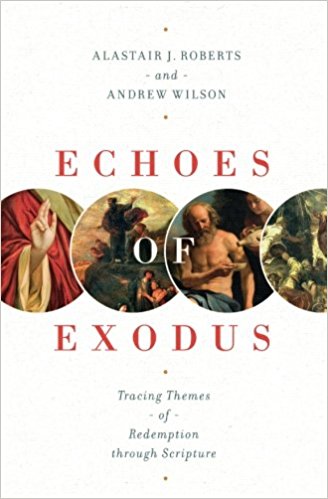 The basic premise is that the Exodus is the overture of the Bible, and its echo is heard throughout the entire Bible. In just 22 short chapters Wilson and Roberts write a delightful book explaining the symphonic nature of Scripture seen in the rich melody of the exodus.
The book is divided into four main movements. Movement one hones in on the book of Exodus all the way through to Joshua. Movement two is the prequel to the Exodus looking at the exodus themes foreshadowed in the great events of Genesis particularly in the lives of Joseph, Jacob, Abraham & Noah, casting these seismic events as exodus-esque episodes. Movement three is a panoply of other Old Testament stories resonating with exodus themes, with an all star cast including, David, Absalom and Achan. Lastly in movement four the crescendo builds to show exodus in the life, death and resurrection of Jesus Christ and cascading out into the book of Acts. The finale of this movement shows that only at Christ's return will the exodus truly end.
This book is very readable, very thought provoking and brilliantly written. The chapters are short, the ideas are deep and, the questions at the end of each chapter help to consolidate the learning and stretch the reader. It is an ideal book to give to people to encourage them to mine deeply, unearthing the inexhaustible treasures of the Bible.
Echoes of Exodus will help people in their personal devotions, thrill Bible study groups and be a wise guide to the preacher. It is clear, careful and captivating. Echoes of Exodus is beautifully set so the symphony of Scripture can sound from its pages into the hearts of the reader.
Playlist – Summer Wives
Here is the Playlist from our recent Summer Wives Conference: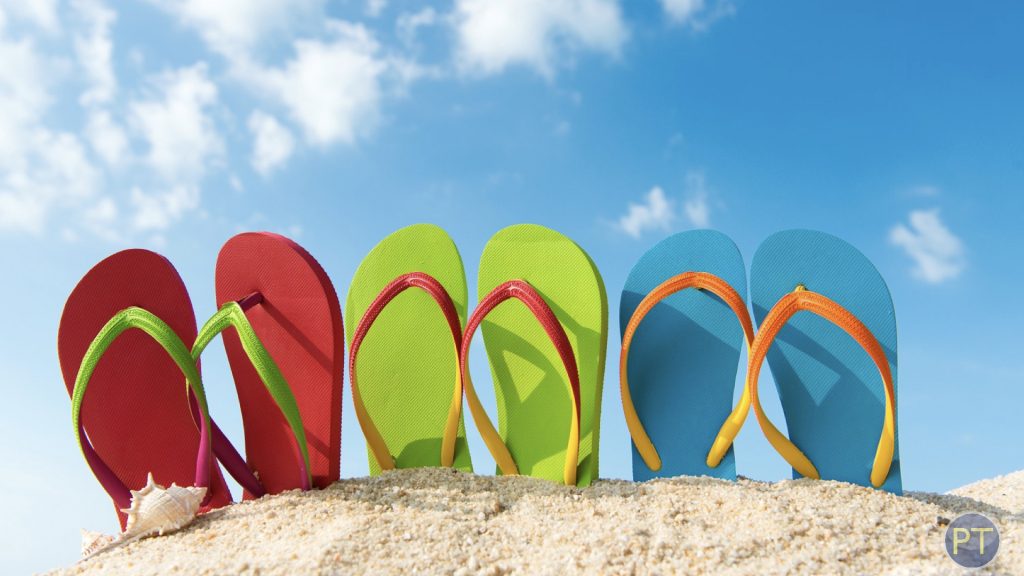 Session 1:
Awake, Awake O Zion – Nathan Fellingham
There is a Hope – Mark Edwards & Stuart Townend
Session 2:
I Will Glory in my Redeemer – Steve Cook & Vikki Cook
Everlasting God (Strength will Rise) – Brenton Brown & Ken Riley
Session 3:
I Stand Amazed in the Presence  – Charles Hutchinson Gabriel
Prepare our Hearts (Show us Christ) – Bob Kauflin & Doug Plank
I Cannot Tell – John Barnard & William Young Fullerton
Session 4:
Behold our God – Jonathan Baird & Meghan Baird
Depth of Mercy can there be – Charles Wesley
He Will Hold me Fast – Ada Ruth Habershon & Matt Merker
Session 5:
Come thou Fount of every Blessing – John Wyeth & Robert Robinson
He Lavishes Grace (Everlasting Arms) – Abby Eaton & Annie Johnson Flint
O Church Arise – Keith Getty & Stuart Townend
Session 6:
Great is Thy Faithfulness – Thomas Obediah Chisholm & William Marion Runyan
Everlasting God (Strength will Rise) – Brenton Brown & Ken Riley
There is a Hope – Mark Edwards & Stuart Townend
Session 7:
I Stand Amazed in the Presence (of Jesus the Nazarene) – Charles Hutchinson Gabriel
Holy Spirit Living Breath of God – Keith Getty & Stuart Townend
My Soul Finds Rest in God Alone – Aaron Keyes & Stuart Townend
O Great God of Highest Heaven – Bob Kauflin
Special thanks to Elisabeth Epps for co-ordinating the music at this great conference.
Carolyn Ash & Summer Wives…
The recent Summer Wives Conference was the last Summer Conference that Captain Carolyn (Ash) will head up.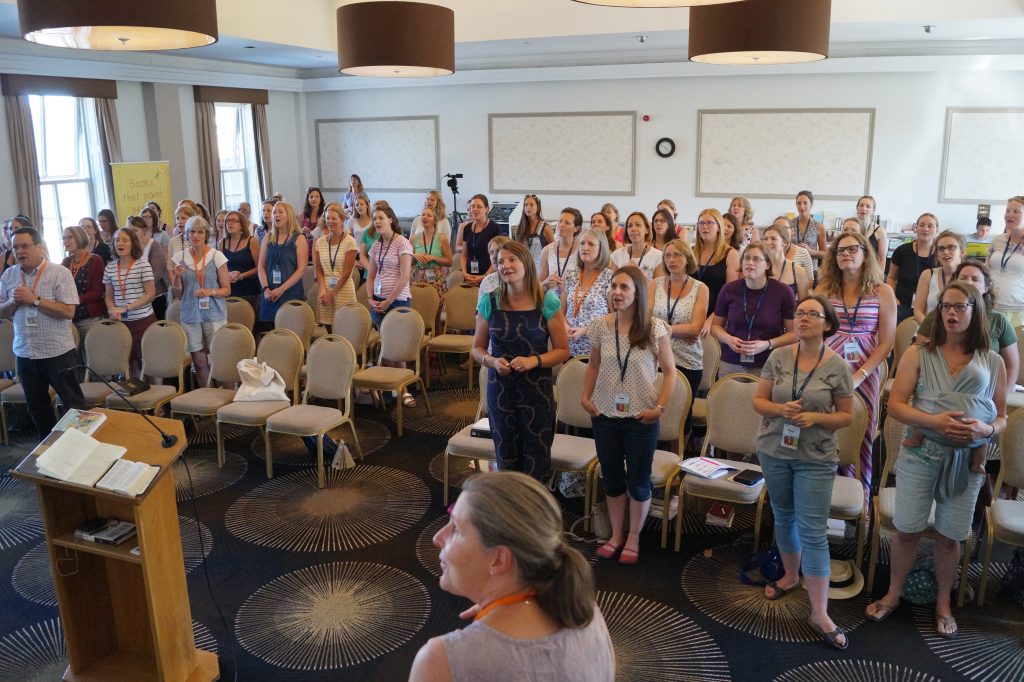 Carolyn has laboured incredibly hard in ensuring that these conferences are an encouraging and open oasis from the busyness and tumult of ministry family life. Carolyn works tirelessly to ensure that all those that come are cared for, loved, supported and spurred on in the work that God has given them to do alongside their husbands.We are so thankful for Carolyn and all that she has achieved.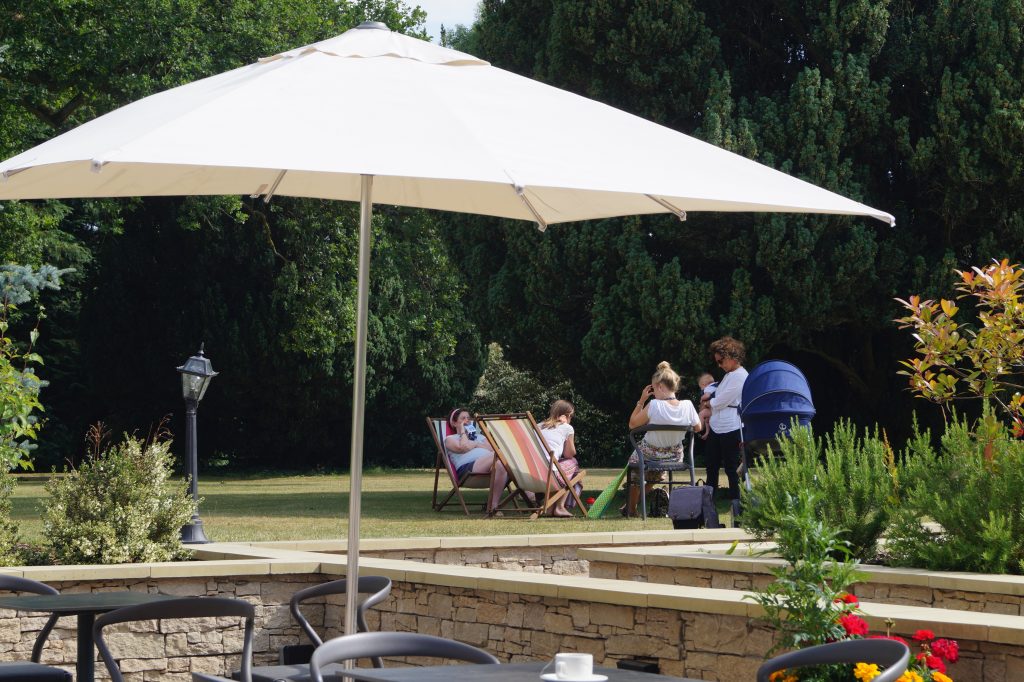 Carolyn leaves very big shoes to fill, but we are relieved that Ursula Stevens has very big feet (metaphorically). Ursula will take over the leading of this conference alongside the PT team and Summer Wives Committee.
We want to continue to strive to make Summer Wives a place where people are encouraged, equipped and energised for the work that God has called them to.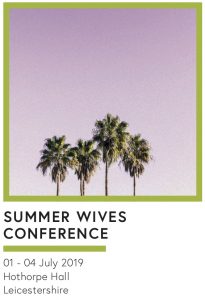 Next year Summer Wives is 1st July – 4th July booking are now open.
Cornhill 2018/19 – Application Update and Prayer Points
We are so thankful to the Lord for the tremendous influx of Cornhill applications for September. There is an amazing array of applications from students brimming with potential. The office has been swamped in trying to process all the enquiries and questions.
F1 Monday and Tuesday is all but full and applications have offici$lly close on Sunday so if you are quick and org$nised we may be able to shoehorn you in. F2 on Wednesday is bursting at the seams and we are currently operating a waiting list so it is still worth applying and being placed on that. There are a couple of spaces in Core on Thursday and Friday but do not delay as we are very near the limit.
Please join with us in giving thanks to God for the glorious opportunity of helping over 200 students progress in ministry.
Please pray for us as we prepare over the summer for this dramatic increase in students.
Please pray for the dozen international students that visas would come through allowing them to join.
Please be much in prayer for these students and their placement churches that the students would be a wonderful blessing to the churches and that the churches will be a wonderful blessing to the students.
Thank you all so much for your ongoing partnership in the gospel.
EMA 2018 – Music
One of many highlights at EMA 2018: The Unsearchable Riches, was singing together.
Here is a recent blogpost containing the setlist of everything that was sung at EMA 2018.
Mannequin Challenge Promo Video…
See our new Mannequin Challenge Promo Video for EMA 2018 here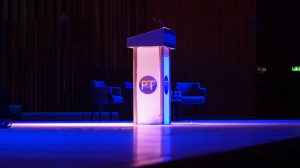 There are just 27 days until our flagship, Evangelical Ministry Assembly Conference 2018, at the Barbican Centre.
The programme is looking really good with Vaughan Roberts, James Hamilton, Andrew Atherstone, Sam Allberry, William Taylor, Adrian Reynolds, Christopher Ash, Carrie Sandom, Andrew Sach, Gwilym Davies, Nigel Styles, Rico Tice and David Jackman.
Plus input from John Stevens, Willie Philip, Ray Brown, Richard Perkins, Gareth Lewis, Stephen Boon, Jonty Allcock, Johnny Prime,  Claudia Chan, Kevin Croft, Mike Gilbert-Smith & Aderemi Adedire.
Added to this an amazing bookshop by 10ofthose.com, great music by Andy Fenton plus band, lots of organisation exhibiting and all in the iconic Barbican Centre in the Heart of London.
There is also the opportunity to go on a Christian Heritage Walk around the City of London, enjoy fellowship with evangelical leaders from across the UK and around the World, hear about the work of Cornhill/CrossConnections and help with an amazing Missions Project in Zambia.
The Evangelical Ministry Assembly – 12th – 14th June
Book your tickets at www.proctrust.org.uk/conferences
We look forward to seeing you there…
Preacher's Profile [David Meredith]
This is the sixth in our Preacher's Profile Series. This time we asked David Meredith, the Mission Director for the Free Church of Scotland some questions about his life and preaching ministry.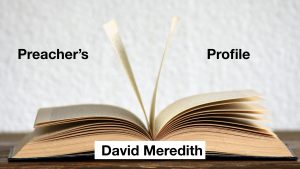 David Meredith, Mission Director for The Free Church of Scotland
based in Edniburgh.  After graduation from University of Strathclyde in English and Politics and Edinburgh Theological Seminary I planted a church in Smithton, Inverness.  Smithton grew into a large multi-staff resource church in the course of a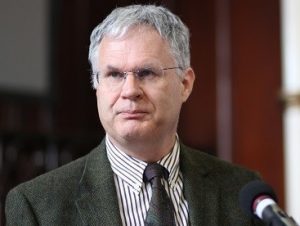 31 year long ministry.  I'm married to Nina and have 4 grown-up children.  My hobbies revolve around the internal combustion engine, I have a large motorcycle and sports car which my friends tell me should belong to a hairdresser.
When did you preach your first sermon and how long have you been preaching?
I preached my first sermon in a little country preaching station at Arnisort, Isle of Skye in 1980 and have been preaching since then.  The first text I preached on (it was all texts in those days) was Romans 1:16, 'For I am not ashamed of the gospel, because it is the power of God that brings salvation to everyone who believes: first to the Jew, then to the Gentiles.
What was your journey to preaching ministry?
While attending church in Glasgow as a student I was under the ministry of Donald MacLeod.  One evening he preached from the text 2 Timothy 1:6, 'you should stir up the gift that is within you.'  I preached in various small churches throughout my undergraduate days and then studied at ETS, Edinburgh.
Describe the congregation/setting you regularly preach to.
These days I am an itinerant but I'm also involved in the preaching team at Cornerstone, Edinburgh. It's essential that any itinerant is rooted and involved in a local church.  The experience of preaching to a congregation where you are not the pastor is unusual, it is certainly a different dynamic.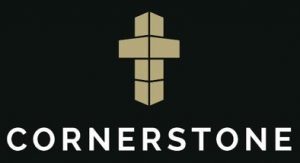 What are you currently preaching on/through?
Because I'm no longer in a local church situation I get to choose the passage which is a nightmare. I don't want to be typecast as a 'mission preacher', not least because the story of the whole Bible is the story of mission.
What is your regular rhythm of sermon preparation, your usual process and how you schedule it in during the week?
I have a variety of administrative, teaching and speaking engagements during the week but I still try to keep Thursday mornings and Fridays clear.  I never prepare on Saturdays. I read the passage through, on a photocopied sheet I will mark out significant words, phrases and ideas.  I will then read various commentaries and write out an outline.  It's at this point I will go on the screen and start to write.  Illustartion and application points will come at this point.  The process will take 6 to 8 hours for each sermon.
What is your drafting/editing process that you go through in finalising your sermon for Sunday?
I have no editing process. What I have written, I have written! Although I use notes I am not bound to them which enables an editing process 'on the hoof'.  A sermon is a dynamic experience where the central theme and teaching remains but one adjusts according to circumstances.
What script/notes do you take into the pulpit? 
I use an iPad and I will have usually 4/5 A4 pages of quite full notes but never a full manuscript.
What is your routine before preaching on a Sunday?
I love to get up early, get on my own and spend time with the Lord.  The spiritual element is literally vital.  I am a believer in the idea of thoroughly well prepared exegetical work but also reliance on the Holy Spirit and unction.  Unction is not the same as shouting or cultivating the grand style, it's deeper and more subtle than that.  The debate between word and Spirit is such a soul destroying argument, what God has joined together, let no man pur asunder.
What feedback structures do you utilise in improving on your preaching?
I am not precious about my preaching and I've adopted a mindset of life-long learning.  I used to use a mentor who was a very experienced and excellent preacher.  These days I seek counsel and feedback from colleagues.  I'm probably moving from a grand style to a calmer, more conversational approach.
What areas are you currently seeking to develop in your preaching?
Clarity, brevity and simplicity.  It is critical to get some good application and illustration to make the sermon memorable.  A sermon should be like bread, there is the sense that it is fresh. As I develop I want to speak more of Christ which I iught tio have done more of in my younger days.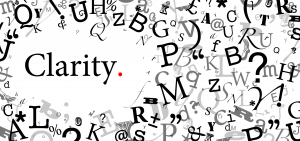 What do you do on the days your preaching did not go very well?
I lick my wounds, recognise that my pride and ego need to be punctured but realise that it's not the end.  I aim at a degree of consistency and so the measure of what is 'good' and 'bad' can be highly subjective.  God can bring healing from spit and clay and he can use my mess to His glory.  It's not about us.
What one piece of advice would you pass on to someone starting out as a preacher?
Listen with the ears of the congregation.  It is not about 'you' so we need to communicate to the people who are in front of us but also the people we would like to be in front of us.  
What are some of the best resources you have found on preaching?
I have read all the books but I also enjoy listening to masters of the craft.  I listen to all the usual suspects but 2 preachers whjo I appreciate are largely unknown.  David Turner is a layman, a church warden at All Souls.  He is a lawyer and one of the best organisers of sermons I know.  I also appreciate John Sartelle, a close friend and former senior minister at Independent Presbyterian Church, Memphis, TN.  He encapsulates the word/Spirit balance.