All posts by Adrian Reynolds
Who sings Lamentations?
My autumn study project is Lamentations. Hardly common preaching ground. But if we believe our own doctrine of Scripture, it ought to be as appropriate to preach Lamentations as others portions of the Bible. Anyway, between you and me, I quite like these unknown territories. It means my little knowledge can go a long way!
Anyways, here's my main struggle with the text: how is it to be interpreted Christologically? In other words, how is Lamentations Christian scripture. As far as I can see, the commentators take two approaches. First, some see it in its historical context alone. As such, it's the book that laments the destruction of Jerusalem yet sees a glimmer of hope in the promise of the covenant. That makes it Christian because it reflects the failure of the Old Covenant from a human perspective, but anticipates the new in Christ.
I don't want to disagree with that at some level. Indeed, this historical take is surely the foundation of any Christian understanding. But it seems somewhat flat: what I mean is that there is really only one thing you can say about Lamentations: isn't it great that Jesus has come! Well, yes. But there's surely more colour, detail and significance about the text than that.
The second approach is to jump straight to Christians or (per Calvin) the church. The church sometimes feels bowed low and almost destroyed, but there is hope because God is the covenant keeping God! Or, as individuals, we sometimes feel right up against it, full of grief, but we must not despair. Both of these are worthy Christian sentiments, I guess, but I'm not persuaded….
I think someone else sings Lamentations. You'll have to wait until tomorrow to find out who.
Marriage and ministry
Well, I said, preaching doesn't happen in a vacuum and for many of us, though not all, the context in which we serve is as both husbands and ministers. You don't need me to tell you that brings with it its own set of challenges. That's why three couples here – first David & Heather Jackman, now Wallace and Lindsay Benn and Mrs R and I – have started running short 24 hour stopovers for married couples in ministry.
We've already held one in Yorkshire and this half term we have two – one in Leicestershire and one in Wiltshire, the latter at the oldest hotel in the UK! They're deliberately short and will not answer every question, but we want to use them to get you thinking, praying and doing. Mrs R and I are in our 25th year this year, and even now we hardly feel qualified to take such a day. But we're driven by the importance of the subject and the desperate wish to see both marriages and ministries flourish. We see too many couples whose marriages have become a sham and where ministries have suffered (or, indeed, vice versa).
After some market research we planned them for half term holidays. You may think that's a bit obtuse – but people told us that it was easier to arrange child care out of term time than in it. Plans are already in place for baby sitters and grandparents and it's easy to sort that when the kids don't have to be fitted into a daily regime.
So, we'd love to see you in October. Wallace and Lindsay have just a few spaces left in the Midlands. We've got a few more at Malmsbury. Either way, here's an investment well worth making.
Job opportunity at PT
I am searching for a new PA. I know, it's your dream job, but you're busy preaching. But it may be someone else's in your congregation if you're near or in London? It's actually a maternity cover for a year for the job of my PA and Office Administrator. Do you know anyone who may be suitable? Why not share this post with them: I'd be very grateful. In the first instance, you could ask them to send a CV to pt@proctrust.org.uk. Mrs R thanks you greatly (I'm happier at home if more sane at work).
Autumn ministers
One of the ways we can persevere is by getting continual help. Personally I find this one of the hardest things to do. To get help in any area of life seems to be some kind of admission that I'm not the man (or pastor, or preacher) that I ought to be. But such a desire to grow is central to the Christian faith and central to ministry. And that's why we persevere with our preaching conferences. If anyone ever says to me, "Oh, I'm past that" or "I don't need that anymore" then I worry. Not that somehow PT's ministry might suffer, I'm not that introspective. We're one amongst a number.
But if that is the attitude of a pastor, then heaven help his congregation. Especially, may I say, when it comes to preaching and prayer. I can't really help you with the latter, but we can certainly help one another with the former. The best preachers I know are not lazy nor content. They are the ones that keep striving and working. They are the ones that lay themselves open to challenge and growth in the right context.
And our preaching conferences are a good context. All of which leads me to say, why not make it along to our Autumn preaching conference. It's not just about preaching, by the way. Preaching happens in a context – both in church life and in the personal life of the preacher, and we address both of these.
But preaching is a discipline too. We've managed to persuade Richard Pratt to come and he will be teaching on Joshua. Indeed, our whole focus will be on OT narrative and I will do some teaching on that using Ezra as a springboard. These are really important topics, and Richard is fine preacher and expert. Make use of him! We'll be asking him – as part of what he does – to especially address how the preacher deals with that vexed question of divine warfare and destruction. Increasingly that's becoming an apologetic question we need to have careful answers to.
See you there. You can book here.
Welcome back. Different this time?
I hope you've had a good break. Even if you didn't get away, church in the summer is always different. Not less busy, of course, because there are often camps and holiday clubs to fill the time. But different. And, they say, a change is as good as a rest. I find summer working allows me to do some catching up with things that don't always get the attention they need – for me that means book editing and writing. And – to be honest – it's the summer when I make all my resolutions. Next year I am going to be more organised for…. (fill in the blanks).
But it's also good to take stock spiritually and I'm really grateful to have had some breathing space to have been able to do that. The busy-ness of pastoral work often means that this is low on the agenda. We tend to think that our daily work of prayer and the ministry of the word will somehow keep us fresh and alive without any need for deeper heart work. As long as we can keep ticking over and keep the motor running, then we'll be able to establish a base line which will sustain us for another 12 months of ministry.
But that way of thinking is dangerous. It's dangerous for our own souls, and dangerous for those to whom we minister (1 Tim 4.16). For the most part ministry is not a four lane highway with no bends or curves or uphills – the kind of road you can drive on autopilot. No, unless your church experience is very different from mine (really?), then ministry is a windy country lane which needs constant vigilance for both yourself and your hearer.
Look back over the last twelve months. Did you just scrape by? Be honest with yourself. How come you made it through? Was it that you really were alive and kicking? Or was it that you were simply not discovered? Were you truly radiating the gospel or did you just manage to keep the mask on? These are sobering questions, and now – as things ramp up again – is the time to read, pray, commit and do what the Apostle commands. "Watch your life and doctrine closely. Persevere in them, because if you do, you will save both yourself and your hearers."
Time for a break..
We all need a break every now and then; and now is the time for that.  We shouldn't be writing blogs on our holiday and you shouldn't be reading them on yours!  So on that note, see you in September.
Put the light on!
Preaching Christ well from the Old Testament is one of the hardest things preachers have to do. However often we do it, we always feel we could be doing better. Either we struggle to do it at all (not so much of an issue these days), or we struggle to do it well in a way that is honest with the text and doesn't flatten OT preaching into a kind of "one sermon fits all" mould.
That's why we've made it the focus of our Autumn Ministers Conference (9-12 November 2015). We're really pleased that this year we're joined by Richard Pratt who is an expert in this field. Many of us have benefitted from his superb Chronicles and Exodus work and this time around we've asked him to address Joshua. Who doesn't want to hear that!
With other sessions focused on the vexed question of getting from the Old Testament to Christ, it should be a remarkable time away together in every way. We look forward to seeing you there. If you've not been for a few years, it would be great to see you. If you have, make it a date again. And why not bring a friend….? Booking is open here.
Public praying
Which brings me to the paucity of public praying. We're preaching through Ephesians at the moment. Compare the glorious end of chapter 3 and what Paul prays for the Ephesians to what passes as public prayer in most of our churches. Ouch. Subject. Content. Depth. Profundity. We're found wanting in every area.
Lord, teach me to pray [publicly].
Describing prayers? Just stop it.
I heard someone praying on the radio the other day in a corporate worship service. Only he wasn't really praying. He was describing praying. And this passed for the petitions of the people. The prayer went something like this.
"We pray God would bring peace in the world. We pray God would heal Aunt Lucy. We pray God would provide funds for the new organ." That kind of thing. Even when such prayers contain better sentiments that are more focused on Scripture (as I think prayer should), this is still not really a public prayer. To describe to a congregation what one might pray for, rather than praying to the living God himself, is more than a missed opportunity. It is madness. We have access to the Father by the Son, with the Spirit himself helping us. Why would we not want to address him? I can't understand it.
And this isn't just the liberals on the radio. I've heard evangelicals do it too.
Please don't. It's not actually praying, hadn't you noticed?
Preaching with spiritual power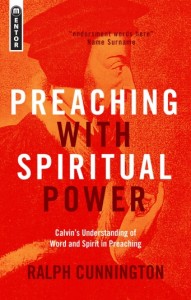 Ralph Cunnington has written a very important book examining the relationship between word and Spirit in Calvin, assessing – as he goes – John Woodhouse and Stuart Olyott who might be both described, perhaps, as representing two extremes. I loved this book when I first read it and remember it got me thinking very deeply and, again, feeling my prayerlessness when it came to preaching. I've just received a copy as it is now published, and a quick scan reminded me why I liked it so much. It is a book of historical theology and – therefore – there are footnotes. But overall, an exciting read for every preacher and well worth some of your time over the summer.
"Preachers do not need to enter the pulpit anxious about whether God will accompany his word. He will, and preachers must be confident of that."
Of course, there are a wealth of caveats, what-ifs and whys and wherefores behind that statement, but it remains a confidence for every preacher and – as Ralph points out – a spur to prayer, not a reason for lacking in it. Well worth eight of your English pounds.