EMA 2016
Day rate &pound50
3 days &pound115
Student day rate &pound25
Student 3 days &pound60
Tuesday 21st June 2016 –
Thursday 23rd June 2016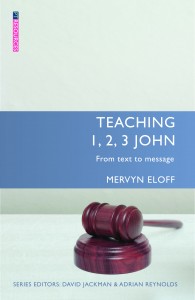 The first of our two new titles is now available. Mervyn Eloff has written a superb volume for us on Teaching the epistles of John. These are a rich seam for preachers (although 2 and 3 John are normally overlooked). Mervyn steers a careful course and helps preachers and teachers grapple with the text. As with all these volumes, these are not full commentaries, but neither are they books of sermons. Rather they are books written by preachers and for preachers to help those whose task is preaching and teaching the "wonderful word of the Lord" as the hymn writer puts it. They're written at a level that will serve you as a preacher, but also be accessible for, say, small group leaders if you're doing a Bible study series. Highly recommended! Teaching 1 2 3 John, by Mervyn Eloff
The more I speak to married ministers and their wives, the more I realise that marriage and ministry is not the glorious union that it ought to be. Rather, for many, it is a painful, tense set of pressures that are often unresolved and unmentioned. If preaching is to flourish, then it's critical that ministry marriages flourish. We asked what we could do to help, and alongside some input at our key conferences, we now also run a 24 hour getaway for couples. This year, Wallace and Lindsay Benn are hosting one at Hothorpe Hall in Leicestershire and Mrs R and I are hosting one at Malmesbury in Wiltshire. They are both on 24/25 October. That's half term, you cry! You're right – deliberately so as couples with kids told us it was easier to organise child care in holiday time than in term time. Spaces are very limited. One husband last year surprised his wife by bringing her along as an anniversary present. We don't recommend this approach for most people – but we do think it's worth coming. Here's some feedback from Malmesbury last year: "Absolutely brilliant schedule" "We enjoyed how much time together we had as a couple" "Please keep on doing this – so helpful" "Fantastically useful" "Too much food" I couldn't resist that last one! Book now, while there's space and you're fired up! Click here to book for Marriage and Ministry in Leicestershire Click here to book for Marriage and Ministry in Wiltshire
PT Cornhill Summer School 2016
Price &pound125
Monday 27th June 2016 –
Friday 1st July 2016
For people who are, or hope to be in any kind of Bible teaching ministry in the local church. All sorts of people come to the Summer School - students, workers, people who have retired; those who want a taster of Cornhill; people taking a week out of their normal lives to be equipped, encouraged and refreshed in their service of the Lord. It's an opportunity to work through some of the important principles of handling the Bible faithfully with the aim of teaching Christ with integrity. The week is taught by Cornhill lecturers at our offices in central London, near London Bridge.
The week will consist of a variety of lessons on similar things to what you would learn at Cornhill. (For more information on Cornhill please click here.) In the afternoon there will be workshop groups where you'll have the opportunity to give a short talk and receive some feedback. The day usually finishes with one of the staff members giving a short exposition.
More specific details of the week, including the timetable, preparation for the workshop groups, and specific content will be given to delegates 2 weeks before the Summer School begins.
Brief Timetable:
Monday – Friday
09.15 Arrival and registration
10.00 Lesson
10:45 Break
10:50 Lesson
11.30 Break
12.00 Lesson
13:00 Lunch
14.00 Workshops
15:00 Tea Break
15:30 Exposition
16:30 Close
Please note on Friday the day will end a little earlier, at 3.15pm
Book Now
Summer Wives 2016
Single &pound295
Twin &pound220
Price &pound125
Monday 4th July 2016 –
Thursday 7th July 2016
We recognise and want to support the vital work that ministry wives do in encouraging and enabling their husbands to continue in ministry. We also want them to thrive in their own right. Our leadership team of experienced wives, led by Carolyn Ash, plan unique mixes of well-applied teaching, relevant seminars and plenty of opportunities to pray, relax and have fun! Based at Hothorpe Hall, Leicestershire.
The main speakers this year will be Christopher Ash and Carolyn Lacey.
This conference is for wives of evangelical ministers who have been in full-time paid ministry for less than seven years or who are in training for ministry. (The Spring Wives conference caters for wives of those who have been in ministry for more than seven years).
A limited number of crèche spaces are available for children under a year. Please book early to avoid disappointment.
The conference will begin at 5pm on Monday and conclude with lunch at 12.30pm on Thursday.
Book Now
Started in 1991, PT Cornhill exists primarily to train preachers, as well as equipping men and women to teach the Bible in other contexts, such as youth/children's work and women's ministry. Click here for more details
Spring Younger Ministers conference 2016
We're gradually adding material from our archive. EMA 1993 featured Dick Lucas, Phillip Jensen, Don Carson, David Petersen and John Lennox for a mix of inspiring teaching, challenging exhortation and encouraging reports of gospel work. (Click the title, left, for the talks)