All posts by Adrian Reynolds
The first prayer meeting
More on prayer. I've recently preached on Acts 4. I found it very personally convicting to look at one of the first recorded prayer meetings and learn about prayer. We have to be just a little cautious with Acts, of course. We can't say that because they did this, we must to do it too. Although, in that tension between descriptive and prescriptive (which everyone accepts at some level), I think the safest road is to say that Acts is prescriptive when read in light of rest of NT, i.e. the default position should be that Acts is describing normality, unless the rest of the NT encourages us to think otherwise (and there are some clear areas where this is so). Back to chapter 4. The prayer meeting does therefore provide a helpful model.
Prayer is responsive. Prayer is an automatic response to what has happened and been reported. Not only does this challenge us to pray in an informed way (a very middle class application!) it also (and primarily) encourages a culture of spontaneous praying where a prayer is a natural response to events. We should expect and encourage people to be praying together at all sorts of moments, both those formally organised, and the ad hoc ones too.
Prayer is corporate. 'Together' is a key Acts word, as I'm sure you know. This is not to denigrate private prayer (see Matthew 5, for example!). But prayer in Acts is mostly a corporate activity and there is a power and significance about the church being together to pray. Shame, then, that most UK churches are reducing this opportunity. Once a month? Really?
Prayer is Scripture based. Notice how the believers pray Psalm 2 back to God.
Prayer is ambitious.
Lord, stir up in me a spirit of supplication.
Leaders who pray – shocking news for Calvinists!
Picking up on one of Andy's points from yesterday, we watched a brief clip of Piper on James 4.2, it's worth a few moments of your time. Here is a great challenge for me and for every church leader.
Andy Byfield at Cornhill+
I've just finished our Cornhill+ conference – a follow up programme for Cornhill students who don't go to college for various reasons. It's been an encouraging and enjoyable time with 12 others studying God's word and simply hanging out together. We always ask a pastor to come and share some insights on leadership and this year it was great to welcome Andy Byfield, vicar of Moulton Parish Church. I thought his headings, representing challenges that he has set himself and been convicted by, were worth repeating. These are simply patterns that leaders must embrace:
– Leading without worry, 1 Cor 11.28 and Numbers 11.10-15
– Leading that gets others serving, Ephesians 4.11-13
– Leadership that s prayerful, James 4.2
– Leadership that encourages death, John 12.23-25
– Leadership as a younger man, 1 Tim 4.12.
– Leadership that doesn't beat people up 1 Thess 2.11-12.
Proclamation Bible new editions
There are some brand new compact editions of the NIV Proclamation Bible out. This is not a study Bible as such, but a standard NIV bound with around 60,000 extra words (a standard paperback) of essays, articles and book introductions to help students of the word. It's unique in that sense, and – I believe – a really good piece of work. The contributors are all from our bit of the woods – they know what expository ministry is and are four square behind it. The result is a really good resource.
Up to now, it's only been available in large format, wide margin versions, but now you can get standard size Bibles too (although confusingly, they are called compact). There's a soft tone, a leather and a standard hardback. What are you waiting for?
A pastor's prayer
I'm just reading James Garretson's excellent assessment of the life and ministry of Samuel Miller, one of the Princeton founders. This is the prayer from his journal after his ordination in New York in June 1793. I've been praying it too:
"O Lord, I have this day renewedly and, I hope, with some sincerity, given myself away to thee! I am now emphatically not my own. I am doubly thine – peculiarly thine! O Lord, accept of my dedication! Fill me with thy love; prepare me for thy service; help me to be more and more like Christ, and more and more to glorify Christ. O Lord, I have undertaken a charge which is too great for human strength. How shall I go in and out before this numerous and enlightened people? How shall I discharge the solemn and weighty duties which are incumbent upon me? Oh, the unutterable importance of having the care of precious, immortal souls committed to my hands! Father, give me knowledge, give me wisdom, give me strength, to perform my duties aright. Blessed Saviour, whom I trust I have chosen as the hope of my own soul, may I be strong in thee and in the power of thy might! Oh help me to love, and study, and preach and act like one habitually and deeply sensible that he must give account."
Complementarian ministry
Those of us who are complementarian in our view of men's and women's roles in the church have some confessing to do. Because we always feel we've been fighting a battle against egalitarianism (battle not a helpful word, really), we've often defined women's roles in the church in terms of what we believe is prohibited in Scripture. I understand why we've done that, but we've made a huge mistake by not being more positive. For any kind of ministry should be primarily defined by what it is, not what it is not. If you went for a new job and they handed you a job description which listed 10 things you could not do, and none you could, you'd be aghast!
I don't think we've really thought this through enough and the danger we will find is that women's ministry in the church gets relegated to children's work and some biblical counselling. Both of course are valuable ministries, but they are not the extent of what we believe about complementarian roles. Or they shouldn't be.
I wonder, how does it work in your church? Have you really thought about this? Have your leadership teams sat down and considered this prayerfully and scripturally? More likely, I imagine you think this is a debate that's been done already and we've moved onto other issues. But the paucity of good, thought through women's roles in churches in the UK rather reveals that not to be the case.
It's one of the key reasons we've appointed Carrie Sandom to be our new Director of Women's Ministry – not just to help train those who come to us, but to be a help to the wider church in thinking these issues through. We have a great opportunity. Some wrong turns now could set us back years. How does it work, chez vous?
Zondervan NIV Study Bible Notes
It can't have escaped your notice that Don Carson has edited a new study Bible linked to the NIV and focused on biblical theology. Rather confusingly, it is not called the NIV Study Bible – that rather middle of the road publication (I'm not a particular fan – sorry), is staying as is and will still be part of the line up. So this one is going to be called the Zondervan NIV Study Bible. A mouthful I know. For now, there's no anglicised version, though Hodder tell me that will be on the way at some point. Nor is there, right now, print availability in the UK.
So, let's get this right. I'm telling you about a book you can't get yet, and which I can't possibly have read.
Yep. That's about it – only you can get it digitally and I've got it through my Bible software (Logos) so I can say first impressions are very positive. Of course, it's almost impossible to review this kind of book without reading every note. Nevertheless the accompanying articles seem first class, and the books I've been concentrating on (Matthew and Numbers) have very good, focused notes. I think it's going to be a winner…
Autumn Ministers Final Call
It's not too late to book a space at this year's autumn ministers conference with Richard Pratt. Richard's material on the OT is worth its weight in gold and unless you are one of those curious preachers who chooses to avoid OT narrative (yes, there are some!), you need this kind of help – at least, if you're anything like me. There are so many challenges in OT narrative, aren't there? The old trouble used to be too much moralising. I think that has been replaced by a new mistake – flattening the OT to make it only say one thing. Of course, we need a better king. I get that. But do you really think the Spirit has given us the richness and depth of the OT narrative books just to tell us that one thing over and over?
No, me neither. And though that is the big picture into which everything slots – and praise God that this is so – there is so much more to OT narrative than that. If that's all your people get then pity your people! Richard Pratt will be a great help with this, and with other input on Ezra and OT narrative in general, you will be well set up for a new sermon series, as well as enjoying the fellowship, fun and space for recharging that each of our conference affords.
See you there.
Matters of life and death
One of the most vexed questions for Christians today is how we apply the truth of what we know to a fast changing culture. This is especially true in the area of ethics. Things that were not even possible 10 years ago, and scarcely considered, are now on the radar. Christians have to react quickly and think carefully. That's why John Wyatt's one hour session at this year's EMA was gold dust. John is a practicioner, which means every day he is having to put his carefully thought through theology into real life situations, and it's well worth hearing his conclusions. Many people have valued his book, Matters of Life and Death (new edition soon, I believe). In the meantime, watch, take notes and share liberally.
Applying 1 Kings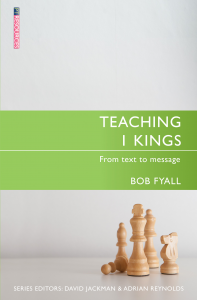 It seems pretty clear to me that 1 Kings is all about the kingdom advancing. It advances despite messy and complicated situations; it advances through godly men and women and it advances even when enemies seem strong (I think you can work out my outline). But how do we apply that today? I think it is wrong – especially at the start of a 1 Kings series – to launch straight to the church. It needs to be Christological before anything else. The simplest way to do that, and the most faithful, is to say that we see the advance of the kingdom despite messiness, through godliness and even when the enemies seem rampant in the life and death of Christ. After all, as Adonijah looked impressive, didn't death look impressive on Good Friday? Our experiences are parallel not because we're ourselves are in the 1 Kings story but, supremely, because Christ is in the 1 Kings story and we are in him.
Bob Fyall's new PT book is excellent on all this stuff, I heartily commend it. It's worth getting hold of and having on your shelf even if you're not planning a 1 Kings series soon. This one's a keeper.