The Storm That Stopped [Alison Mitchell]
Good children's books are a wonderful resource to get into the hands of families in your church. When bedtime stories are the highlight of the evening and the words and pictures generate a combination of intrigue, excitement as well as learning then everyone is on to a winner.
The Storm that Stopped is a beautiful, simple and wonderful illustrated hardback book. It is a retelling  of the Calming of the Storm with a really helpful conclusion showing how Jesus does things that only God can do. The children are helped to see who 'Jesus really is'.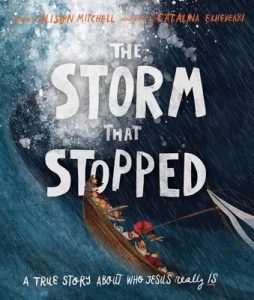 The story is well told and the pictures are mesmerising, I can see this book being a favourite that is constantly pulled down from the bookshelf at bedtime. This story, coupled with these illustrations and a dramatic parental narration alongside will delight and disciple young children in a potent combination.
This is a beautiful gift, great for Sunday school prize givings, Baby and Toddler groups as well as for the church bookstore to help young children learn life changing truths.