Preacher's Profile: Paul Rees
This is the second post in our Preacher's Profile Series. This time we asked Paul Rees questions about his life and preaching ministry.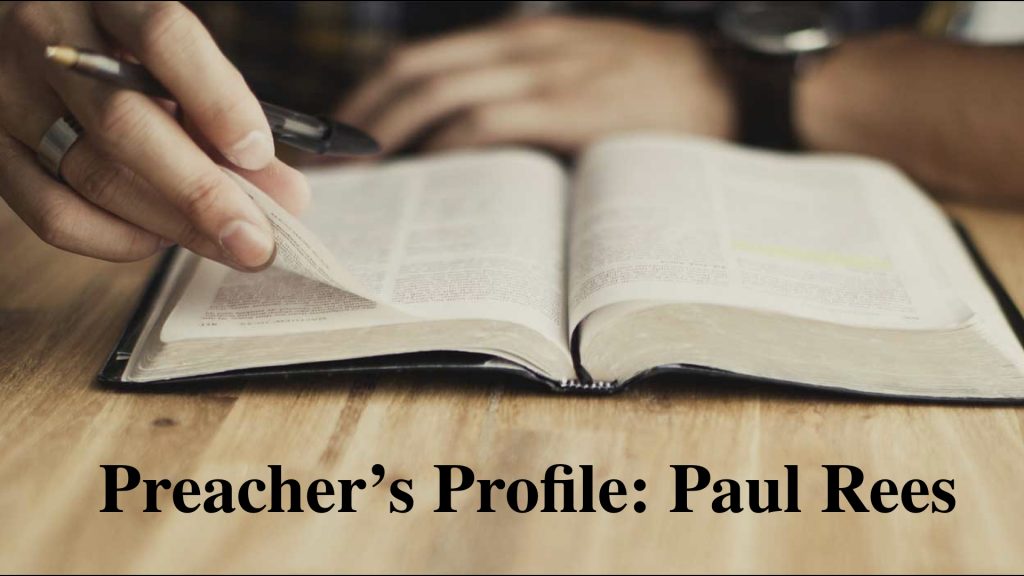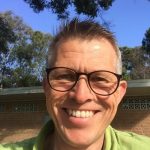 Paul is the Lead Pastor of Charlotte Chapel in the city centre of Edinburgh. Paul is marries to Shiona and they have four children (3 at Uni and 1 at High School.
We asked Paul some questions about his life and preaching ministry.
When did you preach your first sermon and how long have you been preaching?
1991 in Dundee – Halfway through preaching the sermon I realised as I preached that I did not really understand the Bible passage I was preaching on.  Some kind older people still said it was nice to see a young man in the pulpit.
What was your journey to preaching ministry?
Hearing consistent expository preaching as a student whilst attending St Helen's Bishopsgate, London 1986-1990.
Being asked to preach in Brethren churches.
Studying at Cornhill Course, London 1993-1994
Working part time as a dentist, self-financing ministry in my home church; during which several churches invited me to work for them full time.
Studying at Moore Theological College, Sydney. Working in student ministry with Simon Manchester (North Sydney) and John Chapman/David Mansfield (department of evangelism).
Describe the congregation/setting you regularly preach to.
Charlotte Chapel -is a gathered city centre church affiliated with the FIEC.  Founded in 1808. A multi-generational church with a strong student and international's ministry.

What are you currently preaching on/through?
About to start a series on the book of Hebrews – helped by attending the Spring Ministers Conference with Doug Moo on the book.

What is your regular rhythm of sermon preparation, your usual process and how you schedule it in during the week?
Monday – day off.
Tuesday – am – Pray & start text work.
Wednesday -am  Pray and commentaries
Thursday – Pray & sermon outline am
Friday – pray & write sermon – all day; and sometimes Saturday if prep has not gone well.
Sunday AM – some reshaping if fresh ideas have come, pray & preach.
What is your drafting/editing process that you go through in finalising your sermon for Sunday?
It's never finished – but just need to get up and preach what you have got; a better outline sometimes comes to mind the Monday afterwards!
What script/notes do you take into the pulpit?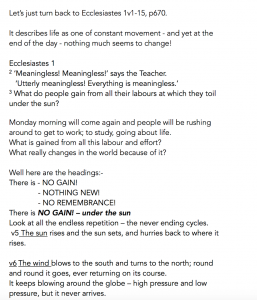 What feedback structures do you utilise in improving on your preaching?
Staff feedback time Tuesday afternoon staff time – was the bible understood correctly; what was helpful; what could be improved.
What areas are you currently seeking to develop in your preaching?
Starting earlier – in order to feel less anxious as the Sunday deadline approaches.
What do you do on the days your preaching did not go very well?
Same as when it seems to go well – spend Monday with my wife Shiona; walking the dog, going for a cycle, relaxing.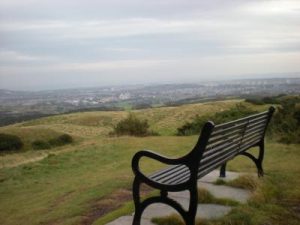 What one piece of advice would you pass on to someone starting out as a preacher?
Be a faithful herald of what God says in his Word and then its not about you.   Spend time listening to your congregation and with young Christians and prepare so as to apply and be a blessing to them.
What are some of the best resources you have found on preaching?
I think my year at Cornhill – gave me tools and an approach that has largely shaped my preaching and then having older preachers mentor you and give you honest feedback is a great help.
Finding a good commentary on the bible book you are preaching through is a massive blessing.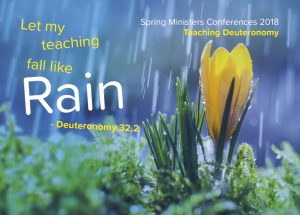 Doug Moo spoke on Hebrews at our Spring Ministers Conferences in 2017.
This year we have Garry Millar speaking on Deuteronomy.
Senior Ministers 23-26 April
Younger Ministers 30 April – 3rd May