Reading apocalyptic books – God's way
Just started reading Zechariah. Immediately floored by the vision of four horsemen (red, sorrel, white, dark red) standing by a myrtle bush. What on earth can it all mean?
It's possible, of course, to spend ages analysing such detail – and plenty of preachers and commentators do exactly that. But Zechariah is liberating because God himself interprets the vision through his angel. "I will show you what they are."
Here's the punchline. The angel makes absolutely no mention of the colours of the horses nor the shrubbery beside which they appear. Did you get that? God's own interpretation of the vision is that the details are pieces of colour and not central (or even essential) to the interpretation. How liberating is that! Not just for Zechariah, but for all this kind of literature.
Iain Duguid is a notable OT scholar, preacher and author and is leading our Senior Ministers Conference next year. Amongst his commentaries, is one on Zechariah. This is what he says about the four horseman and understanding the detail:
"The conversation that follows, which must be understood as giving Zechariah the essential message of the vision sheds no light at all on the significance of the various colours of horse or the particular variety of tree, and that suggests these details are not important. The approach…to interpreting and applying the visions takes its cue from that observation. We shall stand back and enquire after the clear import of each vision as a whole, especially in the light of the interpretative comments and oracles that are interspersed among the visions, rather than seeking significance in every minor detail."
Booking is already open for the Spring conference with Iain. Sadly, in this case, details are important and you can read about them here.
If the world were a village…
of just 100 people, according to the latest Crosslinks magazine:
only 17 would be Western
33 would call themselves Christians but only 9 might be evangelical
40 would never have heard of Jesus
16 of them, even if they did hear, cannot read, so would not be able to read a Bible
the 17 that live in the West would have over 50% of the wealth
56 are in such severe poverty that they are suffering from malnutrition
"But the world is not a village of 100 people. It is an ever increasing population well on its way to the 7 billion mark. The 67 villages who don't know Jesus are actually 4.5 billion people…who will have to face God without a mediator."
What are YOU doing about it?
The Big Sing
Next week I'm leading a seminar at the FIEC Leaders' Conference on the sometimes vexed question of music and singing. It has meant that I've spent some time with my head in Colossians 3.16-17 and I've been very encouraged with what I've found.
"Let the word of Christ dwell in you richly, teaching and admonishing one another in all wisdom, singing psalms and hymns and spiritual songs with thankfulness in your heart to God" (ESV)
My question was, how does singing tie in with letting the word of Christ dwell in us richly. It is tempting (and often done) to separate the two parts of the verse as two different issues. We (a) let the word of Christ dwell in us richly, which we do as we teach and admonish one another – i.e. speak the word to one another. We also (b) sing to one another – and isn't that nice! It all seems a bit disconnected to me.
And indeed it is. A bit of study is rewarding. Far from being a conservative evangelical doctrine of word encouragement and a few words of about singing – this verse has a oneness to is. Moo explains it best in his Pillar commentary on Colossians and Philemon. In fact, he argues quite cogently that the TNIV is the best translation here (all of which is interesting for the NIV revision coming out in 2011 which Moo is chairing). So,
"Let the word of Christ dwell among you richly as you teach and admonish one another with all wisdom through psalms, hymns and spiritual songs, singing to God with gratitude in your heart" (TNIV)
No doubt we should (and must) encourage one another with the word. I don't doubt that. But specifically, in this verse, we do that by singing to one another! Suddenly singing takes on a primary importance in the life of the church – it is a ministry of the word, no less! There are all sorts of implications, of course, which I shall try to work out with the FIEC leaders – and take on board myself, for this is a ministry that every churchgoer exercises with amazing regularity.
Invitation to a Practical Ministry Seminar
We're just planning our 2011 Practical Ministry Seminars. These innovative and intimate gatherings are held at The Oasts conference centre in Sussex and are a great way to stay fresh in ministry, particularly focusing on sharpening preaching skills and addressing and praying through pastoral issues. We have spaces for up to 10 men on each conference (21-24 Feb; 23-26 May; 17-20 Oct 2011). Because of the size, the seminars are also a great way to develop and deepen relationships with others in ministry.
So, here's an idea. Why not use one of the Seminars to invite your local preaching group or fraternal? Come away together with us and get to know one another better so that you can be an effective encouragement to one another where you serve. Alternatively, you could invite a group of contemporaries with whom you don't want to lose contact. We always have to work hard at building and keeping relationships going – and the setting of The Oasts matched with the Seminar content will be a great help in this task.
Get in contact with Rachel Brabner if you're interested and we can help you think through how to invite friends and make the most of the opportunity. In the meantime, here's a review from Tim Silk, who attended his first Practical Ministry Seminar last year:
What was helpful for me was the way the various ingredients were experienced together. It was great fun! The food was amazing! The people were almost normal! The focus was a robust declaration of Isaiah's message in a broken world; and there was time to pray together. The conversation flowed between the Bible, our lives, and the different missional contexts in which we found ourselves. This was further facilitated by the evenings where we were taught from the Bible about the nature of following Jesus today.
This led on naturally to the consideration of various challenges we all faced. It was particularly helpful to be part of a group of leaders at a similar stage as it allowed us to help each other back to the heart of gospel ministry. It was a great investment of time and resources, because it allowed each of the encouraging ingredients to be experienced simultaneously, and allowed time to consider the issues. Whilst the planned input was really very helpful personally, it was the unplanned time available to talk through ministry challenges with others who had been there before that made it for me.
Andy Gemmill joins Cornhill Scotland team
Here's an excerpt from a Cornhill Scotland news release:
I wanted to share with you some additional very good news for the future of the course, and for all of us here involved with Cornhill Scotland's work. Our work is expanding, which is wonderful, but also demanding, and so we are delighted that we can look forward to a new member of the team in the form of Andy Gemmill who will join us next year.

Formerly a physician, Andy joined the staff at St Helen's, Bishopsgate under Dick Lucas, then served as Assistant Minister at Spicer Street Church in St Albans, and for the last 12 years he has been senior minister of Beeston Evangelical Church in Nottingham, where he has had a remarkably fruitful ministry, including training many for future ministry.

Many of you will know of Andy's ministry, and also his extensive involvement in wider training initiatives, such as serving on the Executive of 9:38. His bible teaching gifts are extremely respected and widely appreciated, and as we look to strengthening the team for the growing work of CTCS in the present, as well as building for planned further developments in the future (look out for news next year!), we are so thankful to God that he has led us to Andy, and Andy to us! I could hardly imagine someone more perfectly fitted for the needs of Cornhill Scotland, being as he is a native Scot, who is coming 'back home' at last to help us in the work of building the church of Jesus Christ in Scotland (and beyond!).

As you can imagine, there will be quite an upheaval for the family as they look to a major changes in all sorts of ways, so please do hold Andy and Annie, and their family, in your prayers over this coming year of transition, and join us in giving thanks to God for this enormous encouragement for all of us here in Glasgow.
Dealing with the financial crisis
How should churches respond to the current financial crisis in terms of what they do and how they pay for stuff? That's a deep and complex problem – but I have been very encouraged to read Philip Jensen's address to the Synod in Sydney which deals with precisely some of those issues albeit at a denominational level. Some of the administration etc left me befuddled because I'm neither an Anglican nor in Sydney. Nevertheless, there is some wonderful godly wisdom applied there. It's worth a read.
Wearing appropriate clothing….and other sermon applications
One of the joys of being a coeliac is a regular visit to the local NHS hospital for a bone density scan. Yesterday's appointment was heralded with a letter telling me, right at the end, to "wear appropriate clothing." I wasn't entirely sure what this meant! Swimming trunks? Full Arctic gear? Smart casual, in the PT style? It made me think a little about sermon application – something that preachers are notoriously bad at. It's quite possible to have sermon application that is right but is almost worthless.
"Wear appropriate clothing" is absolutely and thoroughly right. There's no question about it. But as an application, it's next to worthless because it really tells me nothing. So, here are a few thoughts about application (in no particular order):
don't be afraid of command. The NT is full of command. Indeed, properly understood, grace frees us up to obey (see, for example, Ezekiel 36.27). Perhaps exhortation is a better word than command, but our preaching should contain imperatives.
having said that, it's always easy to make people feel guilty about the things they are not doing and then exhort them to do more. I think this is lazy and not always helpful even if it is right. Show people the means as well as the command.
don't be afraid of being general. The best application does not have to be narrowly targeted. The best application is biblical. Here's an example – this weekend I'm preaching on Psalm 145: there are some great exhortations that arise from the text (e.g. to pass on the praise of YHWH from generation to generation) but the primary application is a call to come and praise him. There's a great temptation to think that such a call sounds weak and general and not rooted enough in the daily grind of listeners. But that suggests God got Psalm 145 wrong. Great application can be general.
however, don't be general if the passage leads you to being specific. We can always reduce application to "read your Bible more, pray more, witness more." Few passages ever say this, even if this is often the means by which we walk more closely with the Lord.
use biblical language to describe what people must do. There's some strong and evocative language used by Bible authors – make use of it. "Put on" and "Put off" are two great examples.
Waterloo Lunchtime (not sunset)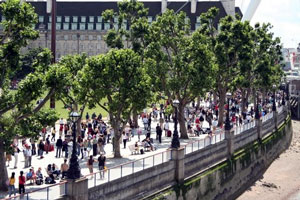 We're a great fan of doing Bible things at lunchtimes (wherever you live and work) and London working life lends itself especially to that. Susanna, our office queen (aka administrator) has just returned from the London Bridge Network. Here's news of a new London talk starting up in the Waterloo area. For these talks to work they have to be pretty much on your work doorstep, and for those who work on the South Bank (RBS, Shell, arty types in the South Bank Centre) these are bang on your doorstep.
Run by our good friends at Duke Street Church in Richmond, this new lunchtime ministry called Southbank Talks, will start on Thursday 27th January at the Mulberry Bush Pub, 89 Upper Ground, SE1 9PP. The ministry will meet every Thursday lunchtime from 1pm till 1.40, starting with a buffet lunch followed by a 20 minute talk from the bible. Contact Andy Hambleton for more details. Check out other London lunchtime stuff here.
Vaughan Roberts on George Whitefield
How to welcome people in
Does your church have a flash-y website (geddit?). What words greet visitors as they surf to find out a bit more about your church? I was struck by the welcome that Dale Ralph Davis gives seekers to Woodland Presbyterian Church in Hattiesburg. It's typcical DRD – ending with a warning to newcomers:
Now I must warn you. This church is full of sinners. Everyone who comes here is one. You'll need to remember that if you associate with us – or you may be unnecessarily disappointed.
I think he wins the award for honesty, if nothing else….