God and the Transgender Debate – [Andrew T. Walker]
Before a Tsunami hits the tide goes out a long way. When you see the tide go out it is time to get ready for the wave to hit.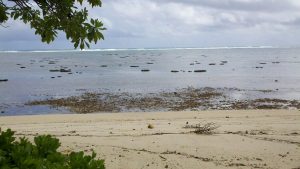 All too often the Christian church has waited for the wave to hit before thinking through the issue at hand. For the last 30 years we have all too often been playing catch up and reacting to societal shifts rather than proactively applying Biblical wisdom to the twists and turns of cultural trends.
However, with the fluid nature of society in our present time, we are very grateful to thinkers who are helping get on and even ahead of the curve. Forewarned is certainly forearmed when a shifting society starts to slide.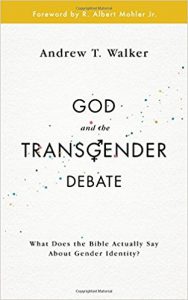 Andrew T. Walker in his meaty book, 'God and the Transgender Debate', has done us a great service in helping us think through the latest wave that is breaking in our Western World. Andrew serves as the Director of Policy with the Ethics and Religious Liberty Commission and is well positioned to write such a volume.
It is best described as a book in 3 parts.
After introductory material giving the lay of the land, Andrew dives straight into Genesis 1-3 and gives a detailed overview of human sexuality, God's good design and the catastrophe and confusion that ripples out from the fall. This section is thoroughly Biblical, very clear and helpful. It says nothing particularly new but does a great job in showing how gender dysphoria is symptomatic in this sin infected world. There is also some really good material here on being made in God's image and all that that means. Chapter 7 then fast forwards to the hope of a glorious future beyond the frustration and confusion of this world, all available in Jesus Christ. It is a compelling chapter that moves beyond coping and managing to discipleship, wholeness and hope.
Having laid this Biblical foundation Andrew then gets very pastoral firstly helping the reader think through how to love and serve gender dysphoric people both as individuals and also as churches. These are deeply convicting pastoral chapters and though they are specifically honed on the subject of transgender, the principles that Andrew highlights have much broader application. This section of the book is great and very thought provoking.
The final section of the book moves very specifically to practical things. Through case studies and worked examples Andrew starts to explore what repentance looks like, how to speak to children of various ages about these issues, whether you should make gender neutral toilets in your churches and other tough questions that are thrown up by this complex issue. Whilst you may not agree with all his conclusions, Andrew certainly shapes and sharpens thinking both with his clarity and depth of application.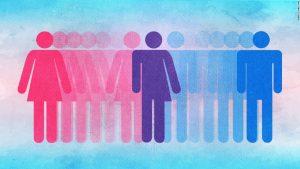 I think in Western Society the tide is well and truly out and already the waves are beginning to break as the latest Tsunami of societal disorder begins to flood in. This book is of great value and help in thinking through this issue, it is informed, pastoral and practical. It filled in gaps in my knowledge and stretched my thinking. It is Biblically robust, well reasoned and sensitive. This is by far the most comprehensive book I have read on the transgender debate from a Christian viewpoint, and I would heartily recommend it to pastors, congregation members and the chapter on speaking to children to every parent in your church.
Whilst it is 174 pages long it is very well written and extremely readable.