Echoes of Exodus – Alistair Roberts & Andrew Wilson
Echoes of Exodus – Andrew Wilson and Alastair Roberts
The message of Echoes of Exodus really reverberates.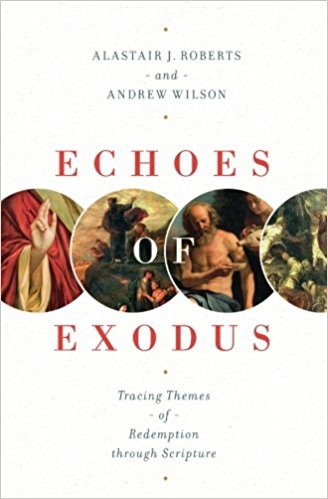 The basic premise is that the Exodus is the overture of the Bible, and its echo is heard throughout the entire Bible. In just 22 short chapters Wilson and Roberts write a delightful book explaining the symphonic nature of Scripture seen in the rich melody of the exodus.
The book is divided into four main movements. Movement one hones in on the book of Exodus all the way through to Joshua. Movement two is the prequel to the Exodus looking at the exodus themes foreshadowed in the great events of Genesis particularly in the lives of Joseph, Jacob, Abraham & Noah, casting these seismic events as exodus-esque episodes. Movement three is a panoply of other Old Testament stories resonating with exodus themes, with an all star cast including, David, Absalom and Achan. Lastly in movement four the crescendo builds to show exodus in the life, death and resurrection of Jesus Christ and cascading out into the book of Acts. The finale of this movement shows that only at Christ's return will the exodus truly end.
This book is very readable, very thought provoking and brilliantly written. The chapters are short, the ideas are deep and, the questions at the end of each chapter help to consolidate the learning and stretch the reader. It is an ideal book to give to people to encourage them to mine deeply, unearthing the inexhaustible treasures of the Bible.
Echoes of Exodus will help people in their personal devotions, thrill Bible study groups and be a wise guide to the preacher. It is clear, careful and captivating. Echoes of Exodus is beautifully set so the symphony of Scripture can sound from its pages into the hearts of the reader.