Report – Spring Wives 2018 [Carolyn Lacey]
Last week I had the privilege of being with 100 or so other ministry wives at the PT Spring Wives' Conference at Hothorpe Hall. This was my 18th PT conference and, as always, I loved it!
I'm married to Richard who is the lead pastor of Woodgreen Evangelical Church – an FIEC church in Worcester. We have 2 teenage children and have been in full-time ministry for 18 years. We've been part of the church family in Worcester for nearly 12 years and love living and serving here.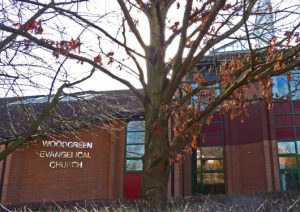 The Wives' conferences have been significant in equipping me to support my husband and love my church family. I come each year because I need the encouragement and support of other wives who understand the joys and pressures of ministry life. I love hearing stories of how God has answered the prayers we've prayed together over the years. It's a privilege to be able to weep with those who are struggling and celebrate with those who are rejoicing. Every conference is a mingling of laughter, tears, encouragements, shared ideas, and testimonies of God's grace.
This year, Christopher Ash and Carrie Sandom shared the teaching and their messages complemented each other beautifully. Carrie spoke from Mark 8-10 on the cost of following Jesus. She challenged us to think about where we see the cost in our daily lives and reminded us that the sacrifices we make are worth it – especially when we consider the eternal cost of not following Jesus faithfully. She also encouraged us to uproot the pride we all struggle with and to serve our church families with humility.
Christopher taught from Psalms 37, 69 and 137 – Psalms of Indignation. He showed us how these Psalms can both encourage us and shape our prayers as we struggle with the frustrations of helplessness, despair and injustice we face as believers and, particularly, as ministry wives. It was refreshing to study poetry and to linger over the images and emotions the Psalmists use in response to suffering. I think many of us will find this an ongoing help as we seek to voice our own struggles honestly but with an eternal perspective of hope, justice and deliverance.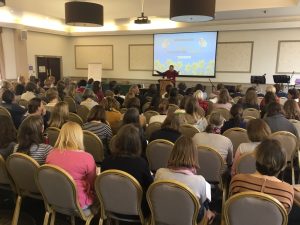 The seminars were great for discussing issues specific to ministry. I was especially helped by Christopher's thoughts on how to listen to our husband's preaching well – I hope to be more of an encouragement to Richard in this area. There was also plenty of time to pray, rest, relax with a book, walk, chat, eat cake and laugh! I've come home refreshed and energised for another year of ministry, thankful for my church family, and grateful for the privilege of serving Christ and his church alongside my husband.
The Spring Wives' Conference provides a great opportunity to establish friendships, to take time away from the busyness of everyday life for refreshment and encouragement, and to hear faithful Bible teaching applied specifically to ministry life.
If you're a ministry wife wanting to grow in your love for Jesus and his church, as well as your own husband, it's definitely for you!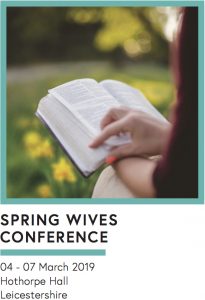 Please pray for the Woodgreen Church family as we seek to reach our community with the good news of Jesus Christ.
We have several evangelistic events planned over the next couple of weeks, and we'd love to see many of our friends and neighbours respond to the gospel.
Please also pray for our follow up Christianity Explored/Life Explored courses.