Topical preaching….?
I am just getting into Jason Meyer's Preaching: a biblical theology. Stimulating stuff. As is my want, I skipped forward, because I was interested to read what case he made for expository preaching (very strong) and how his view of topical preaching fitted into this. I heard Peter Adam (at my very first ever PT residential conference) make a case for preachers preaching one topical series a year as a way of making sure congregations were fed a regular expository diet but allowing room for applying the Bible in particular areas of life. This is Jason's take on the same topic:
The Bible does not contain the phrase expository preaching, but I believe with all my heart that expository preaching is the best fit for the biblical concept of preaching. The Bible itself commends expository preaching. The [last three chapters] have attempted to show that other systematic truths from Scripture support expository preaching. My main point in this chapter can be stated simply: a preaching ministry with a steady diet of expository preaching is the best strategy for the long term health of the body of Christ. Therefore, expository preaching should have pride of place in the regularm rhythm of congregational life. I affirm that preachers can hold up the primacy of expository preaching without denouncing or demonizing topical preaching. (p297).
Only, I'm not sure I'm quite with him. I think my categories are ever so slightly different. Here's how. I think what he's describing is systematic expository preaching – i.e. working through a book of the Bible. If – as I think I understand it – expository preaching is (to use Dick's phrase) a mindset not a method, then a topical sermon should be expository too; it is still saying what the text says and letting that guide the sermon. The best kind of topical sermon is rooted in a text and so, the best way to preach a topical sermon is surely to practice some of the same hermeneutical approaches we use when preaching a sermon series. Topical preaching can still be (and I think, should be) expository.
Sandra's nose and contentment in ministry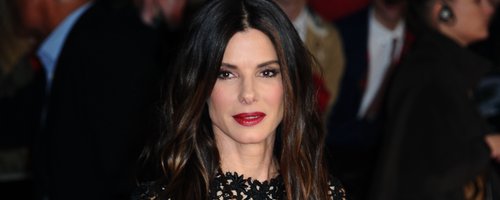 So, Hollywood actress Sandra Bullock was on London's Red Carpet last week for the premiere of Captain Phillips. And the question foremost in my mind was, what has she done to her nose?. I find cosmetic surgery (for the most part) incredibly sad, and the fact that she now has Michael Jackson's nose (or so it seems to me, see picture) achingly tragic. Who told her that would be a good look? What possessed her to dislike her real nose so much?
Hmm.
Ministers often dislike their churches. There's a godliness in that rightly expressed. Discontent is a good Christian virtue, if by discontent we mean we are always disappointed in what we are and long for what we one day will be. It's part of the process of sanctification. But discontent in church life can also be a good thing. We want people to be saved! We want churches to grow in maturity and love for Christ, as well as likeness to him. We should never be content with what our churches are and should be on our knees praying for God to make his word come alive so that lives would be transformed.
But most of us, I would guess, feel a more godless form of discontent which says "you want to be more like the church down the road [or insert mega church name here]. You want your preaching to be more like [insert superstar name here]. You want a 20s ministry like…. You want a youth work like…." And on it goes. There's nothing wrong with wanting a church to grow. There's nothing wrong with wanting to be a better preacher.
But may God give us grace to accept that some things are from his hand. We wrestled with this in our old church when it came to 20s. We just didn't have any. Partly this was local demographics. Partly it was a strong local church that had a core which attracted more. It used to vex me greatly. But then God gave me grace to see that I was called to minister to those who were there, not those who weren't. And I should stop spending so much time worrying about what the church wasn't, and make more of what the church was. That kind of local church contentment is a great thing.
Because wanting someone else's nose always makes your face look kinda stupid.
A preaching Bible?
One of the most helpful things I ever heard Mark Driscoll say (!) was that – as a preacher – you needed to have a Bible that you were comfortable holding. I've not always found that an easy thing to achieve. For sure – there are hundreds (probably thousands) of Bibles out there. But getting the right one is not always that easy.
You've got to obviously have the right translation, the one your church uses. For us that's the NIV.
You've got to have one that is legible. I've never had good eyesight, but now middle age is approaching ('approaching' I said!), I find that my short sightedness is being matched by difficulty reading too. So I can't do with an 8pt text. I am constantly amazed at people who preach from pocket Bibles. But, for the most part, preachers can't do that.
It needs to be lightish. There's no point having a 3kg monster.
You'll have other criteria too. Driscoll continued his advice by saying something like "get the best you can afford." There's some wisdom there, at least. You want a binding that is not going to fall apart. You want one that will not slip out of your sweaty grip and so on.
Which leads me to rave about RL Allan Bibles. I used to use a Cambridge University Press bible, but they don't make NIVs any more. And whether you're an ESV or NIV user, I've yet to find a Bible maker that makes Bibles Allan's. I've been trying one out the last few days and I'm completely sold. Even in a short space of time I can see that this is the edition for me. My version is made of Highland Goatskin and smells and feels great. But, truth be told, smell is hardly top of the preacher's criteria list.
So what is so good about this Bible? Apart from the fact it has three markers, that is. It sits in my hand very nicely. I can fold it back on itself (I know, I know…). It's taken the Hodder block so I've got the same pagination as the rest of the church and the same excellent typesetting. It is quality. This is a good preacher's Bible – no, an excellent preacher's Bible.
OK, it's expensive. It will cost you about three times the amount of the mainstream bonded leather version. But, brother, using, handling, preaching this book is the heart of your ministry and so, I contend, it is money well spent in the end. You can read more about RL Allan here and here you'll find a more detailed review by a complete book-nerd (my kind of man).
Think about it.
What do you make of Solomon?
Helpful comment on the life of King Solomon and the question people ask:
In a sense Solomon sums up in himself the range of all subsequent kings. This is not only because he is most directly 'son of David' and the last to sit on the throne of the united kingdom, but that good and bad qualities are expressed most starkly in him. Many of the kings 'do evil in the eyes of the Lord' ; a few, notably Hezekiah and Josiah 'walk in the ways of David'. Solomon does both and this needs to be taken into account in considering the often-raised question as to whether Solomon was condemned to eternal judgment as an apostate. We have to acknowledge that the Bible is silent on this question. The preservation in Scripture of Proverbs and other wisdom books may suggest that in the end he repented. This may be confirmed by the absence of negative comment in the New Testament.

However, often behind this lurks another question: how far can I dabble with forbidden things and get away with it? That is the wrong approach: the story of Solomon is not telling us that we can sin as much as we want and come back when we choose; rather it tells us to recognise our own weaknesses and frailties and trust in the grace of our Advocate who is able to keep us from falling. (From a forthcoming PT title)
Preaching crosses the divide
One of the things that never ceases to surprise me is how preaching crosses evangelical divides which sometimes seem otherwise uncrossable. We never set out to make PT a place of evangelical networking alone – but on reflection it is not surprising that it has – to some extent – become that. Take our PT Cornhill training course. This year and last we've had Anglicans (from all kinds of churches including St Helen's, St Ebbe's, HTB, All Souls, coMission, village and rural churches, plants, evangelical and those only loosely so), FIEC, Independent Baptists, BU, Congregationalists, Presbyterians (IPC and Independent), Brethren, Calvary Chapel, Irish Baptist (our longest commuter!), Acts 29, NFI….the list goes on.
We have different tribes within our kind of evangelicalism. That should not surprise us. We have different convictions about churchmanship, baptism and so on which means that churches are necessarily different. But we all have key convictions about preaching, and churches and ministers can gather based on this core conviction. It's why the EMA and our preaching conferences have become places which demonstrate evangelical unity as a significant by-product.
And it works locally too. I belonged to a little preaching group when I was a local church pastor. It was made up of people from different kinds of churches and we developed close friendships which last through. The fellowship there became more significant than, say, a local denominational fraternal. It's why I often encourage local church ministers to set up such groups. We can fill our diaries with meetings, of course, but here is something useful and beneficial to plan in because preaching crosses divides that other efforts simply fail to tackle.
Know any perfect books?
Just finished reviewing Cross Roads (William Young's follow up to The Shack) for Evangelicals Now. You'll have to wait for the review, but what has got me thinking about the book is that there is an ambiguity about it. There are things that are good (or at least OK about it). There are others that are bad. Truth be told, most books have those kinds of elements – although maybe not as extreme. Not everything in every book is good. Few books are complete badness. That's why learning to read a book in a discerning way is so important. Most books are ambiguous to some extent. Perhaps this is why books have become shorter? There is less chance for them to say unhelpful or even wrong things.
The overall usefulness of a book, or whether it can be recommended to your congregations, largely depends on how those good things and bad things interact. In Cross Roads, the good things are closely linked to those which are not: hmm, worrying. It's almost impossible, I think, to assimilate what this particular book is teaching without travelling rather some rather rocky paths. For that reason, I don't particularly like it (and I'll explain more when I review it).
It made me think more broadly about the good books I love and use. I need to remember none is perfect. Two examples will suffice. For those of us who use books in evangelism and outreach, some thinking on this matter is necessary. I love Two Ways to Live, for example. But it is silent on being saved to belong to a community. That's hardly its purpose. Careful thinking means that if I use that tool (and I do) I will want to follow it up with some other stuff. It's not an ambiguity, it's simply a recognition that there are always other things to say. Equally, I recommend our young guys in church to read Wayne Grudem's Systematic Theology in one of its 457 versions. But there are things there I don't agree with. I think books are a great God-given tool. But the church that uses them without discernment of any kind is surely a little naive. The wonderful value of both of these excellent tools, of course, is that they seek to drive people back to the Bible, something conspicuous by its absence in Cross Roads.
And that's what we want. We've only one perfect book and our ultimate aim is to get people into that. Anything less will always be substandard.
Last minute Dublin opportunity
If you're within reach of Dublin, it's almost your last chance to book onto our PT Cornhill teaching day this coming Saturday. I'm looking forward to coming over to Ireland to help Bible preachers and teachers – especially those with little or no training – get to grips with how to teach the prophets. We're going to be focusing on Malachi. We've planned these days as a low cost way to develop teaching and preaching gifts in the church – an ideal day for preaching teams or small group leaders, for example. So, if you're near Dublin (Irish Church Missions, 28 Bachelors Walk, Dublin) we'd love to see you this coming Saturday. Book here.
Monday morning check up
Fresh for Monday? Here's an excerpt from Jonathan Griffith's PT book, The Ministry Medical which takes Paul's Apostolic example and injunctions from 2 Timothy and relates them to ministry. You can buy the full book here.
I thank God…as night and day I constantly remember you in my prayers…. (2 Tim 1:3)
It is often said that the quickest way to embarrass a Christian is to ask him about his prayer life, and many of us in ministry will feel that sense of embarrassment particularly acutely. We know that the work to which we must devote ourselves is 'prayer and the ministry of the word' (Acts 6:4), but because our study of the Word is such labour-intensive work (and because it is so obvious when we fail to give time to it), prayer often loses out. Well, here is a gentle encouragement from the example of the apostle Paul to put praying back at the top of our agenda. Paul was a great pray-er, and his prayer life overflows into his letters time and time again. Prayer was the great secret behind the effectiveness of his discipleship of young leaders like Timothy. Paul loved Timothy as a son and made no secret of it: 'I long to see you, so that I may be filled with joy' (1:4). But this was no idle sentimentality; Paul's heartfelt affection and concern for Timothy and his ministry was channelled, not only into teaching him and corresponding with him, but into daily prayer.
This prayer was full of thanksgiving for the evidence of God's gracious work in Timothy's life and ministry ('I thank God….'). We can be quite sure that each of the admonitions and instructions contained in this letter had first been the subject of much intercessory prayer for Timothy that God would strengthen and equip him for the work before him. Paul's personal model provides a threefold challenge for us in our prayer life. First, are we praying for our people regularly – 'constantly', 'night and day'? We all have our own systems and patterns for praying and we will all do this (or, at least aim to do this!) in different ways. But to be faithful in 'constant' prayer for our people will require two types of habit in the life of the minister. It will almost certainly require us to follow some sort of list or plan for praying for each of our people by name. In my last church, we had a prayer directory that simply took the membership list and divided it into 29 parts, and so I aimed to pray for a handful of people each day and for the whole church family over the course of every month.
That works if you have a church of 50 or 100 or even 200. It is less easy, and eventually impossible, if you are ministering to a much larger congregation. Perhaps you can only pray for your people by name every few months. If that is the case, it would be worth identifying a core group to whom you minister more intensively – your elders and their families, your staff team, or your home group – and pray for them more regularly. Alongside planned praying for our people, the habit of 'constant' prayer will also mean praying spontaneously and as a matter of reflex for people as we minister to them day by day. When people appear on our doorstep in crisis, praying with them and for them should be our first response. When we prepare to teach the Bible to our people, we must be praying for God to do his mighty work in their hearts as they listen to his Word. When we head off to the hospital to visit a dying saint, the visit should be preceded by prayer, filled with prayer, and followed by prayer. It all sounds very obvious, but how easily prayer is squeezed out in the busyness of ministry. Are we those who pray 'constantly', 'night and day' for our people?
Second, are we giving thanks for God's work in our people? It is so easy in the work of ministry to see the problems and disappointments. People seem to lack hunger for God's Word; they appear to be unconcerned about their own godliness; they lack motivation for evangelism; they seem unwilling to serve – and then there is the matter of our own half-heartedness! But if the Spirit of God is at work by his Word in our church family, there will be life and progress and growth. There will always be encouragements mixed in with the discouragements. And those signs of life and progress are wonderful evidences of the gracious work of God in our midst. We plead for God to bring a person to new life, to turn him from sin, to equip her for service – but how often we fail to give him thanks when He graciously answers our prayers. Where has God been at work recently in the lives of your people? Are you giving thanks to him?
Third, are we praying for our people before we teach and admonish them? It is telling how frequently Paul precedes his instruction by prayer (Rom. 1:8-10; 1 Cor. 1:4-7; Eph. 1:15-23; Phil. 1:3-5; Col. 1:3, 9-14; 1 Thess. 1:2-3; Philem. 4-6). Paul knew that if any spiritual work was to be accomplished in the people under his care, God himself would have to do it by the power of his Spirit. At a church where my wife and I were members some years ago, the senior minister used to remind us of the vital importance of the prayer meeting each month by recounting this basic truism: 'When we work, we work; when we pray, God works.' We can work and teach all we want – with all 'blood, toil, tears and sweat', to borrow a Churchillian phrase – but if we are not prayerfully waiting upon the Lord to work, we should expect no fruit. Is our preparation for sermons and Bible studies and personal work and hospital visiting covered in humble and dependent prayer? Or have we become proud and self-sufficient, imagining that the power to change people rests with us? If, like me, you sense the inadequacy of your own prayer life, take Paul's model of prayer-filled ministry as a prompt and encouragement to make more of the privilege of prayer. Even Paul the great apostle knew that he needed prayerfully to rely on God's power for all he undertook to do, and he knew that he needed to give God the praise for any fruit he saw.
Willcox House sermons
I heard some extraordinary news this week. Our 1960s office building was an early Norman Foster creation. Frankly, I found that hard to believe unless, as one wag pointed out, he'd done the drawings on a Friday afternoon during a particularly gripping Ashes test. Don't get me wrong, it's a great provision, functional, ideally located, reasonably robust (it's only occasionally that things fall off). All, in fact, you could want in an office building. But it's not Foster showboating. It's not the Reichstag or the Gherkin.
That got me thinking about sermons (like the link there?). The majority of our sermons are not high profile building projects. We don't have time or energy to produce a Terminal 5 every week. We're not showboating, trying to impress our congregations. Quite the opposite. We want to produce carefully crafted, useful, faithful, warm, heart changing (under God) sermons. But we're not on the conference platform every week. For which I thank God. We are Willcox House preachers.
We need to be careful. I am not advocating sloppiness, laziness, cutting corners. I am not saying you need to be dull or lifeless. Willcox House – for all its functionality – is still well built. No – rather, I am saying that we need to make sure style does not triumph over substance. In this internet age when we have immediate access to some of the world's showboating preachers, the temptation is to replicate what they do in the pulpit week after week, rather than thinking more clearly about the calling we ourselves have received.
The London skyline is overwhelmed with architects trying to outdo one another. The result is half empty buildings that look messy when the sunblinds are activated (the Shard) and strangely contoured buildings which melt cars (the Walkie-Talkie). God help the church where the pastor is only really interested in being a preacher superstar.
Carefully worded preachers
I read these wonderful words in my devotions this morning, describing how Solomon has put together the book of Ecclesiastes:
Not only was the Teacher wise, but he also imparted knowledge to the people. He pondered and searched out and set in order many proverbs. The Teacher searched to find just the right words, and what he wrote was upright and true (Ecc 12.9-10).
What encouragement for the preacher! Here is a model of preparation which many would do well to learn from. It is not just studying and crafting and ordering, it is also finding just the right words. I don't use a full manuscript myself, but I do think very carefully about the words I use as a preacher. I remain unconvinced that preachers who give no time to the actual words they may use are really following in the footsteps of the wise writer of Ecclesiastes.