Women in ministry
I'm away at the moment speaking and serving at our Women in Ministry conference with 73 women serving local churches up and down the country. It's a very encouraging time. That's partly due to the warm and faithful ministry of Kathleen Nielson, the Director of Women's Initiatives at The Gospel Coalition. She's quite a find (and is speaking at Word Alive week 1 this year). But more importantly there is represented here a real breadth of ministry with one common factor, it is bible ministry women to women. The encouragement for me is the breadth here:
Free church and Anglican
paid and voluntary
part time and full time
working with kids, teens, young women, older women
working in groups, working 1-2-1
And so on.
It's good to see UK churches embracing the value of this kind of ministry. Sure, some churches are having to be creative how they fund such positions. But increasingly, churches are recognising the difference that targeted women's ministry can bring. I think we'd find that we're ahead here in the UK of other complementarian evangelicals around the world, including (perhaps) the US as well.
It's something to rejoice in, but not be complacent about. And perhaps it's worth thinking how this could be a ministry that might bless and benefit your particular local church?
A children's talk idea
We're just beginning something new at our church. Last year, in our Sunday gatherings, we worked through the New City Catechism, one question each week. This year, we're trying something new. We're going to have a semi-regular church history slot called 50 Christians. Each time around we're going to do a VERY brief bio of a notable figure in church history – just highlighting one, or at most two, things about them that Christians should know- then we will use that to springboard into the next part of the service: for example, we might talk about Luther as seeing the Bible clearly teaching justification by faith alone and then sing an appropriate hymn next. Alongside this we're producing a set of cards – like old fashioned football or baseball cards for the kids (and families!) to collect. If they miss a week, they can ask their Sunday School teacher for one. Here's an example of a card: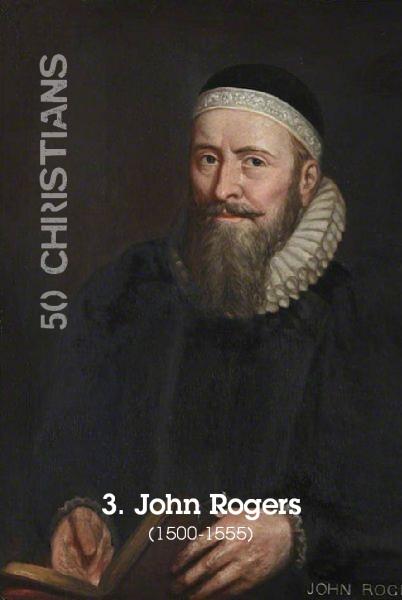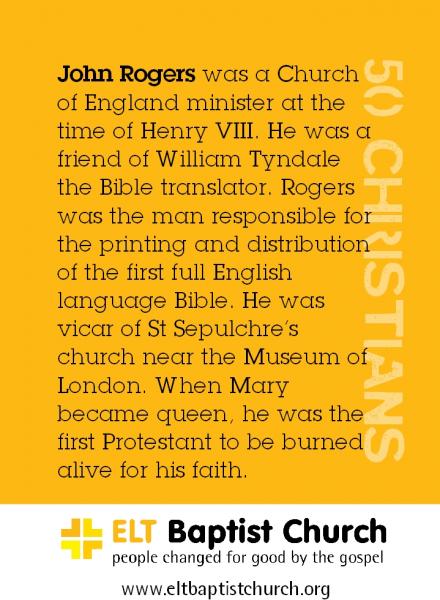 We've had these printed as business cards (reasonably cheap) so people have something tangible. Part of our worship then becomes thanking God for our past and rejoicing in the way he has used men and women in the past and how he has preserved his church. We thought this might be more edifying than a rather trite kids talk which – if the kids are going to be taught well in Sunday School – shouldn't be needed anyway. We don't teach the adults twice, after all….
Just an idea.
And now….. introducing the preacher
How do you, the preacher, want the service-leader to announce that the sermon is coming next? Many of us will have thought that through. Many will have tried to educate our leaders to move beyond describing the sermon like it's a Sunday lecture ("Brian will now teach/explain that passage to us"), and certainly not to downplay its authority as a declaration of the gospel ("Brian will come and share with us from that passage").
What is said at that key point in the service says a lot, even unthinkingly, about what we actually believe the sermon is really for. There's no single ideal phrase, but at the moment I like this: "Brian will be proclaiming Christ to us from the Scriptures". At least this nails three crucial things:
1. The sermon is a proclamation. It's not a discussion-by-monologue, and it's not the reading out of an exegetical essay with some implications tacked on.
2. It's core ought to be Christ himself. This obviously says something about preaching the OT (i.e. would your sermon be applauded in the synagogue?) But here I mean something in addition, which needs saying carefully. I mean: Christ himself and not just his benefits. Paul did not tell the Corinthians that he resolved to know nothing among them except the cross. He resolved to know only 'Jesus Christ and him crucified' (1 Cor 2.2) – the message of a crucified Christ being an especially important corrective in Corinth.
3. It's from the Scriptures – normally what's just been read to us. It's not the passage in front of us a launch-pad into something else, but an exposition of God's Word.
Proclamation of Christ himself from God's Word. And if Brian's not properly geared up for all three parts of that, maybe he'll rightly be too nervous to get to his feet.
Keep going, Mr Preacher. Perhaps we can help?
I was reminded on a recent conference about a story from Steve Farrar's book Finishing Strong. I think there are better books for evangelicals on this subject. Nevertheless, this is a powerful story. Here are a few excerpts:
Billy Graham wasn't' the only young preacher packing auditoriums in 1945. Chuck Templeton and Bron Clifford were accomplishing the same thing – and more. All three young men were in their mid-twenties. One seminary president, after hearing Templeton preach one evening to an audience of thousands called him "the most gifted and talented young man in America today for preaching."

Bron Clifford was another gifted 25 year old fireball. In 1945, many believed Clifford the most gifted and powerful preacher the church had seen in centuries. People lined up ten and twelve deep outside the auditorium trying to get in. Later in 1945, when Clifford was preaching in the chapel at Baylor University, the president ordered the class bells turned off so that the young man could minister without interruption to the student body.

Graham, Templeton and Clifford. In 1945, all three came shooting out of the starting blocks like rockets. You've heard of Billy Graham. So how come you've never heard of Templeton or Clifford?

Just five years later, Templeton left the ministry to pursue a career as a radio and television commentator and newspaper columnist. Templeton had decided he was no longer a believer in Christ in the orthodox sense of the term. By 1950, he wasn't even in the game and no longer believed in the validity of the claims of Jesus Christ.

What about Clifford? By 1954, Clifford had lost his family, his ministry, his health…and then his life. Alcohol and financial irresponsibility had done him in. He wound up leaving his wife and their two Down's Syndrome children. At just 35 years of age, this once-great preacher died from cirrhosis of the liver in a run down motel on the edge of Amarillo.

In the Christian life, it's not how you start that matters. It's how you finish.
It's all rather numbing, isn't it? It's why we believe our preachers conferences are so important. They are designed to keep people going, not just in preaching (though that is a key focus as it is a key focus of ministry), but in our Christian walk generally. This Spring we'll be joined by a great line of experienced preachers to help out. Won't you join us too and work, under God's grace, to avoid the fall of Clifford and Templeton? Book here for senior ministers conference and here for younger ministers conference.
Well known stories trip us up
I'm enjoying studying 1 Samuel at the moment. It's stretching me as I think about preaching and encouraging my heart as I reflect on the wonder of the king Yahweh has given us – his own Son!
And yet I'm convinced that familiar stories can often trip us up. Take David and Goliath (probably pronounced, according to my Hebrew lexicon, Gal-yat, but try selling that one to your congregation!).
Go on, admit it. This is the picture you imagine.
Here's little David in Saul's oversized armour. It's a lighter moment in the story and heightens the amazing faith that David displays alongside the victory he will win.
But is that what the text says? All the way through David is described as young, but not small. And not even Saul would have given him his armour to wear if he were this big. He's not stupid. And what does the text say about the armour? It says that David "tried walking around, because he was not used to [it]. 'I cannot go in these' he said, 'because I am not used to them.' So he took them off." (1 Sam 17.38-39)
It's a good example of where (dare I say it?) Sunday School familiarity as rather infantized the story. David is not portrayed as a comedy stooge who comes good, but the obedient son who alone understands that "this uncircumcised Philistine…defies the armies of the living God" (1 Sam 17.26). This is the defeat of Yahweh's enemy by the one whom Yahweh has chosen to be king.
Gloriously, it's still amazing to teach the right truths when we mis-represent the text. But there's no need, really. Watch out for these traps. The answer is always in careful study of the text.
Teaching Days: South West (Bath) and Sussex (Haywards Heath)
We've two of our one day training events coming up soon – one long running and the other a new venture for 2014. These one day events are designed to equip those who preach and teach from time to time: perhaps elders in churches or small group leaders. There's precious little targeted training for such people to be faithful Bible teachers and we want to help.
We're visiting Bath at the invitation of the South West Gospel Partnership on 15 February. Tim Ward, our Cornhill Associate Director, will be leading a day on Teaching 2 Peter. The training will take place at St Bart's Church Centre.
Then the show hits Haywards Heath with the Sussex Gospel Partnership on 15th March. The training will be at ChristChurch. I'll be leading a day on Teaching the prophets, something many of us find difficult.
We'd love to see you at one of these if you live within reach of the area. Spread the word amongst your churches. Why not, as some do, send along your church preaching teams? Both days are low cost (£15) and should set you up for developing the preaching gifts you or those in your church have. We look forward to seeing you there. Book here.
The preacher's new year's resolutions #10
I will avoid preachers' licence
Let me tell you a story. I was walking down the street the other day…. Only it's not your story, it's someone else's. Or, what about this: this week, as I was witnessing to my neighbour… Only, you didn't. Call preacher's licence what it is – untruth. Let's be honest in the pulpit about ourselves and our lives. Do not feel the need to concoct stories to make you look better. Tell the truth and preach God's word fearlessly. #
Resolved: I will avoid preacher's licence
Biblical counselling… for leaders
The Changing Hearts conference is in its second year and is great for church members, workers, leaders, speakers and so on to learn about biblical counselling and how it ought to work in a church. But the reality is that some church leaders are getting left behind. People in our churches are excited about what they are reading, but we're still to catch up. That's why a day for church leaders with David Powlison off the back of the upcoming Saturday conference is an excellent idea. It's on the following Monday (17 March 2014) at All Souls Langham Place. Cost is very reasonable £10. More information and booking here.
The preacher's new year's resolutions #9
I will be faithful to what the passage actually says
It's just too tempting, isn't it to add in your little bugbear. You can crow bar it in. No one will notice. In fact, they rather like a little pointed vitriol from the pulpit. They like to see a bit of spark and the chance to bash all the usual suspects. Never mind whether there is legitimate line from the passage. And that sort of sermon will solicit plenty of "good sermon, vicar" comments at the end. You've give them what they want, or at least what you want. No. It's God's word and these are God's people. You are God's servant.
Resolved: I will be faithful to what the passage actually says
Marriage and ministry. Really?
To be perfectly frank, it doesn't always seem that marriage and ministry are easy bedfellows. Marriage is hard enough anyway, without the extra pressure that ministry can bring to bear. And for those starting out in either marriage or ministry (or both), it can seem a daunting task – one we know we need to get right, but one which is actually hard to practically plan for.
That's why we've planned a 24 hour stopover for married couples in ministry with a particular focus on those who are younger. We've left that open ended for you to decide whether it's you or not! Either way, our time with Wallace and Lindsay Benn is designed to see that marriage and ministry, far from being uneasy bedellows, are wonderfully complimentary. Each serves the other.
The dates are 18-19 March at the Oasts in Sussex. Just 24 hours away together which we hope will go some way to setting you up for a lifetime of both marriage and ministry. With so many ministry marriages failing or under significant pressure, it is worth the time investment to get this right now.
And get a night away together. What's not to like?
Space is limited (these are deliberately small conferences). You can book here.