Nepal – Cornhill Mission 4/7
The Core (final year) Cornhill Students recently went on Missions mostly in the UK but also overseas. It is a chance for them to experience different ministry contexts and be blessed by a local church congregation and be a blessing to them in return. We asked the mission teams to write a short report about what they got up to.
Luke Cornish and I (Toby Martin) had a great time serving on a Crosslinks/Langham Preachers' Training Programme in Kathmandu, Nepal! The church is growing rapidly, with increasing numbers of indigenous pastor-teachers and evangelists, but very few of these gospel workers are trained in expository preaching. So, Neil Watkinson has been running these weeks of training in Kathmandu for a number of years.
The programme is an introduction to expository preaching, and includes a Bible overview, sessions on theme and aim sentences, sermon structure. There are also workshops where groups work together on theme and aim sentences for Bible passages, and model expositions on those passages. Luke and I were asked to give a 'chapel talk' each (similar to Cornhill morning expositions) and two 'model expositions' each. The course was attended by a combination of undergraduate students at Bible college, and gospel workers (pastors/evangelists).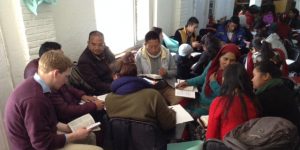 I was hugely encouraged by the growth of the church in Nepal. At a time when we are told that evangelical churches in the UK are at 0% net growth, it is very heartening to hear many stories of people coming to Christ from Hindu and Buddhist backgrounds in Nepal – praise God!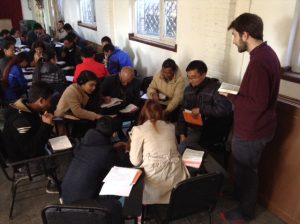 But it was also wonderful to see how much people value this kind of training. One evangelist from the east of Nepal, Dinesh, said to me that his journey home would be 17 hours on a bus, 11 hours in another vehicle after that, and a 4 hour walk to finish off. He was full of joy at the training he had received and was eager to preach to people when he got back. Others on his team said they were going to share the training with several others on their evangelism team.
And yet, as we were reminded as we walked along the streets, there were idols everywhere. From our hotel we could see a large Buddhist temple, and there were images of Hindu gods in many of the shops by the side of the road. So there remains much work for God's people in Nepal. But praise Jesus that so many people are coming to the obedience of faith!
Please pray for Nepal and also for our Core Students as they consider their next steps after the summer.
If you are interested in applying to Cornhill for Sept 2018, then please click here.