Imposters 3/3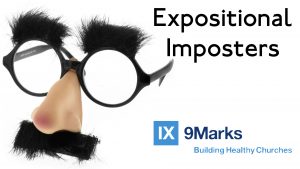 In the same way Morocco states in the Merchant of Venice, 'that all that glitters is not gold', Mike Gilbart-Smith wrote a brilliant article for 9 Marks, showing that not everything called expository preaching is expository preaching.
Mike speaks broadly about 3 groups of sermons that miss the mark of expository preaching. His definition of true expository is borrowed from Mark Dever in that it is, 'preaching that takes for the point of a sermon the point of a particular passage of Scripture."
This post is reproduced here with the permission of 9 Marks.
Expositional Imposters Group 3:
IMPOSTERS THAT FAIL TO SEE THE LORD
11) The "Passionless Sermon": The Point of the Passage Is Spoken, Not Preached
It would be possible to have a preacher who absolutely understood the passage, and spoke about its implications to the congregation present in apt and even profound ways. Yet the preacher delivers the sermon as if he were reading the telephone directory. There is no sense that, as the preacher delivers God's Word, God himself is communicating with his people.

When the preacher fails to recognize that it is God himself, through his Word, who is pleading, encouraging, rebuking, training, exhorting, moulding, and refining his people through the Spirit's application of that Word, there will often be no passion, no reverence, no solemnity, no evident joy, no sense of sorrow tears—just words.
12) The "Powerless Sermon": The Point of the Passage Is Preached Without Prayer
So much time is given to studying the passage and crafting the sermon, that little time is given to prayer either for correct understanding, or for appropriate application.
The preacher who works hard but prays little trusts much in himself and little in the Lord. It is perhaps one of the biggest temptations to fall into as an expositor, for the more discerning in the congregation will be able to spot false exegesis or inadequate application. But the difference that the prayers of the preacher made to the impact of the sermon will only be clear to the Lord and on the day when all things will be revealed. The horizons of the Lord and of eternity must ultimately be more important to the preacher; in fact, he should only really care about the horizons of the text and the congregation because the horizons of the Lord and of eternity are invisible, yet of infinite importance.

CONCLUSION.
Expository preaching is so important for the health of the church because it allows the whole counsel of God to be applied to the whole church of God. May the Lord so equip preachers of his Word that his voice may be heard and obeyed.