Wednesday is for Women's Ministry (Part 2)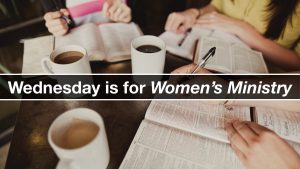 Carrie Sandom is the Director of Women's Ministry at The Proclamation Trust. I asked her a few questions about Women's Ministry.
Here is part 2 of our 4 part series, Wednesday is for Women's Ministry.
Why should the church invest in Women's Ministry?
They should invest in women's ministry because un-taught and un-discipled women malign God's Word (Titus 2:5). Paul is clear that while Titus and the teaching elders in Crete have an important role in teaching sound doctrine and refuting error, the younger women need to be taught and trained by godly older women as well. It's not that they are needed to teach different things but they can model what it means to be a godly woman in ways the male teaching elders can't. Teaching and training, mentoring and modelling are important aspects of effective discipleship – and men and women are needed to do them. We're teaching the same things but sometimes they need to be modelled in different ways.
When should a church employ a Women's Worker?
Whenever the resources are available to do so – although it doesn't need to be a full time role in the first instance. Jonathan Fletcher used to say that he would always employ a women's worker before a youth or children's worker because the investment made with the women would bear longer-term fruit – and impact the youth and children's ministries as a result. It's the parents who have the main responsibility for teaching their children so setting up discipleship programmes with them is the priority. Teach a mum how to study the Bible and she will teach it to her children – and demonstrate good parenting priorities as well.
What can a church do to enhance Women's Ministry even if they do not have capacity to bring someone onto the staff team for this particular role?
Encourage women in their church to start women's ministry – either by studying the Bible one to one or in small groups. Many churches have these already. If I was starting from scratch I would look for the women who are already serving in some way – either in the Sunday school or the youth group and so some sessions on leading better Bible studies or how to read the Bible one to one with someone. That said, the best way for women to learn is to experience a one to one or a good group study – so that may mean doing it with them for a term or two before letting them have a go with others.
What steps could be taken in a church where Women's Ministry is stuck in a rut running studies about women in the Bible?
Hmm – I've come across ministries like this in other countries but hopefully we've moved on from this in the UK! Women's ministry is not about being a woman! It's about teaching the Bible to women and they need to hear the whole counsel of God. In our women's Bible studies at St John's we study a variety if different Biblical genres and seek to apply them in appropriate ways given the roles we have as women in the work place, in the home in our evangelism and so forth.