5 Ministry Benefits from Spring Younger Ministers' Conference 2017
Stick just under 100 'younger ministers' in a conference centre for the best part of a week and what do you get? Strutting stallions? Ministry-jostling? Thankfully not. Here are 5 blessings I'm thankful for as I look back at the recent Spring Younger Ministers' Conference 2017: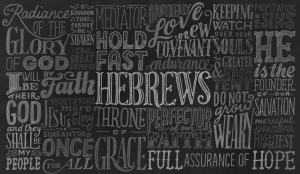 1. Being inspired to stick at a ministry of the word and prayer. It's hard, isn't it, this pastor-teacher thing. But I came away renewed to give myself to it. In particular, the time we spent in our preaching workshop groups, with eight or so other delegates and one senior minister, was just what I needed. Digging into Song of Songs with Vaughan Roberts and a bunch of peers was a fresh reminder of the richness of God's word, both feeding my own heart and demonstrating its irreplaceability in ministry. Having renowned NT professor Doug Moo take us on a 'mini-break' jaunt through Hebrews in the main conference sessions was a bonus.
You can listen to the talks from the conference here.
2. Quality time with your mates. Definitely not to be under-estimated. Five of us from the same year-group at college had all committed to booking onto the conference together, and it was such a gift to have that extended time to informally hang out and talk life, the universe and everything. Friendships with ministry peers are hard enough to maintain, so for me, a conference where you're all staying in the same place – with the even braver option of staying in the same room – is always going to beat day-only events.
3. Being exposed to others' creativity and ministry ideas. As well as seeing old friends, there were a handful of stand-alone conversations with people I'd either never spoken to before, or didn't really know personally, and yet they were chats that really set me thinking. For example, I had some creative conversations about church-planting and keeping going.
By the way, I happened to ask a mate beforehand if they were going on the conference and they said they weren't really the 'Proc Trust' type. Hmm! Looking around the centre, ok, yup, most of us were probably early-to-mid-30's and working as assistant pastors/curates (although even that certainly wasn't everyone) – but amongst those of us fitting that 'mould', I reckon there was still a decent 'spectrum'. So, wherever you're coming from culturally, and whatever your church is like, if you're convinced about prioritising the ministry of the word, then I'd hope you'd find the conference a blessing.
4. Getting tooled up by the 'experts'.
Here I'm thinking particularly of Rico Tice's double-session on 'The Pastor & Personal Evangelism' and 'The Pastor & Church Evangelism'. Just brilliant. I haven't taken notes so furiously since that Christian dating seminar I went to at uni. Of course, I'm sure Rico would object to the notion of 'expert', but his trademark honesty, unashamed conviction, and well-trodden practice make for a killer combo.
5. Ahh, rest.
Ok, it's not a holiday – but I got a whole load more sleep than usual, and I didn't have to do any washing-up. Hothorpe Hall is a top-notch venue for the week: excellent food, glorious surroundings (I even went for a run. I never run!), as well as a fantastic bar & lounge area for downing endless macchiatos or catching up over an evening beer.
See you next year….?
The next Spring Younger Ministers Conference is 30th April – 3rd May 2018 at Hothorpe Hall where we will be joined by Gary Millar who will be helping us think through preaching Deuteronomy. Bookings will be open soon.
Robin Ham is involved in church-planting in Barrow-in-Furness, Cumbria. He blogs here. Twitter: @rhamage
We're looking for an events manager (maternity cover)

We are looking for a full-time person as maternity cover for our
Events Manager

The post is a maternity cover contract. It is a genuine occupational requirement that the office holder be in sympathy with the aims and beliefs of The Proclamation Trust.

Suitable candidates will be highly efficient and organised administrators, able to manage multiple projects simultaneously and have excellent communication skills. Our office is located close to London Bridge station. The salary is £28,500pa.
Further details and a job desription are available here

Please send a CV and covering letter to pt@proctrust.org.uk by 31st May 2017.
Welcome to Jon Gemmell
We're delighted that Jon Gemmell has joined us as Associate Director for Conferences and Resources. Jon was at the younger ministers' conference last week and is in the office from this week. Jon joins us to work three days a week primarily on our conference programme. He comes to us from Scotland where he was senior pastor of Bruntsfield Evangelical Church in Edinburgh for 7 years, during which time he was also Director of Edinburgh City Mission and chairman of the East of Scotland Gospel Partnership. We're looking forward to Jon being on the team!
Cornhill next year
Details of our plans for the future of Cornhill are now online.
At the thanksgiving service for 25 years of Cornhill I outlined the plans and the thinking behind them – you can watch the video below.
The Cornhill pages of our website have now also been updated to reflect the new structure of the course (details particularly in the Content section). And applications for next year are also now open.
Past, present, future
Here's Christopher Ash's short exposition from the Cornhill 25 and Counting thanksgiving service.
Cornhill: looking back
Another excerpt from the Cornhill 25 and Counting celebration last week. David Jackman interviews some previous students, together with some videos from former students who are now overseas.
Cornhill: how it all began
Over the next few days we'll be posting video highlights from the service of thanksgiving for the 25th anniversary of the Cornhill Training Course, held last week.
First, here's a brief interview with Dick Lucas on how it all began.
Please pray for this week's Autumn Ministers conference
Please pray for the Autumn Ministers conference which began yesterday. Christopher Ash is speaking on Ruth, and I'm speaking on Principles of Application. Plus a couple of sessions from Vaughan Roberts, our hallmark preaching workshop groups, and time for relaxation and fellowship.
We're recruiting…

We are looking for a full-time person as maternity cover for
PA to Director of Ministry and Office Administrator
You must be available to start work in November 2016. The post is a twelve month contract. It is a genuine occupational requirement that the office holder be in sympathy with the aims and beliefs of The Proclamation Trust.
Suitable candidates wil have competency in MS Office, be computer literate, numerate and be able to make a positive and cheery contribution to a happy office environment. Our office is located close to London Bridge station. The salary is £24,000 per annum.
Please send a CV and covering letter to pt@proctrust.org.uk by 10 November 2016.
Our blog is taking a sabbatical too….
The Proclaimer blog is not going to be doing quite so much proclaiming as it has in the past. As you will know if you read the blog regularly or read the Christian news in the UK, I'm moving on next Spring to take up a role with the FIEC. Before that I have a three month sabbatical starting very soon and in this changeover period for The Proclamation Trust we've come to the decision to suspend the blog for a few months while we take stock.
Do keep us in your feed in the meantime as the blog will be used for news items so you can hear about conferences, resources and other plans. But there won't be a daily feed from me from after today.
I've been posting to the blog for 7 years plus. I've lost count how many posts that is. And I noticed the other day when I searched for a particular post that I'd written it several times over those years. In other words, there are times when I've sounded like a cracked record. Sorry about that!
But I've tried not to lose the aim behind the blog which was to provide a daily encouragement, challenge or thought to those who are called to the high calling of ministering God's word to others. I know it can be a lonely furrow. I've been there. I know it can be discouraging and there are times when you wonder "Is it all worth it?" I only ever really wanted to do one thing with my posts which was to say to you "Keep going!"
Someone once said to me that reading the Proclaimer Blog was like having a cup of coffee with us in the office. I think that is one of the greatest encouragements I ever received for that is precisely the tone and balance we were trying to achieve.
I'm not precious about our blog: there are lots of ways we can get this kind of encouragement, of course. But encouragement we do need. And we need to be those who encourage others too. And whether it's a note, an email or a text message, the state of preaching would be much healthier if those of us called to this task gave at least some of our time and energy to helping fellow servants.
What could you do today?