Beauty in words (1)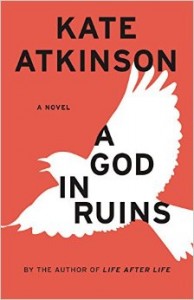 I've written before about the beauty of words, but some half term reading brought the lesson home again, extremely vividly. A short break allowed me to catch my EMA breath and also devour some long piled books including two fiction books about or around WWII. First I read Irene Nemirovsky's Suite Francaise (or at least a translation of it). This was closely followed by Kate Atkinson's new book A god in ruins.
Nemirovsky's book is a masterclass in nothing-happens-fiction. In Vol 1 (plot spoiler ahead!) some people leave Paris and then return. In Vol 2 a family house a German officer and at the same time hide a French fugitive (who is not discovered). Then the officer leaves. Woop-de-do. Virtually nothing happens (certainly when compared to Atkinson's book).
In the latter (another plot spoiler) there is an interesting idea of a wartime pilot whose humdrum life after the end of hostilities is left rather empty by the lack of war. It's an interesting idea, but right at the end you discover that this fiction is a fiction within a fiction. Too difficult to explain fully, and too clever by half.
Interestingly, one book left me amazed and one left me cold. Can you guess which? Atkinson's left me cold. The excitement and tension (of which there were plenty) was created by plot and structure: in itself no bad thing. But the words themselves lacked any beauty, it seemed to me. Contrast this with Nemirovsky's book where the words were themselves beautiful and thus the lack of action did not seem to matter. I was captivated.
Therein lies an important preaching truth. You can have clever structures and devices (and indeed, many Bible passages do), but these in themselves are insufficient to captivate congregations with Christ. They need beautiful words. I don't mean flowery or shouty or clever, necessarily. I just mean beautiful. The Bible is full of beauty in its words because of the beauty of the One it pictures. Our sermons must be full of beautiful words too.
The virtues of the preacher
Expository preaching is difficult. And I think it is most difficult in one particular way.
It's not difficult in the way that something like quantum mechanics is difficult – difficult because only a small percentage of people, the most intelligent, can understand it. (You gather that I don't think I understand quantum mechanics.)
After all, at heart good expository preaching requires of the preacher that he sit in his study asking some pretty straightforward questions: what does this passage actually say? when was it written, in general history and in the history of redemption? how does this passage contribute to Scripture's overall message? …and especially why does the writer say what he says, in the way he says it?
These are not difficult questions to understand. But they are difficult questions to discipline yourself to stick rigorously to in your preparation…
We read our preaching text through, and often immediately a ready-made preaching point comes to mind – not unlike a point we made in a recent sermon.
We read our preaching text through, and often immediately an application from a particular line jumps to mind – one that we can use to address head-on an issue that's troubling us.
These things might be what the passage is actually saying… or they might not. We have no idea of that until we've disciplined ourselves to do the hard work of asking our simple questions rigorously of the passage.
One of the chief virtues that the expository preacher needs is therefore self-discipline. The same letter which exhorted Timothy to preach the word (2 Tim 4.2) began by urging him to fan into flame the gift that is in him because the Spirit has given us (among other things) self-discipline (1.6-7).
I think I would say that from this perspective the task required of the expository preacher is simply one aspect of the virtue of being quick to listen and slow to speak (Jas 1.19) – and everyone knows how much self-discipline it takes to do that.
Finding types and hermeneutical bankruptcy
If you read the NT at all (duh!) you will know that one rich road for preachers is to trace typology when it comes to OT texts. But where do you find types? Reacting against the overblown typology of some of the earlier biblical interpreters many of us work to the rule that we should only see types where the NT does. That's a safe rule and one for newbie preachers. You won't go far wrong with that. But the question arises, are there other types which the NT does not identify? I find Ed Clowney really good on this. For what it's worth his out-of-print "Preaching and Biblical Theology" has been a very formative book in my own preaching, and his "Preaching Christ in all the Scriptures" is also immensely useful – especially in the opening chapter (thereafter, it's a series of sermons). This is the place, if you're interested, where the famous preaching rectangle comes from that I use when I teach and is used by the Simeon guys (slightly amended). Here he is on typology:
"If the NT specifies something as a type, we may so interpret it. But that is a little like saying that you can find solutions to maths problems only by looking in the back of the book, since you haven't a clue as to how to work the problems. To conclude that we can never see a type where the New Testament does not is to confess hermeneutical bankruptcy. We know that the New Testament writers did find types, but we confess that we cannot learn how they did it: there seem to be no discernible principles for us to follow.
"There is a principle, however. Geerhardus Vos enunicated it when he said that the door to typology lies at the far end of the house of symbolism. That is, if there is symbolism in the account, we can rightly infer typology. If there is no symbolism, there can be no typology. Symbolism is not occasional in the Old Testament, but structural. God's acts point forward to his final salvation/judgment and his relations with his people look forward to the restoration and renewal of the New Covenant."
Marriage & Ministry
We've long understood that for married preachers, healthy preaching is not only about good technique, it's about godliness in the home and marriage. It's one of the key reasons we have a ministry in wives' conferences. We also have some deliberately small under-the-radar conferences called Marriage & Ministry stopovers. These are 24 hour breaks in luxurious surroundings for couples in ministry. Each is limited to 12 couples and is a great opportunity to refresh and regroup. We've been running these for three years and they've been an oasis for beleaguered ministers and their wives.
Our next two are in October half term. Why half term? Based on some initial research it became clear that, for couples with kids, it was actually easier to get away for a day in half term, when parents were already thinking about childcare, than it was in term time, when arranging someone to do the school run and homework supervision was much more complicated.
We've also picked venues which attempt to cover the country. We've already held one stopover in Yorkshire. In October Wallace and Lindsay Benn are hosting one at Hothorpe Hall in Leicestershire and Mrs R and I are hosting one at The Old Bell in Malmesbury in Wiltshire, apparently England's oldest hotel. The dates for both are 26/27 October. We'd love to see you there – or perhaps there is a ministry couple in your church who you will know will benefit from joining us. Why not encourage them along?
Missing verses
I was listening to a small part of the Radio 4 service last Sunday. I only tuned in to a short part so I had no idea where it was from, although David Robertson later illuminated me via the Book of Face (a Church of Scotland parish). I didn't even get to hear the sermon (which according to David's post was a mercy). But I did get to hear the Bible reading announced and read. 'Today's reading is from 1 Peter 2, verses 4 to 5 and 9 to 10.'
Now, why would you do that? Sometimes I can see the case for an abbreviated reading (though I'm dead against it myself). Just sometimes – perhaps you've got Numbers 7-8 as your reading. But in 1 Peter? Whatever you hope to convey by truncating the reading, all you ever do is to give the impression that there are bits you'd rather people did not hear. As I say, I did not hear the sermon, so I've no idea whether that was the case here, but I'm guessing it might have been (go and read the missing verses).
Oh well, goes the argument: both Jesus and the Apostles quote selectively and even combine different source books from the OT and represent them as one. Yes, they do. But Jesus is Jesus, don't you know, and the Apostles are the Apostles. They have an authority we don't have. They, in one sense, inscripturate. You and I have no authority to do the same and we do our people a great disservice when we do – in fact, we undermine the very word we say we preach and believe in.
Please, no missing verses.
Do you know how to switch off?
I've always struggled to switch off on my day off. Finding a day off (a real problem for some) has not vexed me so much, although – as every pastor knows – there are times when circumstances arise so that the best laid plans etc. I've just had a run like that, and sometimes there is nothing you do about it.
But what about actually making the most of the days off? I struggle with this. Partly that is due to my own sinfulness – and in particular my besetting sin of man-pleasing. I find it painful to admit this, but I do so knowing it is the same sin that besets many pastors. We tend to be those who care about people, and it's a short jump into caring what people think too much. Such a sin makes taking time off difficult because we're always going over what people say in our minds.
But it's not only sin. Pastors are pastors. We do what we do because we love our people (or you're in the wrong job!). We long to see them flourish. We want to see them grow as Christians. We want unbelievers to confess Christ and be saved. Who wants a day off from that? Not me. At least, when I schedule time in the diary I find it hard to stop thinking about Gladys and her crisis of faith or whether Norman who seems so close is finally going to repent and believe.
So, I've learnt to set myself some little guidelines. Here are some of them. They may not float your boat and that's fine. But you do need to know yourself and know how to switch off from Gladys and Norman; ironically so you can serve Gladys and Norman better tomorrow.
1. I have two email accounts and I don't have work emails on my phone. That means that I can't get work messages flashing up on screen whilst I'm out for a Monday walk. Incidentally, smart phones are one of the most helpful and most damaging pastoral tools – both at the same time! Though I hate to say it, I've even thought of having two phones for this very reason – though that's a bullet I've been unable to bite so far!
2. I get out of the house. In the house (when I was working from home, and still today, though not as much) are computers, files, books – things that are about studying and work. I love that about being a pastor. But it's a disaster for me on my day off.
3. I do something which occupies my head. My mind is inclined to wander to pressing issues, so I cannot just lie on the beach, even metaphorically. So I read a lot, or watch a box set or go to the movies. Emptiness works for some, but not for me, and I needed to learn that lesson. It also means that I like noise: I realise that's not for everyone. But if I take a long bath, for example, the silence is deadly for my heart in terms of switching off. So I turn on the Bluetooth speaker and sing along to La Fille du Regiment or Pink Floyd (delete as applicable for you).
4. I play the piano. Now, obviously this is useless advice if you're a one fingered Charlie when it comes the black and whites. But the point is this: I've found a pastime that engages both my head (learning pieces) and heart (I actually enjoy playing). It is my ultimate relaxation and in the unlikely event Radio 4 ever invite me onto Desert Island Disks, I'm taking a grand piano (something I don't possess, note) with me.
All of that is just me. You are you. But if you is going to serve them, then you do need to think about how to switch off.
Literal does not mean word for word
I found this article by Doug Moo (a paper given at the 50th anniversary of the NIV) very helpful and clear with a general and particular application for preachers.
The general application is that, when it comes to translating, literal does not equate to word-for-word. No translator believes that. And therefore the classroom exercise of translating word for word is even somewhat unhelpful.
"I turn to a second major principle of modern linguistics: meaning is found not in individual words, as vital as they are, but in larger clusters: phrases, clauses, sentences, discourses. We take this principle for granted in our study of the biblical languages, insisting on the importance of syntagmatic relationships in our word studies. The object I put after the verb ginôskô dramatically
affects its sense: "knowing" that Jesus is God is very different from "knowing" God or from God's "knowing" me. Once again, however, the principle is too easily ignored when translations are being evaluated. Translation is not, as many people think, a matter of word substitution: English word x in place of Hebrew word y. Translators must first determine the meaning that the clustering of words in the biblical languages convey and then select a collocation of English words that accurately communicates that meaning to modern listeners and readers."
More specifically, Doug suggests that it is unhelpful for preachers to say, as many do (myself included!), "more literally, this word means…." This, he argues, give a false impression of how words and translations works:
"Such [comments] seem to be communicating to [listeners] one of two things. First, the note might be implying that the NIV is somehow at fault for taking a liberty with the original languages, choosing an English word that is not "literally" what the Greek says. Or, second, the note may be suggesting that the English word the NIV has chosen, while accurate enough, should be seen as
also connoting the "literal" meaning of the Greek word. Each of these alleged faults could, indeed, be genuine problems. As good as the NIV is, I am sure there are places where an English word does not accurately convey the sense of the Hebrew, Aramaic, or Greek word. And, of course, a particular word can be intended to convey more than one sense. But in neither case is the issue one of being "literal."
For NIV read ESV or whichever translation you use. Thought provoking stuff, and quite possibly something for me to repent of.
Spring Ministers
You may think it is too early to plan to be with us next year. But almost 200 have just spent a few days with us in Leicestershire this year and things soon book up – both at our end and, more importantly, yours too.
Next year, we're joined by Bryan Chappell. He's a great catch and I'm personally looking forward to spending a couple of weeks with him. Here's a little sneak preview.
Spring Senior Ministers: 25th – 28th April 2016
Spring Younger Ministers: 3rd – 6th May 2016
Hope we will see you. When it comes to workshops, by the way, they're allocated on a first come first served basis. Just sayin'.
Don Carson on Justification
In yesterday's post I mentioned some audio from our recent ministers conferences. We've also continued working to add older media from our archives and now have almost every talk from every EMA online. We're still filling in the gaps from other past conferences, and one of the recent additions has been material from one of the Theological Students Conferences we used to run. These are rather longer – and perhaps more 'heavyweight' – than talks from our ministers conferences. In 2000, Don Carson gave a series of three talks on justification – they're an hour and a quarter to an hour and a half each, but well worth investing the time when you get the opportunity.
Recent audio
Audio from our recent Spring Ministers conferences is now online – senior ministers here, younger ministers here.
We had
Video from the conferences will be online in the next couple of weeks.
By the way, did you know that if you click underlined items in the right hand column on our resources page, they link to appropriate material? E.g. click on a speaker's name for all our talks from that speaker, or on a bible book for all our talks on that book?