EMA 2016: just a couple of weeks to go!
It's just over two weeks until this year's Evangelical Ministry Assembly – Leaders who last – at the Barbican. We'd love to see you there and here are five reasons why we think it's worth making space in your diary for this annual event.
1. The topic is important. Statistically, you're more at risk of giving up than you might imagine. It doesn't matter whether you're young and seemingly invincible or experienced in ministry and a little more realistic – we all need help to make it to the finish line.
2. The fellowship is essential. Ministry, even within a team setting, can be a lonely business. We need the fellowship of others in ministry to be encouraged and to encourage. Standing with like-minded brothers and sisters spurs us on in the gospel.
3. The resources are unparalleled. This year's Bookstore has some great titles, and you're not going to see a handpicked store of this size targeted at those in ministry anywhere else in the UK. This year we've also got a new consultancy area where you can get free advice for your church in a number of ministry areas.
4. The solidarity is spiritual. The EMA is not a church gathering. Nevertheless, when people from different backgrounds get together in the context of the gospel, we proclaim to the rulers and authorities in the heavenly realms the manifest wisdom of God. This is an enormous privilege.
5. The habit is healthy. We need good gospel-forming habits, and taking time out to be spiritually refreshed is key. Maybe you don't feel like you need that this year, but regular attendance is a good habit to form, ready for the more barren times.
Leaders who last. Tues 21- Thurs 23 June 2016 at the Barbican Centre, London.
You can book online here.
EMA 2016 Bookstore: open to the public
One of the highlights of the EMA is our Bookstore. Packed with over 1,250 titles (many of which are new this year) each one has been carefully chosen to serve those who attend. These days, it's difficult to find a good Christian bookshop and those of you whose members live or work in London may like to know that the Bookstore is open to the public via the Barbican Terrace. It's open during conference hours from 9:30 to 5:00 (3:00 on Thursday). Come along and browse and encourage your people to visit too. We'd love to see them.
Spring ministers media
We were packed out at this year's spring ministers conference and had some excellent input. Here are the video links. The audio is also available for download on our website.
Bryan Chappell's sessions are here, here and here.
Vaughan's opening and closing expositions.
Simon Medcroft's two sessions on 2 Corinthians here and here
Andrew Cornes' sessions will follow shortly.
Wives' conferences just around the corner
It's just a short while until our summer wives conference (4-7 July) and we've still got some spaces left (though, sadly, no room in the crèche). If you're in the first few years of ministry, or at college, your wife may well be very thankful Mr Preacher, if you were to enable her to come along. There are many reasons for coming to a PT wives conference and encouraging your wife to come, but surely earning your wife's thanks is a win-win! We've got an experienced set of wives, both Anglican and Free Church, to help things along. There are not many better places than Hothorpe Hall in the sun. What about it?
Perhaps Monday-Thursday is a difficult stretch because of work, family or church commitments? If so, then you may be interested in our weekend wives conference. Held over the weekend of 7-9 October at the luxury Ettington Chase hotel near Stratford-upon-Avon we've condensed our standard programme into something that will work over a weekend break. Don't worry – there's still space to relax and unwind (and swim and sauna!) with our normal mix of Bible input, seminars and fellowship. It may be just what you've been waiting for…
Click here to book for Summer Wives 2016
Thanks for praying
Some of you were praying about our Home Office inspection which we needed to pass in order to be able to sponsor visa students. Thank you so much. We have to whisper it, at the moment, but suffice it to say your prayers were answered. There was a hilarious moment where the Inspector, checking that we encourage students to be law-abiding, sat in a lecture on Galatians 2 and heard that those in Christ were not under law, definitely not so. It required a bit of explaining. 😉
Why I'm not planning my funeral
"So, I've chosen all my funeral songs already" is a pretty standard refrain these days from believers. To which I always respond with the same question, "Why?"
I haven't planned my funeral and will not and here's why: it's not for me.
You will realise, I trust, that I will not be there at my funeral. Others will be and they will be grieving, but they must do so as those who have hope, not as those who do not have hope. And the funeral must serve them, not me. It must help them grieve appropriately. It is not a tribute concert to the departed. If they want to sing a song I really hate and it helps, let them sing it. I will be joining in, in my glorified sinless state, from heaven (so to speak!).
Of course, the best way for them to grieve might well be for them to sing something that I loved. They may want a Bible reading that was particularly precious to me in my last days. All well and good. But the service serves the living not the dead. And as pastors and preachers we have to keep reminding those who grieve about this truth.
Perhaps this is for another day, but it also shapes the tone of the funeral. There's a bit too much laughing and dancing at funerals these days, and not enough tears, if you ask me. But seeing as you didn't, I'll stick with what I know: if you are preaching at my funeral, don't you dare ask my family "what would Adrian have wanted?" Because you know the answer already: whatever, within Biblical bounds, will help them grieve with hope.
Teaching 123 John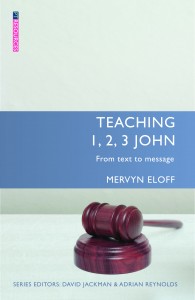 The first of our two new titles is now available. Mervyn Eloff has written a superb volume for us on Teaching the epistles of John. These are a rich seam for preachers (although 2 and 3 John are normally overlooked). Mervyn steers a careful course and helps preachers and teachers grapple with the text.
As with all these volumes, these are not full commentaries, but neither are they books of sermons. Rather they are books written by preachers and for preachers to help those whose task is preaching and teaching the "wonderful word of the Lord" as the hymn writer puts it. They're written at a level that will serve you as a preacher, but also be accessible for, say, small group leaders if you're doing a Bible study series.
Highly recommended!
Teaching 1 2 3 John, by Mervyn Eloff
Marriage and ministry
The more I speak to married ministers and their wives, the more I realise that marriage and ministry is not the glorious union that it ought to be. Rather, for many, it is a painful, tense set of pressures that are often unresolved and unmentioned. If preaching is to flourish, then it's critical that ministry marriages flourish. We asked what we could do to help, and alongside some input at our key conferences, we now also run a 24 hour getaway for couples.
This year, Wallace and Lindsay Benn are hosting one at Hothorpe Hall in Leicestershire and Mrs R and I are hosting one at Malmesbury in Wiltshire. They are both on 24/25 October. That's half term, you cry! You're right – deliberately so as couples with kids told us it was easier to organise child care in holiday time than in term time. Spaces are very limited. One husband last year surprised his wife by bringing her along as an anniversary present. We don't recommend this approach for most people – but we do think it's worth coming. Here's some feedback from Malmesbury last year:
"Absolutely brilliant schedule"
"We enjoyed how much time together we had as a couple"
"Please keep on doing this – so helpful"
"Fantastically useful"
"Too much food"
I couldn't resist that last one! Book now, while there's space and you're fired up!
Click here to book for Marriage and Ministry in Leicestershire
The preacher's praying agenda
What's on your prayer list? Who's on your prayer list? And – just as importantly – how do you pray for them? I've been thinking about this all this week as I prepare a sermon on 1 Timothy 2.1-7. I've been using Angus MacLeay's excellent volume in our Teaching series, Teaching 1 Timothy. It's been a real help. However, along the way, I've found lots to challenge me about my own prayer agenda.
Paul – fighting against a legalistic and Judaistic false teaching – urges the church back to gospel order (not to be despised, by the way). In order to do that he encourages the church away from its inward looking attitude (which, incidentally, false teaching nearly always promotes) to a more gospel focused outwardness.
This manifests itself in prayer: deep, rich, varied, consistent and continued prayer. Prayer, in fact, for all people – including those in authority and for the church (by implication in v2). His agenda is challenging. This is what our prayer agenda tends to look like:
Praying for rulers: we tend to be focused on particular laws or issues: abortion, marriage and so on. These are important, but not the burden of Paul's focus.
Praying for believers: we tend to be focused on people's needs: work, health, education, that kind of thing.
Praying for unbelievers: I hope we do this, but pastors can get caught up with people in the church to the expense of those outside we are calling to come in.
Our prayer, to put it bluntly, scores at best 1 out of 3. 33%. Possibly less. Fail.
Paul's agenda is more gospel focused.
Pray for rulers: for regimes that will allow the church to flourish. This may mean that we are more exercised about the free speech regulations than we are about a number of key moral issues.
Pray for believers: for godly living that will not shame the gospel (a key theme throughout 1 Timothy).
Pray for unbelievers: to be saved and to come to a knowledge of the truth.
That's the preacher at prayer. And it is also the church at prayer. Is this you?
Will you pray for us this week?
This week we have a visa inspection, not unlike an Ofsted with bells on, which determines whether we can continue to sponsor student visas. We're thanking God for recent confirmation of continued accreditation which makes this possible in part. But we still need to pass this onerous inspection which, in broad terms, treats us like we employ unlimited personnel and have unlimited resources. So we have to be careful to tick all the boxes whilst not being overwhelmed.
It's important for us to pass, so please do remember us on Tuesday and Wednesday (24 and 25 May). Thank you so much.