Love Story – [Glen Scrivener]
Love Story – The Myth that really happened  – Glen Scrivener (reviewed by R. Brown on 9/10/17)
This short accessible book presents the Easter Story as a 'True Love Story' or 'The Myth that really happened.' It addresses the secular view that the bible story is a myth and seeks to dispel this and defend the bible account as true. Scrivener does this by showing that whilst the Easter Story has all the ingredients of a great fairy tale, it is in fact not myth but truth that centres around Jesus Christ as the historical hero.
It may have been written with the sceptic in mind but it is also a book that helps the believer think more carefully about using true-story-telling to resonate with the world, something increasingly potent in todays world.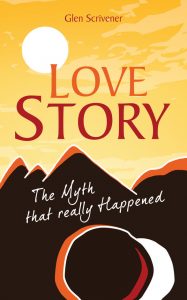 Scrivener  begins with the backstory to Easter. He draws clear reference to love being the thread from the beginning, in the very nature of the triune God. He continues the love story theme in each chapter walking the reader through Love Stoops – Jesus washing his disciples feet | Love Suffers – Jesus in Gethsemane | Love Sacrifices – Jesus' crucifixion | Love Stands – Jesus' resurrection.
At each stage Scrivener engages the reader with great storytelling and illustrations from ordinary life. He has a masterful way of succinctly and clearly explaining details of the gospel writers accounts, whilst keeping the flow and colour of the story. Whilst using several gospel accounts, there is good contextual faithfulness in the handling of these. This facilitates resonance with the reader that leads to a call to respond to the unfolding truths.
I am not in the sceptic camp but this is certainly a book that I would put into the hands of a sceptic and encourage them to read. It also gave me a fresh joy in the Easter story and may prove to be an encouragement to the believer who is struggling with doubt. Definitely one I would recommend.
Useful for: An Easter give away at an evangelistic service or to put into the hands of the congregation to give away to others.
Reading level: Very accessible and easy to read, a good evangelistic resource.
Price: RRP £4.99, (drops to £1 each for bulk buy from 10ofthose)
ISBN: 9781784981204
Publisher: 10ofthose
Rating: ****
Reviewed by R. Brown