Leadership: the real deal
I've just returned from my pastoral road trip to Normandy, visiting the D Day landing beaches with a friend. It was great – the sun shone, the sky was blue and we had the various memorials and museums almost entirely to ourselves. 2017 anybody? There are parts of the trip that are always moving – the US cemetery at Coleville is one of these – the Commonwealth cemeteries are dotted around and smaller because not all the dead were buried in one place – but the US cemetery contains all, or nearly all, of the Normandy fallen – it's a moving visit.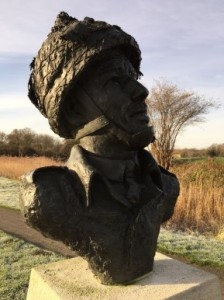 However, my favourite place is undoubtedly Pegasus Bridge. There is an excellent museum and a bust commemorating John Howard, the leader of the assault on the bridge which captured its objective in just 30 minutes, with only one casualty (Lt Den Brotheridge). His memoirs are very interesting. His command unit, made up of three gliders, rehearsed the landing for almost a year. In the event, it all ran like clockwork and he had to do very little leading in the thick of it. But his testimony is that real leadership was in getting his troops ready, not necessarily in leading them over the top. Over the period of training they got bored, distracted and leadership meant keeping them going even when they didn't feel like it and keeping fixed on the objective.
We tend to reduce leadership down to amazing moments of skill, courage and persuasion. But in fact, Leadership 101 is just as much – if not more – about the ordinary. It's about keeping people going in the routine and ordinariness of life, with their eyes firmly fixed on the objective. We tend not to exalt such ordinary leaders as much as the gung-ho valiant warriors, but it's every bit a part of leadership.
After all, an elder must be able to manage his household well. That's a pretty mundane measure at some level – I think about my own household and what that looks like day to day. There's an awful lot of keeping going in there – and that is true leadership. Don't knock it. Instead, desire it.