God in Public [N.T. Wright]
In God in Public, the eminent New Testament scholar and former Bishop of Durham, Professor N.T. Wright attempts to utilise the Christian gospel for the political challenges of the modern world.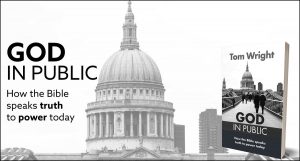 Wright sets the scene by describing, "a deep uncertainty about who we are and what we're here for, and I suggest that this malaise is directly linked to the banishment of God from the public square two hundred years ago" (p2). And so in what is essentially a collection of lectures and talks, Wright seeks to reintroduce God and the Bible into the public sphere.
A highlight of the book is Wright's insightful survey of intellectual and political history. The critique of secularism and the way he tracks the progress of the Western Enlightenment narrative is compelling and he pulls no punches in a damning indictment of Western democracy. It's a refreshing antidote to the New Atheist rhetoric of our age ("religion" is the root of all evil) and Wright seeks to create a space for the gospel to provide clarity and a fresh sense of direction for public life.
To those concerned that this all sounds rather abstract, Wright duly supplies the concrete and practical examples to ground his discussion of "God in Public". He uses examples of churches "doing God in public," i.e. those looking after and defending the rights of asylum seekers, supporting the homeless etc. There are also lengthy examples given of Christian voices on the national and international stage. Wright rejects the privatisation of religion in favour of a church calling authorities to account and being active in society, particularly in defending the rights of the poor and marginalised. This is all framed with the Christian's vocation in bringing to bear the "present-day meaning of Jesus' universal kingship" and how Christians should be advancing Jesus' kingdom project in the world. I reserve comment on Wright's theological enterprise until later in the review, but, insofar as it seeks to dissuade the church from sticking its head in the sand or retreating underground, it serves as a valuable reminder for Christians to be a light to the world.
For those interested in the more philosophical underpinnings of today's (post)modern world, Wright offers a fascinating theological response to the ills of postmodernism. After exposing the contradictions in postmodern theory and its treatment of the Bible, Wright ingeniously utilises the terms of the debate to introduce the Bible as the great meta-narrative that challenges and subverts other worldviews. He sketches a biblical challenge to post-modernity, in the form of a meta-narrative of love that cannot be deconstructed into selfish power (because it is quite the opposite), and a biblical account of human knowing (an epistemology of love) that goes beyond the polarisation of objectivism and subjectivism.
Wright believes that a fresh engagement with the biblical narrative will provide an account of human knowing and truth that the "post-postmodern" world so desperately needs. It's a bold and intellectually stimulating part of the book. It does however run the risk of overwhelming those not overly familiar with the terms and concepts, and also on the other side, it risks disappointing those well versed who will see it as far too sketchy and lacking the necessary detail to expound a thoroughly convincing philosophical argument.
How we as Evangelicals should approach Wright's theology in the book deserves an essay in itself, but I can offer some cursory remarks here.  The truth Wright is calling Christians to speak to power seems a diluted, politicized gospel that does not emphasize the centrality of the Cross and the related doctrines such as atonement for sin. Rather tellingly, Wright states that "if the church can translate what we believe Jesus would say into the language, and the coherent arguments, of the wider world then such obedience can become a possibility" (p.72). Thus Wright's primary aim is not to make Christ known; it is rather to bring about just and merciful rulers and authorities, and if that means stripping out what is distinctly Christian to achieve that end, then so be it.  Despite Wright calling rulers to justice and mercy "within the framework of the historical victory of Jesus in his death and resurrection and of the future, coming, final victory of God over all evil" (p.72), these rulers need not recognise their own sin or Jesus as their Lord and Saviour. Surely this is putting the cart before the horse and blurring the fruit of the gospel and the root of the gospel.
To bring about God's kingdom on earth as it is in heaven, we first need to bring these rulers to the foot of the Cross. It is by the Cross-Centered preaching of the gospel that brings the truth that will ultimately save the world, rather than a diluted gospel that will merely bring temporal social justice and keep authorities in check.
When sin is mentioned, it feels like it is for the sake of completion as opposed to it being a central and foundational part of biblical truth. Wright even goes as far as to suggest a pluralistic, "fresh grasp of God's truth" (p.95) with Christian, Jewish and Muslim voices at the table speaking for "God" in the public square.
Furthermore, Wright indirectly targets and seeks to unsettle traditional evangelicalism at various points in the book. For example, he rather disparagingly describes how "some people seem to yearn for the days when things were nice and simple, when a supposedly biblical gospel of salvation from sin and going to heaven could be preached" (p.37). He hangs out to dry a "type of conservative Christianity represented by the "not of this world" viewpoint" (p.64); he provocatively tries to relegate atonement theology in the gospels; admits to advocating a "controversial" (p.67) reading of Scripture as part of his world-affirming, Jewish messianic framing of the Christian narrative that he stands against "semi- or crypto- gnostic readings". He takes various other swipes against what are essentially caricatures of Evangelical standpoints (e.g. "personal salvation", "going to heaven" etc.).
Though this book is not from the conservative evangelical stable there is still much value to be gleaned from this book and Wright's theology. Wright offers a vivid, rich account of the resurrection and he is very helpful on eschatology and new creation in the present day vocation of Christians to be image-bearers and stewards of creation. Wright also provides a helpful analysis of God's sovereignty in the midst of tyrannous order, and a particularly intriguing section on how Jesus' death shines light on the concepts of truth and authority.
Overall, for those wanting a bold and intellectually stimulating theological response to "we don't do God" politics, Wright's God in Public will not disappoint. For those disheartened by the marginalisation of God and the church in the public sphere, this book will provide plenty of resources for fruitful engagement and insight. However, while it might introduce a fascinating and at times compelling political theology, people, as with everything should read discerningly and be cautious of wholeheartedly adopting Wright's contentious biblical framework.
I close with some words from the Apostle Paul from 1 Corinthians 2:2-8 – And I, when I came to you, brothers, did not come proclaiming to you the testimony of God with lofty speech or wisdom. For I decided to know nothing among you except Jesus Christ and him crucified. And I was with you in weakness and in fear and much trembling, and my speech and my message were not in plausible words of wisdom, but in demonstration of the Spirit and of power, so that your faith might not rest in the wisdom of men but in the power of God. Yet among the mature we do impart wisdom, although it is not a wisdom of this age or of the rulers of this age, who are doomed to pass away.  But we impart a secret and hidden wisdom of God, which God decreed before the ages for our glory. None of the rulers of this age understood this, for if they had, they would not have crucified the Lord of glory.
By Simon Jones