Category Archives: Uncategorized
Why the long speeches?
I'm really appreciating Christopher's new book on Job in Crossway's Preaching the Word series. It's available in the UK at the EMA and afterwards. Here's some really helpful thinking about the repeated interventions of the comforters:
Why do we have to go on listening to these dreadful speeches? After all, God is going to tell us at the end of the book that they are wrong (Job 42.7). So what is the point of listening to them?…This is a natural question. One general answer is presumably to warn us not to be like them when our natural pharisaism causes grace to be leeched out of our conversation and we lapse into the religious certainties of grace-free philosophy or religion.

But the question is intensified after we have heard Bildad's spine tingling description of Hell in chapter 18 and when we are about to hear Zophar's equally terrifying description of judgement in chapter 20. What specifically is the benefit to us of having to listen to these detailed and deeply evocative descriptions of hell?

To answer this question, we need to acknowledge that the fault with these sermons is not only in their content but in their misapplication. They describe life under the judgement of God..before drawing the conclusion that Job is under the judgement of God. Their deduction is false. But their descriptions of hell are entirely accurate.

These sermons, like some of the laments in the Psalms, help us feel and experience through poetry just how dreadful it will ultimately be to fall under the wrath of God.
Christopher then suggests three explicit ways that helps us:
they stand as a warning against the reality of hell. We must repent.
they help us grasp the depth of the darkness and suffering that Jesus endured for us
they help describe in some measure our experience in this age as we drink from the same cup from which Christ drank
Seen this way, there is every reason to go on listening to these "dreadful" speeches.
Three weeks to go…
…it's three weeks until the Evangelical Ministry Assembly. We'd love to see you from 8-10 July at the Barbican Centre in London. Don't forget we've some free accommodation still available with local families if you're struggling to find somewhere to stay. Do pass this invitation on to friends in ministry. We've planned the conference to serve those who are themselves serving in local churches and hope you can join us to be encouraged yourself and be an encouragement to others. I may be slightly biased, but I know what we're singing, what we're stocking in the Bookstall and – most importantly – what's being proclaimed from the front, so I want to say, with no hint of self-aggrandisement, make sure you come. Book here. If you're using twitter, use #EMA2014.
Careful who you call a heretic
Sometimes we have to call out false teachers. It's the Bible way. We ought to do that soberly, carefully and wisely. There's no place for a heresy hunter in the pulpit. That's not just a personal opinion. Read Paul's letters. See the balance and focus. He does name names. Sometimes. Not often, though. We need to be very careful in extending ourselves beyond his limits. And our naming should always be linked to shepherding the flock. We don't call out false teachers because they are in the news particularly, or because we've read their latest book. We must think about our flock, what is good for them, what protects them.
I say this because I think there is a tendency within our circles to be rather liberal with the word heretic. I'm perhaps a bit sensitive to this at the moment because it's a label that's been thrown my way by Ted Williams book on New Calvinism. Or, to be more precise, he doesn't use the precise word but says that we "change the terms of the gospel." Serious stuff. I'm happy to let it pass; I don't think it's worth commenting on, other than to say it made me search my own heart to make sure I'm not too free with this serious word.
All this was reinforced for me this week when I was reading a Facebook post about someone who wanted some more info on covenant theology. Fair enough. But there was a short post from someone which said (I can't remember exact words) "As long as you don't want to know about New Covenant Theology. Heresy." Here's the danger of social media where words are cheap and fast. But heresy? Really? Moo – a heretic? Carson, likewise? For both, as far as I can make out, follow a form of NCT, at least.
I spent a happy week a few years ago leading a preaching conference in Cameroon. There were 100 mostly pentecostal pastors who all, almost without exception, believed in a form of prosperity teaching. I was immediately cautious. But on examination I discovered that this is not the maliciously derived prosperity teaching of some so-called churches but a genuine misunderstanding of the nature of the relationships between covenants and how revelation works. They were reading Malachi 3.10 and simply preaching it like it was. Now, you can't call that heresy, I don't believe. It's wrong and they need help and direction, but these guys are not wolves in sheep's clothing. Interesting then, that even a phenomena like prosperity teaching is not uniform, nor should we treat its exponents uniformly.
All of which is to say, careful who you call a heretic.
Face to face
"And all the sterile wonders of movies and television and radio will fail to wipe it out – a living man in communication with a living audience"
I was moved by those words from the American writer John Steinbeck, in his little book Travels with Charley. Steinbeck gives a touching description of meeting a lone travelling actor in, I think, Wisconsin. This man is not a particularly good actor, but he perseveres doing his shows before modest local audiences in small town America. Steinbeck comments how this very human meeting of "a living man…with a living audience" will always have about it a quality that cannot be rivalled by "the sterile wonders of movies and television and radio".
I like that. Does this not transfer to preaching? I think it does. Preaching is the week by week living interaction of a living loving praying pastor with a living needy congregation? He may or may not be impressive and successful in the world's terms. But he is a loving human being face to face with living human beings. Let us learn to value this unimpressive activity very highly and never to think that telecommunication or recordings can ever replace it; set side by side with face to face preaching, these other things are indeed "sterile" for all their technological wonder.
So what?
I am preparing to preach John 2:13-22 this Sunday. In some ways it is quite a simple passage. The exegesis is not too difficult. Nor is the central point, that Jesus is the true Temple, the presence of the living God on earth. That his pure zeal for his Father's house and his bodily resurrection show that this is true. And so on.
But the question I have been grappling with is this: so what for today? I don't want to leave us simply marveling that if we had been around in the right place at the right time, we could have rubbed shoulders with the presence of God on earth – wonderful though that is. So I have found myself thinking about how the church of Jesus Christ, indwelt by the Spirit of Jesus Christ, is the Temple of God on earth, at least the Temple under construction. And thinking how we ought to respond to that.
I won't tell you here what I've come up with, not least because it may change between now and Sunday when I preach it at Christ Church Mayfair. I'm not sure I've got it right. I know the commentaries don't help much with this kind of question. But I know it is very important, and can make the difference between a bland or banal sermon and an insightful and incisive one that has real pressure and impact to it. It is this hard thinking that makes sermon preparation such intense work, and inseparable from our involvement as pastors with people.
A children's talk idea
We're just beginning something new at our church. Last year, in our Sunday gatherings, we worked through the New City Catechism, one question each week. This year, we're trying something new. We're going to have a semi-regular church history slot called 50 Christians. Each time around we're going to do a VERY brief bio of a notable figure in church history – just highlighting one, or at most two, things about them that Christians should know- then we will use that to springboard into the next part of the service: for example, we might talk about Luther as seeing the Bible clearly teaching justification by faith alone and then sing an appropriate hymn next. Alongside this we're producing a set of cards – like old fashioned football or baseball cards for the kids (and families!) to collect. If they miss a week, they can ask their Sunday School teacher for one. Here's an example of a card: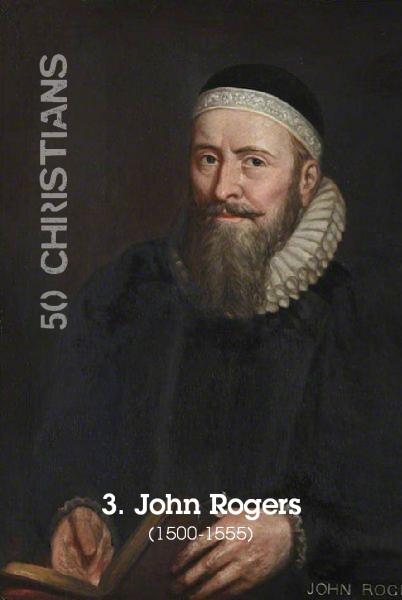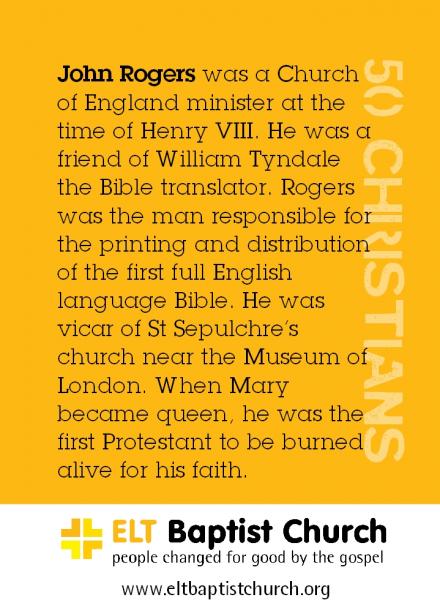 We've had these printed as business cards (reasonably cheap) so people have something tangible. Part of our worship then becomes thanking God for our past and rejoicing in the way he has used men and women in the past and how he has preserved his church. We thought this might be more edifying than a rather trite kids talk which – if the kids are going to be taught well in Sunday School – shouldn't be needed anyway. We don't teach the adults twice, after all….
Just an idea.
Blind spots and inconsistencies
We all have them – and we often need others to point them out. Not so long ago I went on a long journey with a fellow pastor who was hot on Sunday observance but drove the whole way at 90mph (on a 70mph motorway). Just a short while ago I spent an evening with some London Christians who love Jesus on Sunday morning but on Saturday were seriously (and I mean, seriously) hard drinkers.
In both cases, neither could spot the inconsistency of their position, as I'm sure I cannot in my own life. I need people around me to graciously and lovingly point out such areas. And I do need it (and so, I epxect, do you):
it's part of the work of putting sin to death in our bodies which we must be committed to
we are called to live pure lives in the world (see, for example, 1 Peter 2.12)
So, if you can't work it out yourself, ask someone close. What are your blind spots and inconsistencies? Then, in the power of the mighty Spirit of Christ, put them to death.
Conference Bookings Now Open
We are excited to announce that online booking is now open for all of our conferences until July 2011.
This includes:
Space on our residential conferences is strictly limited, so early booking is recommended.