Category Archives: Uncategorized
Playlist – Summer Wives
Here is the Playlist from our recent Summer Wives Conference: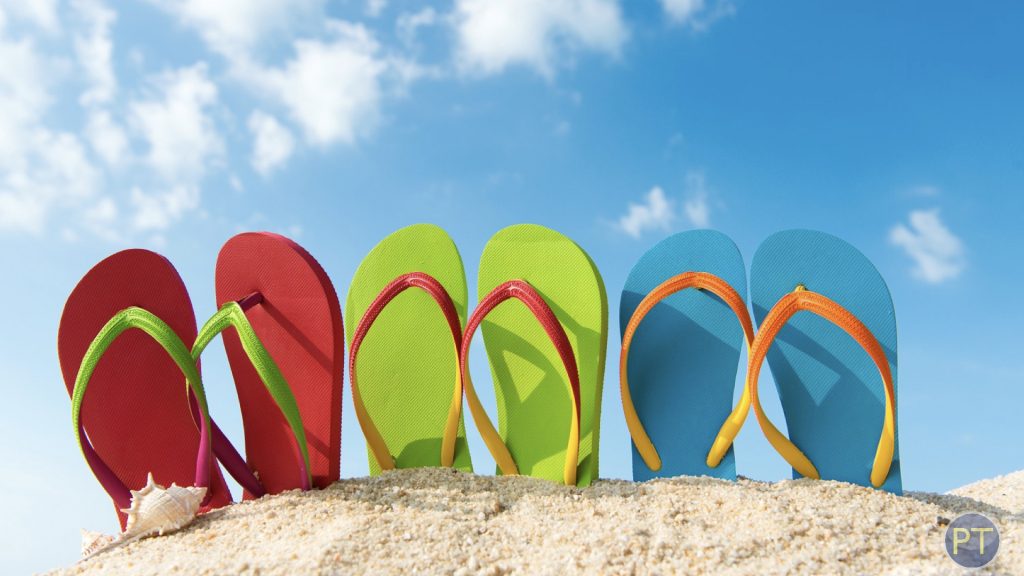 Session 1:
Awake, Awake O Zion – Nathan Fellingham
There is a Hope – Mark Edwards & Stuart Townend
Session 2:
I Will Glory in my Redeemer – Steve Cook & Vikki Cook
Everlasting God (Strength will Rise) – Brenton Brown & Ken Riley
Session 3:
I Stand Amazed in the Presence  – Charles Hutchinson Gabriel
Prepare our Hearts (Show us Christ) – Bob Kauflin & Doug Plank
I Cannot Tell – John Barnard & William Young Fullerton
Session 4:
Behold our God – Jonathan Baird & Meghan Baird
Depth of Mercy can there be – Charles Wesley
He Will Hold me Fast – Ada Ruth Habershon & Matt Merker
Session 5:
Come thou Fount of every Blessing – John Wyeth & Robert Robinson
He Lavishes Grace (Everlasting Arms) – Abby Eaton & Annie Johnson Flint
O Church Arise – Keith Getty & Stuart Townend
Session 6:
Great is Thy Faithfulness – Thomas Obediah Chisholm & William Marion Runyan
Everlasting God (Strength will Rise) – Brenton Brown & Ken Riley
There is a Hope – Mark Edwards & Stuart Townend
Session 7:
I Stand Amazed in the Presence (of Jesus the Nazarene) – Charles Hutchinson Gabriel
Holy Spirit Living Breath of God – Keith Getty & Stuart Townend
My Soul Finds Rest in God Alone – Aaron Keyes & Stuart Townend
O Great God of Highest Heaven – Bob Kauflin
Special thanks to Elisabeth Epps for co-ordinating the music at this great conference.
Carolyn Ash & Summer Wives…
The recent Summer Wives Conference was the last Summer Conference that Captain Carolyn (Ash) will head up.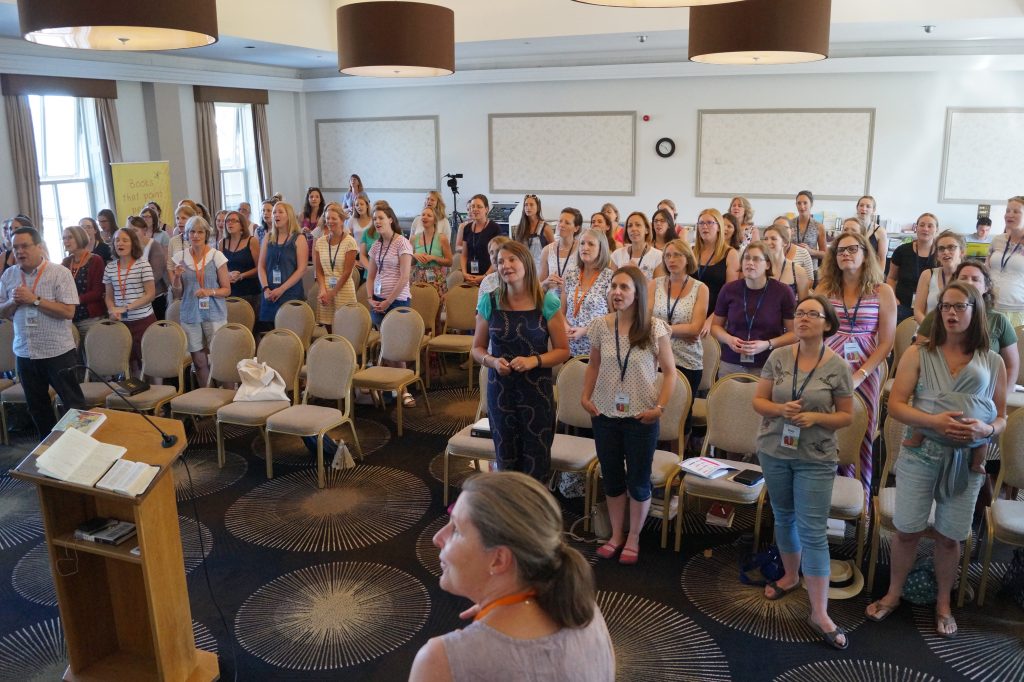 Carolyn has laboured incredibly hard in ensuring that these conferences are an encouraging and open oasis from the busyness and tumult of ministry family life. Carolyn works tirelessly to ensure that all those that come are cared for, loved, supported and spurred on in the work that God has given them to do alongside their husbands.We are so thankful for Carolyn and all that she has achieved.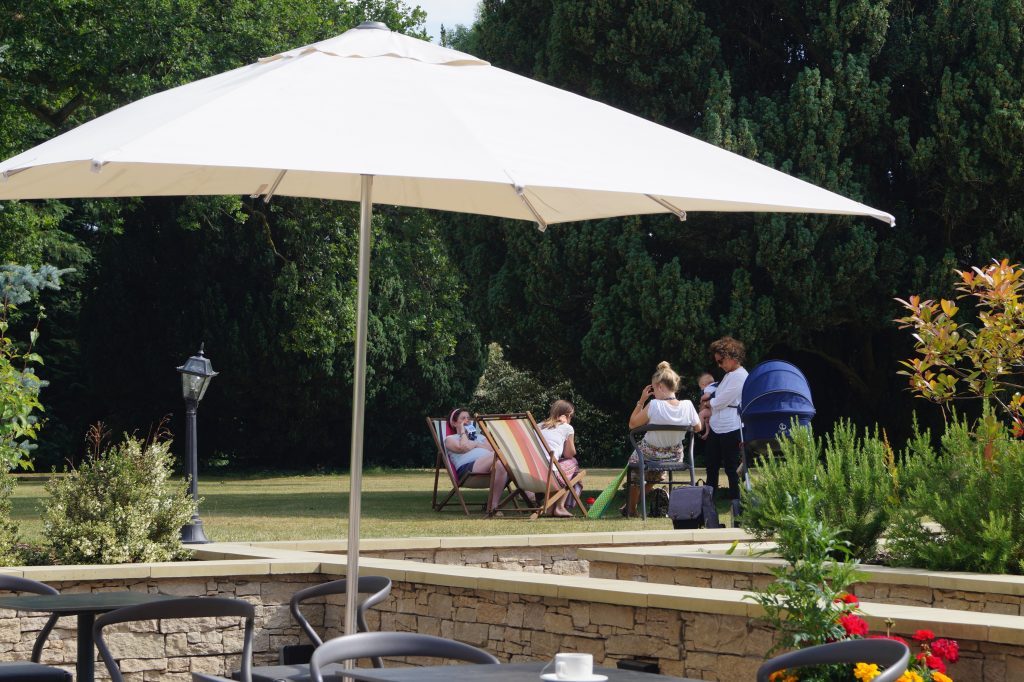 Carolyn leaves very big shoes to fill, but we are relieved that Ursula Stevens has very big feet (metaphorically). Ursula will take over the leading of this conference alongside the PT team and Summer Wives Committee.
We want to continue to strive to make Summer Wives a place where people are encouraged, equipped and energised for the work that God has called them to.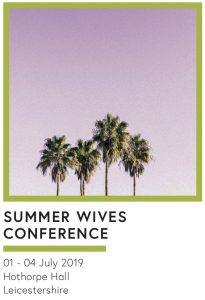 Next year Summer Wives is 1st July – 4th July booking are now open.
Cornhill 2018/19 – Application Update and Prayer Points
We are so thankful to the Lord for the tremendous influx of Cornhill applications for September. There is an amazing array of applications from students brimming with potential. The office has been swamped in trying to process all the enquiries and questions.
F1 Monday and Tuesday is all but full and applications have offici$lly close on Sunday so if you are quick and org$nised we may be able to shoehorn you in. F2 on Wednesday is bursting at the seams and we are currently operating a waiting list so it is still worth applying and being placed on that. There are a couple of spaces in Core on Thursday and Friday but do not delay as we are very near the limit.
Please join with us in giving thanks to God for the glorious opportunity of helping over 200 students progress in ministry.
Please pray for us as we prepare over the summer for this dramatic increase in students.
Please pray for the dozen international students that visas would come through allowing them to join.
Please be much in prayer for these students and their placement churches that the students would be a wonderful blessing to the churches and that the churches will be a wonderful blessing to the students.
Thank you all so much for your ongoing partnership in the gospel.
EMA 2018 – Music
One of many highlights at EMA 2018: The Unsearchable Riches, was singing together.
Here is a recent blogpost containing the setlist of everything that was sung at EMA 2018.
Mannequin Challenge Promo Video…
See our new Mannequin Challenge Promo Video for EMA 2018 here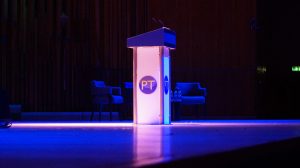 There are just 27 days until our flagship, Evangelical Ministry Assembly Conference 2018, at the Barbican Centre.
The programme is looking really good with Vaughan Roberts, James Hamilton, Andrew Atherstone, Sam Allberry, William Taylor, Adrian Reynolds, Christopher Ash, Carrie Sandom, Andrew Sach, Gwilym Davies, Nigel Styles, Rico Tice and David Jackman.
Plus input from John Stevens, Willie Philip, Ray Brown, Richard Perkins, Gareth Lewis, Stephen Boon, Jonty Allcock, Johnny Prime,  Claudia Chan, Kevin Croft, Mike Gilbert-Smith & Aderemi Adedire.
Added to this an amazing bookshop by 10ofthose.com, great music by Andy Fenton plus band, lots of organisation exhibiting and all in the iconic Barbican Centre in the Heart of London.
There is also the opportunity to go on a Christian Heritage Walk around the City of London, enjoy fellowship with evangelical leaders from across the UK and around the World, hear about the work of Cornhill/CrossConnections and help with an amazing Missions Project in Zambia.
The Evangelical Ministry Assembly – 12th – 14th June
Book your tickets at www.proctrust.org.uk/conferences
We look forward to seeing you there…
Preacher's Profile [David Meredith]
This is the sixth in our Preacher's Profile Series. This time we asked David Meredith, the Mission Director for the Free Church of Scotland some questions about his life and preaching ministry.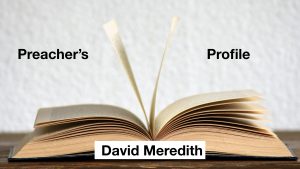 David Meredith, Mission Director for The Free Church of Scotland
based in Edniburgh.  After graduation from University of Strathclyde in English and Politics and Edinburgh Theological Seminary I planted a church in Smithton, Inverness.  Smithton grew into a large multi-staff resource church in the course of a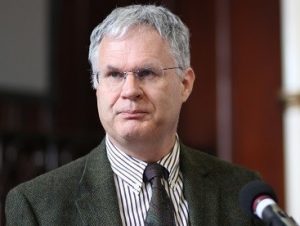 31 year long ministry.  I'm married to Nina and have 4 grown-up children.  My hobbies revolve around the internal combustion engine, I have a large motorcycle and sports car which my friends tell me should belong to a hairdresser.
When did you preach your first sermon and how long have you been preaching?
I preached my first sermon in a little country preaching station at Arnisort, Isle of Skye in 1980 and have been preaching since then.  The first text I preached on (it was all texts in those days) was Romans 1:16, 'For I am not ashamed of the gospel, because it is the power of God that brings salvation to everyone who believes: first to the Jew, then to the Gentiles.
What was your journey to preaching ministry?
While attending church in Glasgow as a student I was under the ministry of Donald MacLeod.  One evening he preached from the text 2 Timothy 1:6, 'you should stir up the gift that is within you.'  I preached in various small churches throughout my undergraduate days and then studied at ETS, Edinburgh.
Describe the congregation/setting you regularly preach to.
These days I am an itinerant but I'm also involved in the preaching team at Cornerstone, Edinburgh. It's essential that any itinerant is rooted and involved in a local church.  The experience of preaching to a congregation where you are not the pastor is unusual, it is certainly a different dynamic.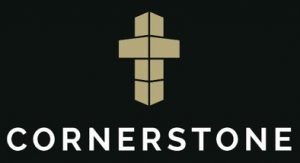 What are you currently preaching on/through?
Because I'm no longer in a local church situation I get to choose the passage which is a nightmare. I don't want to be typecast as a 'mission preacher', not least because the story of the whole Bible is the story of mission.
What is your regular rhythm of sermon preparation, your usual process and how you schedule it in during the week?
I have a variety of administrative, teaching and speaking engagements during the week but I still try to keep Thursday mornings and Fridays clear.  I never prepare on Saturdays. I read the passage through, on a photocopied sheet I will mark out significant words, phrases and ideas.  I will then read various commentaries and write out an outline.  It's at this point I will go on the screen and start to write.  Illustartion and application points will come at this point.  The process will take 6 to 8 hours for each sermon.
What is your drafting/editing process that you go through in finalising your sermon for Sunday?
I have no editing process. What I have written, I have written! Although I use notes I am not bound to them which enables an editing process 'on the hoof'.  A sermon is a dynamic experience where the central theme and teaching remains but one adjusts according to circumstances.
What script/notes do you take into the pulpit? 
I use an iPad and I will have usually 4/5 A4 pages of quite full notes but never a full manuscript.
What is your routine before preaching on a Sunday?
I love to get up early, get on my own and spend time with the Lord.  The spiritual element is literally vital.  I am a believer in the idea of thoroughly well prepared exegetical work but also reliance on the Holy Spirit and unction.  Unction is not the same as shouting or cultivating the grand style, it's deeper and more subtle than that.  The debate between word and Spirit is such a soul destroying argument, what God has joined together, let no man pur asunder.
What feedback structures do you utilise in improving on your preaching?
I am not precious about my preaching and I've adopted a mindset of life-long learning.  I used to use a mentor who was a very experienced and excellent preacher.  These days I seek counsel and feedback from colleagues.  I'm probably moving from a grand style to a calmer, more conversational approach.
What areas are you currently seeking to develop in your preaching?
Clarity, brevity and simplicity.  It is critical to get some good application and illustration to make the sermon memorable.  A sermon should be like bread, there is the sense that it is fresh. As I develop I want to speak more of Christ which I iught tio have done more of in my younger days.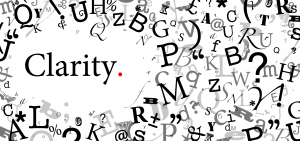 What do you do on the days your preaching did not go very well?
I lick my wounds, recognise that my pride and ego need to be punctured but realise that it's not the end.  I aim at a degree of consistency and so the measure of what is 'good' and 'bad' can be highly subjective.  God can bring healing from spit and clay and he can use my mess to His glory.  It's not about us.
What one piece of advice would you pass on to someone starting out as a preacher?
Listen with the ears of the congregation.  It is not about 'you' so we need to communicate to the people who are in front of us but also the people we would like to be in front of us.  
What are some of the best resources you have found on preaching?
I have read all the books but I also enjoy listening to masters of the craft.  I listen to all the usual suspects but 2 preachers whjo I appreciate are largely unknown.  David Turner is a layman, a church warden at All Souls.  He is a lawyer and one of the best organisers of sermons I know.  I also appreciate John Sartelle, a close friend and former senior minister at Independent Presbyterian Church, Memphis, TN.  He encapsulates the word/Spirit balance.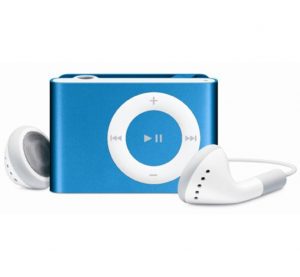 Imposters 3/3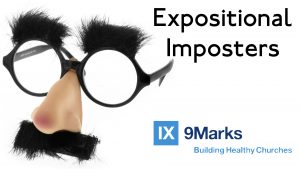 In the same way Morocco states in the Merchant of Venice, 'that all that glitters is not gold', Mike Gilbart-Smith wrote a brilliant article for 9 Marks, showing that not everything called expository preaching is expository preaching.
Mike speaks broadly about 3 groups of sermons that miss the mark of expository preaching. His definition of true expository is borrowed from Mark Dever in that it is, 'preaching that takes for the point of a sermon the point of a particular passage of Scripture."
This post is reproduced here with the permission of 9 Marks.
Expositional Imposters Group 3:
IMPOSTERS THAT FAIL TO SEE THE LORD
11) The "Passionless Sermon": The Point of the Passage Is Spoken, Not Preached
It would be possible to have a preacher who absolutely understood the passage, and spoke about its implications to the congregation present in apt and even profound ways. Yet the preacher delivers the sermon as if he were reading the telephone directory. There is no sense that, as the preacher delivers God's Word, God himself is communicating with his people.

When the preacher fails to recognize that it is God himself, through his Word, who is pleading, encouraging, rebuking, training, exhorting, moulding, and refining his people through the Spirit's application of that Word, there will often be no passion, no reverence, no solemnity, no evident joy, no sense of sorrow tears—just words.
12) The "Powerless Sermon": The Point of the Passage Is Preached Without Prayer
So much time is given to studying the passage and crafting the sermon, that little time is given to prayer either for correct understanding, or for appropriate application.
The preacher who works hard but prays little trusts much in himself and little in the Lord. It is perhaps one of the biggest temptations to fall into as an expositor, for the more discerning in the congregation will be able to spot false exegesis or inadequate application. But the difference that the prayers of the preacher made to the impact of the sermon will only be clear to the Lord and on the day when all things will be revealed. The horizons of the Lord and of eternity must ultimately be more important to the preacher; in fact, he should only really care about the horizons of the text and the congregation because the horizons of the Lord and of eternity are invisible, yet of infinite importance.

CONCLUSION.
Expository preaching is so important for the health of the church because it allows the whole counsel of God to be applied to the whole church of God. May the Lord so equip preachers of his Word that his voice may be heard and obeyed.
Imposters 2/3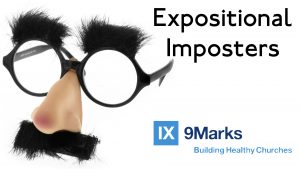 In the same way Morocco states in the Merchant of Venice, 'that all that glitters is not gold', Mike Gilbart-Smith wrote a brilliant article for 9 Marks, showing that not everything called expository preaching is expository preaching.
Mike speaks broadly about 3 groups of sermons that miss the mark of expository preaching. His definition of true expository is borrowed from Mark Dever in that it is, 'preaching that takes for the point of a sermon the point of a particular passage of Scripture."
This post is reproduced here with the permission of 9 Marks.
Expositional Imposters Group 2:
IMPOSTERS THAT FAIL TO SEE THE CONGREGATION
6) The "Exegetical Sermon": The Text Remains Unapplied
If the "unfounded sermon" totally misses the text, the "exegetical sermon" totally misses the congregation. Some preaching that claims to be expositional is rejected as boring and irrelevant . . . and rightly so! One could just as well be reading from an exegetical commentary. Everything that is said is true to the passage, but it's not really preaching; it is merely a lecture. Much might be learned about Paul's use of the genitive absolute, but little about the character of God or the nature of the human heart. There is no application to anything but the congregation's minds. True expository preaching will surely first inform the mind, but also warm the heart and constrain the will.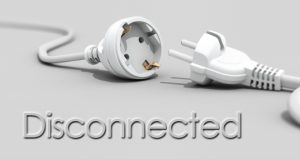 A regular diet of exegetical preaching will make people feel that only topical preaching can be relevant, and will model private Bible reading that presumes we can read God's Word faithfully and remain unchallenged and unchanged.
7) The "Irrelevant Sermon": The Text Is Applied to a Different Congregation
Too much preaching promotes pride in the congregation by throwing bricks over the wall toward other people's greenhouses. Either the point of the passage is applied
only to non-believers, suggesting that the Word has nothing to say to the church, or it is applied to problems that are rarely seen in the congregation that is being preached to.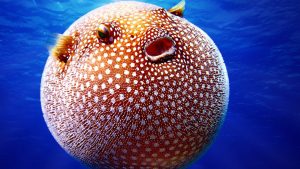 Thus the congregation becomes puffed up, and like the Pharisee in Jesus' parable ends up thankful that they are not like others. The response is not rep
entance and faith but, "If only Mrs. Brown heard this sermon!" or "the local Methodist church really ought to have this sermon
preached to them!"
Such preaching will grow the congregation in self-righteousness, not godliness.
8) The "Private Sermon": The Text Is Applied Only to the Preacher
It is easy for the preacher to think merely about how a passage applies to himself, and then to preach to the congregation as if the congregation is entirely in the same situation as the preacher. For me it is certainly easiest to see how a passage of Scripture applies to a white British man in his forties with a wife and six kids who works as a pastor of a small congregation in West London. That may be great for my quiet times, but not much use to my church, as nobody else fits that bill.
What are the implications of the text to the teenager and the single mother? The woman in her forties who'd love to be married and the immigrant? The unemployed and the visiting atheist or Muslim? The congregation as a whole and the bus driver or the office worker or the student or the stay at home mum?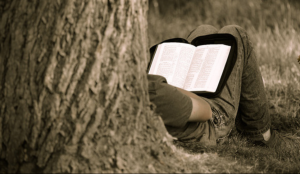 The private sermon can lead to the congregation thinking that the Bible is only relevant to the "professional" Christian, and that the only valid use of their life would really be to work fulltime for a church or other Christian organization. It can cause the congregation to idolize their pastor and live their Christian lives vicariously through him. It robs the congregation of seeing how to apply the Word to every aspect of their own lives, and how to communicate it to those whose lives are quite different from theirs.
9) The "Hypocritical Sermon": The Text Is Applied to All But the Preacher
The opposite error to the "private sermon" is the sermon where the preacher is seen as the one who teaches the Word, but does not model what it means to be under the Word.
There are times when a preacher needs to say "you" and not "we." But a preacher who always says "you" and never "we" does not model how he is only an under-shepherd who is first and foremost one of the sheep who must himself hear his great shepherd's voice, who must know him and follow him, trusting him for his eternal life and security.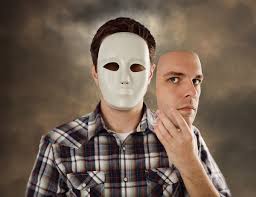 A preacher who preaches like this may make the opposite error to the congregation who lives vicariously through their pastor: he will live vicariously through this congregation. He will assume that his discipleship is entirely about his ministry, and end up not walking as a disciple under God's Word at all, but only as one who places others under a Word above which he sits aloof.
10) The "Misfit Sermon": The Point of the Passage Is Misapplied to the Present Congregation
Sometimes the hermeneutical gap between the original passage and the present congregation may be misunderstood, so that the application to the original context is wrongly directly transferred to the present context. So, if the preacher does not have a correct biblical theology of worship, passages about the Old Testament temple might be wrongly applied to the New Testament church building, rather than being fulfilled in Christ and his people. Prosperity gospel preachers might claim the promises of physical blessings given to faithful Old Covenant Israel and flatly apply them to the New Covenant people of God.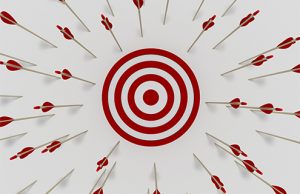 Imposters 1/3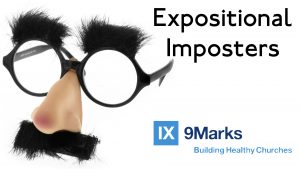 In the same way Morocco states in the Merchant of Venice, 'that all that glitters is not gold', Mike Gilbart-Smith wrote a brilliant article for 9 Marks, showing that not everything called expository preaching is expository preaching.
Mike speaks broadly about 3 groups of sermons that miss the mark of expository preaching. His definition of true expository is borrowed from Mark Dever in that it is, 'preaching that takes for the point of a sermon the point of a particular passage of Scripture."
This post is reproduced here with the permission of 9 Marks.
Expositional Imposters Group 1:
IMPOSTERS THAT FAIL TO SEE THE TEXT.
1) The "Unfounded Sermon": The Text Is Misunderstood
Here the preacher says things that may be true, but in no sense come from a correct interpretation of the passage. He is careless either with the content of the text (e.g. the sermon on "production, prompting, and inspiration" from the NIV of 1 Thessalonians 1:3, though each word has no parallel in the Greek) or with the context (e.g. the sermon on David and Goliath, that asks 'who is your Goliath, and what are the five smooth stones that you need to be prepared to use against him?').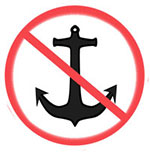 If a preacher is not deeply mining the truth of God's Word to determine the message of his sermons, they are likely being driven by his own ideas not God's.
2) The "Springboard Sermon": The Point of the Text is Ignored
Closely related is the sermon where the preacher becomes intrigued by something that's a secondary implication of the text, but is not the main point. Imagine a sermon on the wedding at Cana in John 2 that focuses primarily on the lawfulness of Christians drinking alcohol and said nothing about the display of the New Covenant glory of Christ through the sign of Jesus changing water into wine.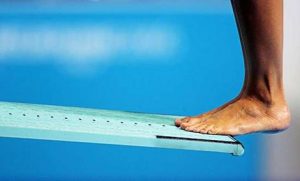 One of the great advantages of sequential expository preaching is that the preacher is forced to preach on topics he would rather avoid, and to give appropriate weight to topics he would tend to overemphasise. A preacher of "unfounded" or "springboard" sermons can unwittingly jettison both these advantages, and instead God's agenda is silenced or sidelined.
3) The "Doctrinal Sermon": The Richness of the Text Is Ignored
God has deliberately spoken to us "in many ways" (Heb 1:1). Too many sermons ignore the literary genre of a passage, and preach narrative, poetry, epistle, and apocalyptic all alike as a series of propositional statements. Whilst all sermons must convey propositional truths, they should not be reduced to them. The literary context of the passages should mean that a sermon from the Song of Songs sounds different than one from Ephesians 5. The passage may have the same central point, but it is conveyed in a different way. The diversity of Scripture is not to be flattened in preaching, but treasured and conveyed in a manner sensitive to the literary genre. Narrative should help us to empathize, poetry should heighten our emotional response, and apocalypse and prophecy should leave us awestruck.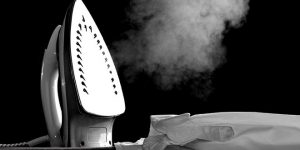 4) The "Shortcut Sermon": The Biblical Text Is Barely Mentioned
The opposite of the exegetical sermon, this kind of preaching shows no exegetical "working" at all. Though the Lord has set the agenda by his Word, only the preacher is fully aware of that fact. The congregation may well end up saying, "what a wonderful sermon" rather than "what a wonderful passage of Scripture."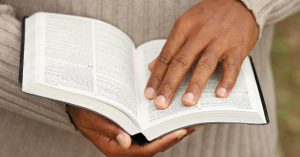 Let's keep encouraging our congregation to hear God's voice not just ours, by frequently pointing them back to the text: "look what God says in verse five" more than "listen carefully to what I'm saying now."
5) The "Christ-less Sermon": The Sermon Stops Short of the Savior
Jesus castigated the Pharisees: "You study the Scriptures diligently because you think that in them you have eternal life. These are the very Scriptures that testify about me, yet you refuse to come to me to have life" (John 5:39-40). How sad that even we who have come to Jesus to have life would bring a whole congregation to study a passage of Scripture and yet refuse to bring them to see what that Scripture says about Christ, turning Old Testament texts into moralistic sermons, and even preaching Christ-less, gospel-less sermons from the Gospels themselves. Imagine the horror of a sermon on Gethsemane narrative that majored on lessons on how we could handle stress in our lives.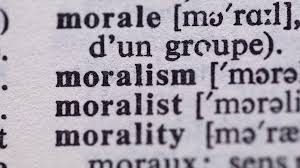 If God's Word is like a vast wheel, the hub is Christ and the axle is the gospel. We have not faithfully preached any passage of Scripture until we have worked our way down the spokes to the hub, and communicated what the passage says about Christ and how it relates to the gospel.
Report – Spring Wives 2018 [Carolyn Lacey]
Last week I had the privilege of being with 100 or so other ministry wives at the PT Spring Wives' Conference at Hothorpe Hall. This was my 18th PT conference and, as always, I loved it!
I'm married to Richard who is the lead pastor of Woodgreen Evangelical Church – an FIEC church in Worcester. We have 2 teenage children and have been in full-time ministry for 18 years. We've been part of the church family in Worcester for nearly 12 years and love living and serving here.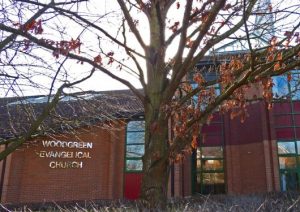 The Wives' conferences have been significant in equipping me to support my husband and love my church family. I come each year because I need the encouragement and support of other wives who understand the joys and pressures of ministry life. I love hearing stories of how God has answered the prayers we've prayed together over the years. It's a privilege to be able to weep with those who are struggling and celebrate with those who are rejoicing. Every conference is a mingling of laughter, tears, encouragements, shared ideas, and testimonies of God's grace.
This year, Christopher Ash and Carrie Sandom shared the teaching and their messages complemented each other beautifully. Carrie spoke from Mark 8-10 on the cost of following Jesus. She challenged us to think about where we see the cost in our daily lives and reminded us that the sacrifices we make are worth it – especially when we consider the eternal cost of not following Jesus faithfully. She also encouraged us to uproot the pride we all struggle with and to serve our church families with humility.
Christopher taught from Psalms 37, 69 and 137 – Psalms of Indignation. He showed us how these Psalms can both encourage us and shape our prayers as we struggle with the frustrations of helplessness, despair and injustice we face as believers and, particularly, as ministry wives. It was refreshing to study poetry and to linger over the images and emotions the Psalmists use in response to suffering. I think many of us will find this an ongoing help as we seek to voice our own struggles honestly but with an eternal perspective of hope, justice and deliverance.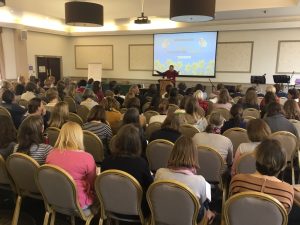 The seminars were great for discussing issues specific to ministry. I was especially helped by Christopher's thoughts on how to listen to our husband's preaching well – I hope to be more of an encouragement to Richard in this area. There was also plenty of time to pray, rest, relax with a book, walk, chat, eat cake and laugh! I've come home refreshed and energised for another year of ministry, thankful for my church family, and grateful for the privilege of serving Christ and his church alongside my husband.
The Spring Wives' Conference provides a great opportunity to establish friendships, to take time away from the busyness of everyday life for refreshment and encouragement, and to hear faithful Bible teaching applied specifically to ministry life.
If you're a ministry wife wanting to grow in your love for Jesus and his church, as well as your own husband, it's definitely for you!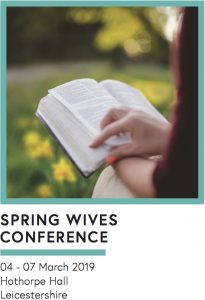 Please pray for the Woodgreen Church family as we seek to reach our community with the good news of Jesus Christ.
We have several evangelistic events planned over the next couple of weeks, and we'd love to see many of our friends and neighbours respond to the gospel.
Please also pray for our follow up Christianity Explored/Life Explored courses.