All posts by Adrian Reynolds
Please pray for the EMA (4)
Today, we're asking you to pray for the resources that will go out from the EMA. Our Bookstore is – I believe, our strongest yet. We have 1,300 plus titles, all hand picked. Amongst these are several hundred new titles – this has been a good twelve months for books! Pray that people would spend wisely – and not only for them, but to take the opportunity to think through which resources might help the church – we deliberately pick books which not only serve pastors and preachers, but which pastors should be commending to others.
We are also supporting an overseas missions project in Cuba. We believe it is really important to share with others from the riches that God gives and this year we'll be raising money to print three books in Spanish in Cuba itself to serve pastors there in the work of expository preaching. Delegates will hear about this on the first day and we hope that this may be our best yet of serving brothers in difficult circumstances overseas. We would love to be able to print 1,000 copies of Jueces para ti (Judges for you), Predicor Marco (Preaching Mark) and Ensenor Efesios (Teaching Ephesians). Please do pray we might hit this target and so serve well.
Thank you for praying.
Please pray for the EMA (3)
Today, we want to ask you to pray for the admin team. My small team has worked very hard to make the EMA a reality and I want to ask you to pray that we would be sustained as we serve you over the next three days. Please pray particularly for Rachel Olajide, our conference manager, and her team of helpers. The Barbican staff are also a great help and it has been interesting to see how some of the door staff, intrigued by our singing and listening, have sat in on sessions. Pray that there might be unexpected fruit there.
We have a team of others who are helping – projection, recording, music, reading, and so on. Please pray that we would remember all that needs to be done and that the EMA would serve effectively and our team of workers would have good and noble hearts.
Thank you for praying.
Please pray for the EMA (2)
Today we're asking if you would pray for those attending. We've yet to crunch the numbers, but we have something like 1,300 people attending from some 750 or so churches. We have youth workers, elders, lay preachers, students and church staff – all very welcome. However, the vast majority (something like 75%) are ministers or assistant ministers of churches. They will be coming from a great variety of backgrounds, circumstances, struggles and joys.
Some will be feeling on top of things, others overwhelmed by the calling they have. Some will need encouragement; others perhaps conviction. Please pray that the Lord will use the conference so that everyone receives what they need from him. Please pray in particular for those divine appointments – a conversation here, a word there – which can be so strategic in building up.
And do give thanks for the evangelical unity the EMA displays. We don't press this, but if recent years are anything to go by, we have about 50% Anglicans and 50% from non-conformist churches. Preaching is one of the topics that evangelicals of many stripes can gather around. We're not trying to engineer unity; but we recognise that gathering together in this way is a display to the 'powers and authorities' of the great work Christ is doing.
And remember to pray for those who are not coming. Sadly, there have been stories in the last twelve months of regulars who have given up on ministry, fallen into sin, or even turned their back on the Lord completely. We're desperately sad to hear those stories and please pray for mercy – and keeping grace for all of us.
Thank you for praying.
Please pray for the EMA (1)
Next week is the annual Evangelical Ministry Assembly. For many this is a significant three days in their annual calendar: recharging flat spiritual batteries; catching up with friends; stretching our minds and hearts; allowing God's word to minister to us. Even if you're not one of the 1,200 or so coming this year, we'd like to ask whether you would pray for us this week? Over the next five days, I'll be posting some prayer points – but above all please pray that these three days together would strengthen ministers of the New Covenant so that churches might be built and the name of Christ honoured.
Today, please pray for our main session speakers. Each morning, Christopher Ash is preaching from John 8. Our overall subject this year is humanity and these messages are key to our own walks with Christ and also to the overall subject.
On Monday and Tuesday, Bruce Ware will be speaking on the doctrine of humanity – I've seen the notes and it looks great: stretching and helpful! Please pray for Bruce who is arriving on Sunday. This is first time at the EMA so please pray he will get the tone, pace and depth just right. On Wednesday Tim Keller is speaking at this session on connecting preaching and the doctrine of humanity; we need our doctrine to be practically applied to preaching, so please do pray for Tim.
The last session is a closing exposition so please pray that we will end the day well. We are thinking of three aspects of Jesus' own humanity: Reuben Hunter is preaching on Philippians 2, Andrew Reid on Hebrews 2 and Vaughan Roberts on Revelation 1. Pray that these sessions will stir our hearts and cause us to look to Christ, the perfect man.
Thank you for praying.
Baptism and all that
Tim and I are doing a double-header this week on baptism, for the Cornhillers (note the judicious use of the comma; for the purposes of clarification, we're not baptizing any Cornhillers). It's been good to think through the issue again and work out not just what we think about it theologically but where the weaknesses in each other's arguments are. Our plan is to do half the session on theology and then half on what that means practically in the life of the church. We've each of us fed one another what we think are our weak points and strengths. No surprises, really.
Much of the argument, of course, comes down to precisely the nature of the relationships between covenants and the precise amount of continuity/discontinuity (although I also have an issue with making circumcision and baptism analogous). In these theological arguments, I believe the burden of proof lies on the paedobaptist, as there is so little to support the case in the New Testament (as far as I can see, every one of the 3,500 odd people baptised in Acts are believers). Perhaps I would say that. Please don't write in!
But – and this is the purpose of this post – I can also see (and have been helped to see) the weaknesses in my own argument, both those that are poorly expressed in terms of basic English, and those where I have simply not made the case from the text. Moreover, and this is a crucial point for credo-baptists like me, there are plenty of practical outworkings where you would think that those who practise believers' baptism are in fact guilty of imposing a paedo-baptist (covenant children) practical theology upon something that cannot bear it.
All of which is to say, talking these things through in a measured, careful, thoughtful and humble way does us the power of good. You should perhaps try it.
Oh, and of course there are always nuggets to discover along the way. Like the fact that first/second century baptisms (ahem, of believers – smiley face) were conducted in the nude. I'm rather glad some things have changed. As, no doubt, are my congregation.
PS, there are some good books around on baptism, but here are three of the best I have read: Believers Baptism edited by Tom Schreiner; Case for Covenantal Infant Baptism edited by Gregg Strawbridge. These two are multi author contributions and whilst there are plenty of other books on the topic around, these I found the most comprehensive and helpful for understanding positions. They're the two I lend to students who want to understand the two positions. In terms of single volume, there is a three way book including contributions from Bruce Ware and Sinclair Ferguson called Baptism: three views (the third is dual practice). All highly recommended.
EMA clock ticking, but look at the space!

The Barbican is a big venue. It's one of the main reasons we're there. It means there's been room for growth which is important as, over the last 5 years, we've welcomed to the EMA some 2,800 different people in word ministry. Yet again, this week, the church in the UK has been written off as finished. But here is one piece of evidence – at least – that such a verdict is extremely premature. Quite the opposite in fact! Praise be to God!
Last year almost 150 people booked in the last three weeks leading up to the EMA. The year before that the number was nearer 250. You'll be glad to know we've still got plenty of room and we're hoping to see you at this year's conference. Now is the time to get organised and book, if you haven't already! And if you have booked, why not join our Facebook event? We're very conscious that we'd love to extend the EMA invitation to ministers not in our network, and perhaps you can help with that? We believe it's a really important (if secondary) purpose of the EMA that it expresses something of the unity we enjoy together as those who love Christ and preach his word. Whom could you invite too? The booking link is here.
Beauty in words (2)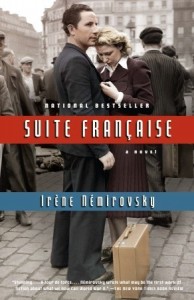 For those who think I've lost it, here is a little excerpt of Suite Francaise. It describes a cat. Yes, that's right: a city cat travelling out of Paris with his owners who is able to explore the countryside for the first time. This is not meant to be a lesson in English Lit (or French for that matter), but to show how – even in the world, there can be a beauty in words.
He was a very young cat who had only ever lived in the city, where the scent of such June nights was far away. Occasionally he had caught a whiff of something warm and intoxicating, but nothing like here where the smell rose up to his whiskers and took hold of him, making his head spin. Eyes half closed, he could feel waves of powerful, sweet perfume running through him: the pungent smell of the last lilacs, the sap running through the trees, the cool, dark earth, the animals, birds, moles, mice, all the prey, the musky scent of fur, of skin, the smell of blood … Now he was in the very black of night, at the heart of it, at the darkest point. He needed to sniff the earth: here, between the roots and the pebbles, were smells untainted by the scent of humans, smells that had yet to waft into the air and vanish. They were warm, secretive, eloquent. Alive. Each and every scent meant there was some small living creature, hiding, happy, edible … June bugs, field mice, crickets and that small toad whose voice seemed full of crystallised tears … The cat's long ears – pink triangles tinged with silver, pointed and delicately curly inside like the flower on bindweed – suddenly shot up. He was listening to faint noises in the shadows, so delicate, so mysterious but, to him alone, so clear: the rustling of wisps of straw in nests where birds watch over their young, the flutter of feathers, the sound of pecking on bark, the beating of insect wings, the patter of mice gently scratching the ground, even the faint bursting of seeds opening.
Beauty in words (1)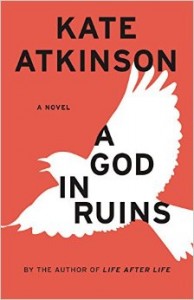 I've written before about the beauty of words, but some half term reading brought the lesson home again, extremely vividly. A short break allowed me to catch my EMA breath and also devour some long piled books including two fiction books about or around WWII. First I read Irene Nemirovsky's Suite Francaise (or at least a translation of it). This was closely followed by Kate Atkinson's new book A god in ruins.
Nemirovsky's book is a masterclass in nothing-happens-fiction. In Vol 1 (plot spoiler ahead!) some people leave Paris and then return. In Vol 2 a family house a German officer and at the same time hide a French fugitive (who is not discovered). Then the officer leaves. Woop-de-do. Virtually nothing happens (certainly when compared to Atkinson's book).
In the latter (another plot spoiler) there is an interesting idea of a wartime pilot whose humdrum life after the end of hostilities is left rather empty by the lack of war. It's an interesting idea, but right at the end you discover that this fiction is a fiction within a fiction. Too difficult to explain fully, and too clever by half.
Interestingly, one book left me amazed and one left me cold. Can you guess which? Atkinson's left me cold. The excitement and tension (of which there were plenty) was created by plot and structure: in itself no bad thing. But the words themselves lacked any beauty, it seemed to me. Contrast this with Nemirovsky's book where the words were themselves beautiful and thus the lack of action did not seem to matter. I was captivated.
Therein lies an important preaching truth. You can have clever structures and devices (and indeed, many Bible passages do), but these in themselves are insufficient to captivate congregations with Christ. They need beautiful words. I don't mean flowery or shouty or clever, necessarily. I just mean beautiful. The Bible is full of beauty in its words because of the beauty of the One it pictures. Our sermons must be full of beautiful words too.
Finding types and hermeneutical bankruptcy
If you read the NT at all (duh!) you will know that one rich road for preachers is to trace typology when it comes to OT texts. But where do you find types? Reacting against the overblown typology of some of the earlier biblical interpreters many of us work to the rule that we should only see types where the NT does. That's a safe rule and one for newbie preachers. You won't go far wrong with that. But the question arises, are there other types which the NT does not identify? I find Ed Clowney really good on this. For what it's worth his out-of-print "Preaching and Biblical Theology" has been a very formative book in my own preaching, and his "Preaching Christ in all the Scriptures" is also immensely useful – especially in the opening chapter (thereafter, it's a series of sermons). This is the place, if you're interested, where the famous preaching rectangle comes from that I use when I teach and is used by the Simeon guys (slightly amended). Here he is on typology:
"If the NT specifies something as a type, we may so interpret it. But that is a little like saying that you can find solutions to maths problems only by looking in the back of the book, since you haven't a clue as to how to work the problems. To conclude that we can never see a type where the New Testament does not is to confess hermeneutical bankruptcy. We know that the New Testament writers did find types, but we confess that we cannot learn how they did it: there seem to be no discernible principles for us to follow.
"There is a principle, however. Geerhardus Vos enunicated it when he said that the door to typology lies at the far end of the house of symbolism. That is, if there is symbolism in the account, we can rightly infer typology. If there is no symbolism, there can be no typology. Symbolism is not occasional in the Old Testament, but structural. God's acts point forward to his final salvation/judgment and his relations with his people look forward to the restoration and renewal of the New Covenant."
Marriage & Ministry
We've long understood that for married preachers, healthy preaching is not only about good technique, it's about godliness in the home and marriage. It's one of the key reasons we have a ministry in wives' conferences. We also have some deliberately small under-the-radar conferences called Marriage & Ministry stopovers. These are 24 hour breaks in luxurious surroundings for couples in ministry. Each is limited to 12 couples and is a great opportunity to refresh and regroup. We've been running these for three years and they've been an oasis for beleaguered ministers and their wives.
Our next two are in October half term. Why half term? Based on some initial research it became clear that, for couples with kids, it was actually easier to get away for a day in half term, when parents were already thinking about childcare, than it was in term time, when arranging someone to do the school run and homework supervision was much more complicated.
We've also picked venues which attempt to cover the country. We've already held one stopover in Yorkshire. In October Wallace and Lindsay Benn are hosting one at Hothorpe Hall in Leicestershire and Mrs R and I are hosting one at The Old Bell in Malmesbury in Wiltshire, apparently England's oldest hotel. The dates for both are 26/27 October. We'd love to see you there – or perhaps there is a ministry couple in your church who you will know will benefit from joining us. Why not encourage them along?