All posts by Adrian Reynolds
Why we're right to keep banging on….
Sometimes, PT is accused of banging on about things that don't seem to matter. But there are some issues that we're right to bang on about, not least that if we are to rightly handle the Word of God, we've got to rightly understand the words of the Word of God. There was a great example of how indiscipline can lead us astray in yesterday's Times letters. Here is a letter from Rev Dr Martin Henig of Wolfson College Oxford (if you have access to behind-the-paywall you can read it here).
Sir, Discomforting as it is to modern Christians, Christianity did nothing to sweep away slavery (letter, Nov 24). Indeed, St Paul exhorts slaves to obey their masters (Ephesians 6,5), while the writer of 1 Timothy reiterates this injunction (1 Timothy 6, 1-6).

To our shame, slavery as an institution continued to be universal in the Christian Empire and into the Middle Ages and beyond. The 18th century did not re-discover slavery; the needs of plantation owners in the New World simply built on an endemic structure of slavery and serfdom that had been in existence since human records began.

Bishop Gene Robinson is right. It was the emergence of a liberal conscience that looked to the heart of the Gospel message of liberation which ended slavery. Let us hope that the same truly Christian spirit will at last end centuries of injustice and discrimination against lesbians and gays, many of them fervent Christians. If we were guided simply by biblical texts without recourse to the compassion of Christ and our own God-given reason we would still be owning slaves, stoning adulterers and burning "witches".
Have a careful read and see where you think the exegesis and argument is flawed (I don't mean the implication that someone other than Paul wrote 1 Timothy, though I would want to take issue with that too!). It's worth spending some time trying to work it out, not least because it both reinforces how we understand Scripture and answers a very common objection to our view of homosexuality (and, indeed, a whole raft of sexual ethics).
The cross – mourn and rejoice with Cowper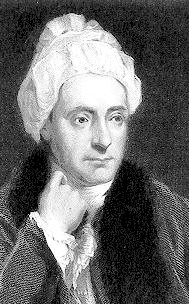 I've got to one of the purple passages in my study of Zechariah – chapters 12 and 13. There will be mourning "when they look on me, the one whom they have pierced, they shall mourn for him as one mourns for an only child" (12.10). But also, "on that day there shall be a fountain opened for the house of David and the inhabitants of Jerusalem, to cleanse them from sin and uncleanness" (13.1). I like Duguid's comment in his "application" section of the EP study commentary:
The cross denotes not merely the sad reality of what we have done to God, but also the triumphant reality of what he has done for us in Christ. At the cross, my sins pierced Christ, but the blood which flowed from those wounds forms a cleansing fountain that washes them all away. As we confess our sins in true repentance, the blood of Christ purifies us from all of our unrighteousness. For that reason, when we fix our eyes on the cross, we not only weep and mourn for our sins; we glory and triumph in the grace of God that has saved us and is transforming us, and which will ultimately renew all creation.
It reminds me of Cowper's great old hymn:
There is a fountain filled with blood drawn from Emmanuel's veins;
And sinners plunged beneath that flood lose all their guilty stains.

Lose all their guilty stains, lose all their guilty stains;

And sinners plunged beneath that flood lose all their guilty stains.
The dying thief rejoiced to see that fountain in his day;

And there have I, though vile as he, washed all my sins away.

Washed all my sins away, washed all my sins away;

And there have I, though vile as he, washed all my sins away.
Dear dying Lamb, Thy precious blood shall never lose its power

Till all the ransomed church of God be saved, to sin no more.

Be saved, to sin no more, be saved, to sin no more;

Till all the ransomed church of God be saved, to sin no more.
E'er since, by faith, I saw the stream Thy flowing wounds supply,

Redeeming love has been my theme, and shall be till I die.

And shall be till I die, and shall be till I die;

Redeeming love has been my theme, and shall be till I die.
Then in a nobler, sweeter song, I'll sing Thy power to save,

When this poor lisping, stammering tongue lies silent in the grave.

Lies silent in the grave, lies silent in the grave;

When this poor lisping, stammering tongue lies silent in the grave.
Lord, I believe Thou hast prepared, unworthy though I be,

For me a blood bought free reward, a golden harp for me!

'Tis strung and tuned for endless years, and formed by power divine,

To sound in God the Father's ears no other name but Thine.
There's an interesting story of how this hymn came to be written on the net hymnal (turn off your sound first!).
On hard study….
Don Carson thinks it's a good time to be sixty. I'm sure he's right! People are listening to sixty year olds, he says, and here's one the things we need to hear:
Careful handling of the Bible will enable us to "hear" it a little better. It is all too easy to read the traditional interpretations we have received from others into the text of Scripture. Then we may unwittingly transfer the authority of Scripture to our traditional interpretations and invest them with a false, even an idolatrous degree of certainty. Because traditions are reshaped as they are passed on, after a while we may drift far from God's word while still insisting our theological opinions are "biblical" and therefore true. If when we are in such a state we study the Bible uncritically, more than likely it will simply reinforce our errors. If the Bible is to accomplish its work of continual reformation – reformation of our lives and doctrine – we must do all we can to listen to it afresh and to utilize the best resources at our disposal.
Taken from the introduction (p18) to Exegetical Fallacies (Great book, terrible cover!!).
More like this:
The key to Zechariah
There are some books in the Bible which come alive when you realise something really quite simple about them. This is not a kind of 21st century gnosticism, but rather the good old fashioned reading Scripture with Scripture. You see, when you realise that the preaching of Haggai and Zechariah got the Exiles building again, then you realise the key to understanding the sometimes difficult visions and prophecies of Zechariah is to ask:
What is it about what Zechariah saw/said that got them building again?
It's a simple question and one which not only makes the book come alive, but unlocks much of the apparent mystery.
Our friend, Spencer Shaw, pastor of Emmanuel Church Chippenham and a member of the FIEC Council recently preached through Zechariah, you can listen online here. Sadly no online resources (yet) from PT on this rich and rewarding book. But here are two commentaries that I found enormously helpful and careful in their exegesis and application:
Why I'm a preaching home-boy
Preached a week ago last Sunday on Zechariah 5-6 and yesterday on Zechariah 7. Hope and pray it went OK. I don't think these are passages I could ever have preached anywhere other than at home church. Sure, I could explain them OK to strangers, but that is not preaching.
In difficult apocalyptic literature you need to know people well enough to know what they will understand and won't.
Knowing people also shapes application sharply, or it should. Sure, the preaching of Zechariah 5-7 got the people building again (see Ezra 5.1-2). But we need sharper application than simply "you get building too…!" Ezra 4 details the opposition that the exiles faced. Zechariah 5-7 needs to be preached in the light of the opposition we face.
Chief among the "mighty mountains" (Zech 4.17) that God needs to level is indwelling sin (which, I think, is the significance of the woman in the basket in Zechariah 5). Again, knowing people and knowing how that sinfulness manifests itself is key to sharp application. Similarly, false religion rears its ugly head in Zechariah 7. There it is fasting. It may well be fasting for our people today, but if we don't know how we will preach well…?
I'm a preaching home boy. That's where it counts.
BETTER (a.k.a. Hebrews)
I'm just doing some thinking on planning a sermon series on Hebrews. There are two main ways to do this:
a slow(ish) work through this incredibly rich and deep book. I reckon that would take at least 20 weeks, possibly much more. That is my natural inclination for a sermon series. It could quickly become John Owen-esque, though!
However, in the case of Hebrews, I'm not sure that does justice to what the author is trying to convey. Essentially, this is a letter which exalts Jesus as the supreme one, superior in every way to what has gone before. As you read through, there are some key ideas which the writer argues (sometimes from different viewpoints). So an alternative is to take these key ideas. I've put down where I've got to so far (though these are unlikely to be the finished article). This is not my natural inclination!
Following the latter will mean that some really purple passages are given little time – but in this case, as we try to convey the meaning of the book and what God means by it, I think that is OK. Any series would do this to some extent (unless, for example, you were to take each faith character in chapter 11 as a one week sermon).
But what about those long passages. My own inclination, for what it is worth, is that it will tough for a congregation if I decided to preach, say 4.14-5.10 & 7.28 as a whole sermon. I think, though I'm not yet sure and haven't done all the study yet, that I would be inclined to take a part of that and make it my sermon on that theme. It seems to me that, on the whole, congregatations struggle with very long passages as texts for sermons. I may be wrong, of course.
So, here is my work in progress. By the way, the word "better" comes from a facsimile of Frances Ridley Havergal's Bible (she of hymn writing fame). On the page containing Hebrews 1 she has crossed out the word Hebrews and replaced it with the word BETTER. I like it. Good name for a good book.
A better name (1.1-4)
A better status (1.5-2.18)
A better builder (3.1-19)
A better rest (4.1-13)
A better priest (4.14-5.10 & 7.1-28)
A better hope (5.11-6.20)
A better covenant (8.1-13)
A better sacrifice (9.1-10.18)
A better confidence (10.19-39)
A better faith (11.1-12.3)
A better kingdom (12.3-29)
A better mission (13.1-25)
Why bother with expository preaching?
Lennox in The Times
Today's Times carries a long interview with John Lennox. Worth a look if you can get beyond the paywall, or you may have do the old fashioned thing and buy a print copy. I can only (for copyright reasons) cut and paste an excerpt.
Stephen Hawking is wrong to assert that God did not create the Universe, says Christianity's new poster boy John Lennox

In September, when The Times made international headlines with the news that Professor Stephen Hawking had concluded that God had not, after all, created the Universe, it should have been a blow to John Lennox. The 67-year-old Oxford University maths professor has in the past few years emerged as academia's lead champion of Christianity against the post-9/11 "New Atheists". He has three times debated their leader, the evolutionary biologist Richard Dawkins, two years ago at the university's natural history museum in what some hailed as a rerun of the great 1860s evolution debate between Darwin's supporter Thomas Huxley and God's Samuel Wilberforce.

But now the war was being fought on a new front — physics — by a scientist whom Lennox had admired since their student days at Cambridge.

Yet Lennox says that it wasn't a blow. "No, not in the slightest. It was fascinating. I thought, 'What new arguments does he have?'"

This, one might say, is the Oxford mind at work. For others, however, the shock was real enough. A "simple believer in the Christian faith" e-mailed Lennox to say that he had driven into a petrol station and seen the headlines. "He said it hit him viscerally. It knocked him for six." Perhaps it was for him, then, that Lennox has now written in retaliation God and Stephen Hawking: Whose Design is it Anyway?, a short book that he will give us a sneak preview of on Monday with a lecture at the University of Dundee.

We meet at Green Templeton College, Oxford, for which, among his other jobs, Lennox is pastoral adviser. The first thing to say about him is that he is extraordinarily nice. He is plump and beaming and untidy, a father of three and grandfather of four. There is huge warmth in his Northern Irish accent, as well as what appears to be a genuine interest in others. The second thing is that he extremely clever. As a young father teaching at Cardiff University he subsidised his salary by translating Russian, a language that he taught himself as he went along. He also speaks French, German and some Spanish. Maths, on which he has published 70 peer-reviewed articles, he regards as just "another language".

He has just returned from a lecturing tour in America. Maths or God, I ask over lunch in the college.

"God," he says although anyone who has struggled with his bookGod's Undertaker: Has Science Buried God? will know that a knowledge of advanced maths might prove very useful when discussing God with him were he mean enough to shift the debate to the origins, divine or otherwise, of amino acids.
What's wrong with preaching?
Just over eight years ago, one of our former directors, Willie Philip (now minister at St George's Tron) wrote a little booklet Concerning Preaching. In it, he suggested that a useful Satanic attack might get us to focus too much on preaching, or at least too much on the wrong aspects of preaching. I've just re-read it this morning and it is still a particularly relevant assessment. You can download it for free here, but in summary, Willie suggests that there are three subtle (or not so subtle?) shifts in focus in the world of evangelical preaching:
A shift from content to form where we have become so obsessed with how we preach that we have forgotten that what we preach matters
A shift from the vertical to the horizontal in terms of what is happening when we open up the Scriptures – "we forget the presence of the living God himself"
A shift from the corporate to the individual
Go read!
More like this:
IX Marks Book Reviews
The November/December IX Marks eJournal has some thorough book reviews on the theme of the mission of the church, including those of:
Makes interesting reading, even if you don't agree with all the conclusions. Worth a look.