Preacher's Profile Vaughan Roberts
This is the fourth in our Preachers Profile Series. This time we asked Vaughan Roberts questions about his life and preaching ministry.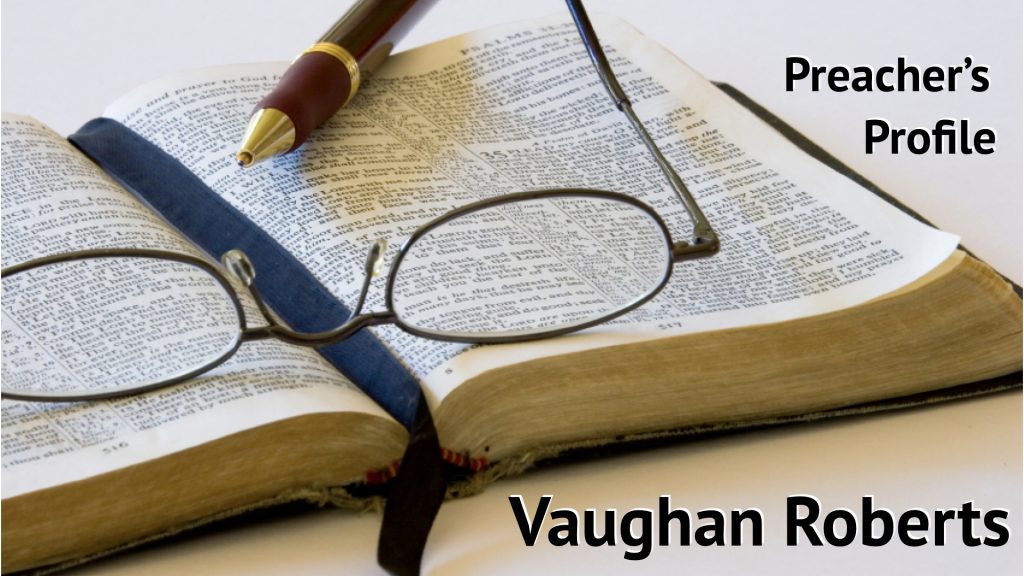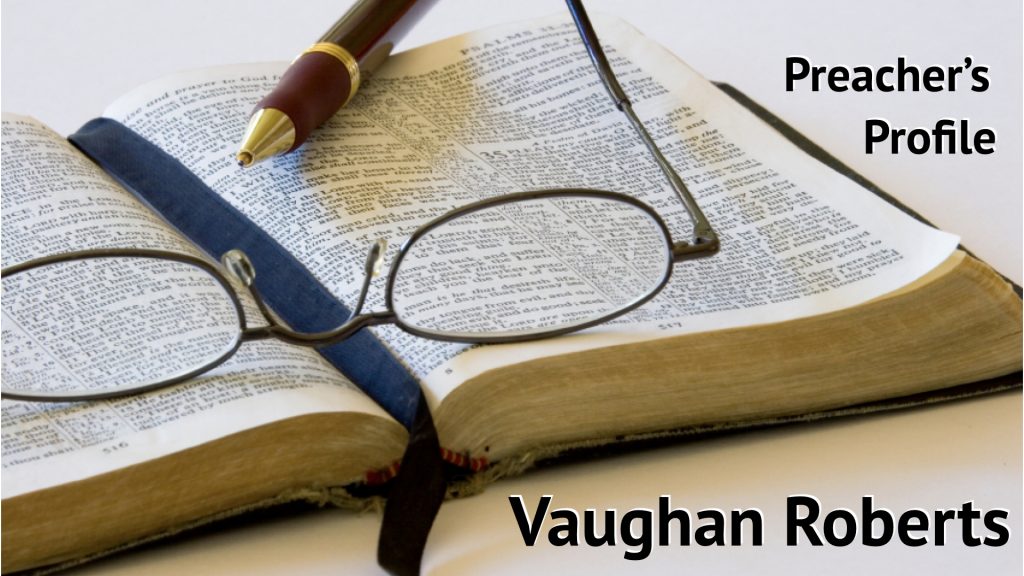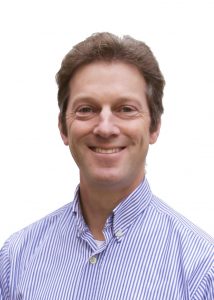 Vaughan Roberts studied law at Cambridge University before a brief spell in South Africa where he was involved in student ministry. He subsequently trained for Anglican ministry at Wycliffe Hall, Oxford, and since 1991 he has been on the staff of St Ebbe's Church, Oxford, where he is now Rector.  Vaughan is Chairman of The Proclamation Trust.
1) When did you preach your first sermon and how long have you been preaching?
My first sermon was in my second year as an undergraduate at Cambridge when I spoke to a very small congregation consisting of about 10 elderly people. It was on Genesis 12, a key passage for biblical theology – but I completely missed that point. I was on crutches after a football injury and had to sit to speak, which made it even harder to engage the congregation and keep them awake. I failed! That was in 1986, so I've been preaching for over 30 years.
2) What was your journey to preaching ministry?
As a very young Christian I was given tapes of Dick Lucas on Colossians. I had never heard of him at the time, having no experience of evangelical churches, but I found them electric and remember thinking: I'd love to give my life to preach the Bible like that. But I was very shy as a teenager and didn't think that I would ever be given opportunities to speak in public. But within a couple of years I was asked to give talks to school Christian groups and at camps for teenagers. That's a great context in which to learn to speak, as you have to work hard to engage them – teenagers make little effort to hide it if they are bored. It was in these early days that I was encouraged towards Anglican ordination. I had a great year doing student ministry in South Africa straight after university, where I had lots of opportunities to preach. I then went to train at Wycliffe Hall in Oxford and I have been in the city, and at St Ebbe's church, ever since.

3) Describe the congregation/setting you regularly preach to.
St Ebbe's is in the heart of Oxford, surrounded by shops, university buildings and a small residential area. There are four congregations on Sundays, all of which have a slightly different feel. 9.45 has all ages from across the city, including many children (who are in children's groups for the sermon). The 11.45 meets only during university term and is mostly students from many different countries. 4.30 focuses on non-bookish Oxford locals. 6.30 is again quite mixed: young adults, teenagers, students and some long-term church members. I am only occasionally at the 4.30, but preach regularly at the other congregations. I typically preach at one or two of them each week, with different team members on at the others. I also preach quite regularly at conferences and conventions away from home.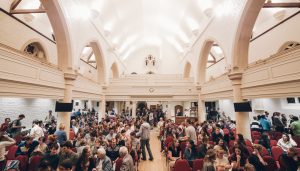 4) What are you currently preaching on/through?
I am about to resume a series on Galatians. I started it to coincide with the Reformation anniversary, when I preached on chapters 1-3. I am about to preach on the remaining chapters in the next few weeks.
5) What is your regular rhythm of sermon preparation, your usual process and how you schedule it in during the week?
I am privileged to work for a church that values preaching, knows it takes time to prepare and encourages me to give priority to this, but even then it's a battle to find adequate time every week. I make sure I block out at least three periods of 2-3 hours between Monday and Thursday, starting as early in the week as I can – that gives much needed percolation time.
I begin by focusing on the big picture of the passage, trying to answer the question: what is this for – what is it designed to do? It's not my task to inject momentum into a passage – I am aiming to discover the momentum that is already there. No part of scripture just teaches truths for the sake of it. Each has an aim/a purpose. I am trying to discover that and then to work out what the equivalent purpose may be in our different context. A sermon must have a message and that message should be the message of the text or, as Charles Simeon put it, "the mind of God in the passage you are expounding". I am then trying to work out how the different parts of the text contribute to the message as a whole. That is likely to give me my points.
I tend to use one textual commentary to help with the details and maybe refer to one other for clarification. I often also look at a more applied preacher's commentary or see how somebody else has preached the passage to get ideas about structure and application.
6) What is your drafting/editing process that you go through in finalising your sermon for Sunday?
I try to keep Friday free for my sermon and certainly avoid any regular meetings on that day. I begin by writing a plan, usually on one side of paper. This will have been a work in progress throughout the preparation process of the previous few days. I then write a fairly full script. I write with a pen rather than a computer because that's how I started and I have always been used to thinking that way.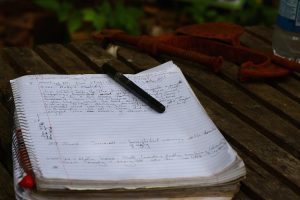 I then get up early on Sunday and write out an abbreviated version of my original notes, which I then preach from. I make a few tweaks at that stage and this process also helps get the sermon into my head and heart. It means I know what I want to say fairly well before I get up, so I can be quite free of my notes.
7) What script/notes do you take into the pulpit?
My notes are on small cards which fit into my Bible. That's how I was taught to speak when I began at camps and school CUs and, once we moved out of a pulpit at St Ebbe's a few years ago, I returned to this practice. It certainly isn't right for everyone, but I like the symbolism of my Bible being visible – that makes it very clear that it is the source of my message and my authority. I also prefer not having a lectern or pulpit between me and those I preach to. If I am speaking evangelistically on a familiar passage, I may only have one or two sides of notes. For a new sermon that may stretch to 12 or 14 and they may contain a fair bit of detail, but the act of writing it out beforehand gets the argument and structure clearly into my mind so I often don't need to look at the details when I am speaking.
8) What is your routine before preaching on a Sunday?
Apart from writing out the talk in a condensed form on cards, I also pray. A few days before I preached my first sermon as a curate at St Ebbe's we sang an old hymn at the church's prayer meeting: "I need Thee, oh, I need Thee; Every hour I need Thee; Oh bless me now, my Saviour, I come to Thee." I prayed those words over and over again before that first sermon and find they often come back to me, especially at particularly important sermons.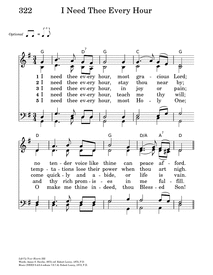 9) What feedback structures do you utilise in improving on your preaching?
We have a number of congregations at St Ebbe's and a number of preachers, so we don't always hear each other preaching live. The preachers meet once a month, having all listened, either at church or online, to a particular sermon by one of us. That individual is not present when we have our discussion of his sermon. Preachers are sensitive and are inclined to listen to every single comment that's made, which can leave us overwhelmed with the number of things that we feel we ought to change. We found it more helpful to agree together on the positive things we want to feed back and also on one major area in which we think this sermon could have been improved. Because we listen to each other quite regularly, we are able to focus on areas to work on which are typical for that preacher. Having decided what we want to say, we then invite the preacher back in and give feedback. It sounds frightening, but it is a really helpful process and we all know that what is said has been carefully considered by a group of others and is not a maverick opinion of one.
10) What areas are you currently seeking to develop in your preaching?
There are so many different elements to a good sermon. Good understanding of the text in its context and a focus on its thrust are fundamental, but there is so much more to do: clarity of structure and expression; connection with people in head, heart and cultural context; concrete application to real life; as well as communication that exalts God and appeals to people to respond to him and his gospel in ways that are appropriate to the text. In any given moment I feel especially inadequate in at least one of these ways and try to give more attention to it, without losing the focus on correctly handling God's word. I have recently been focusing on trying to think about how my preaching should differ depending on the genre of a passage. A sermon on The Song of Songs shouldn't be exactly the same style as one on Ephesians.
11) What do you do on the days your preaching did not go very well?
There are times when I feel I need to be scraped off the floor after preaching because I have felt so inadequate. I try to encourage myself with the knowledge that this is God's work and that the Holy Spirit graciously uses weak sermons. I have often been surprised how appreciative people have been about sermons that I have thought have been very bad, while those that seem from my perspective to go especially well appear to have no impact.
12) What one piece of advice would you pass on to someone starting out as a preacher?
Don't get lost in the details.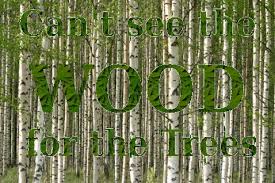 Make sure you have a clear message – and work hard to ensure that it is the main message of the text. That thrust must come across, however long the sermon is and however many of the details you are able to expound as well. And the main thrust of the individual passage should always be preached in the light of the main thrust of the Bible as a whole. That will mean you always preach Christ and the gospel in every sermon, but in the rich variety of the Bible, rather than using the same old formula every time.
13) What are some of the best resources you have found on preaching?
Nothing has helped me more than Proclamation Trust preaching conferences. You may think that, as someone on the leadership team of PT, I would say that, but it's genuinely true. They have not only helped me to have a deeper understanding of particular parts of the Bible, but also remind me of the importance of prioritising preaching and the need to keep working at it.
The Proclamation Trust runs 3 residential preaching conferences a year. Autumn Ministers' Conference at the beginning of November and then Senior and Younger Ministers' Conferences at the end of April and beginning of May. We would love to welcome you to one of these at Hothorpe Hall near Market Harborough. For more details please visit: https://www.proctrust.org.uk/conferences
———-
Vaughan has written a number of books, including God's Big Picture, Battles Christians Face, True Friendship and, most recently, a series of three mini books addressing topical issues: Assisted Suicide, Transgender and The Porn Problem. In his spare time, Vaughan enjoys playing tennis and golf.